Every week, I scour the web to find inspiring outfits on your favorite celebs and help you recreate their looks! This week, I was inspired by Ashley Tisdale, Emily Ratajkowski, and Olivia Palermo. Read on to see how you can get their looks for yourself.
Celebrity Look #1: Ashley Tisdale's Leopard Look
Ashley Tisdale headed to an appearance recently in a bold, on-trend outfit.
Ashley wore a silver mini skirt with a black turtleneck and a leopard print coat, which made a super trendy statement. She didn't stop there, though – she also wore some sheer polka dot print socks for contrasting print and black patent platform heels.
Outfit Inspired by Ashley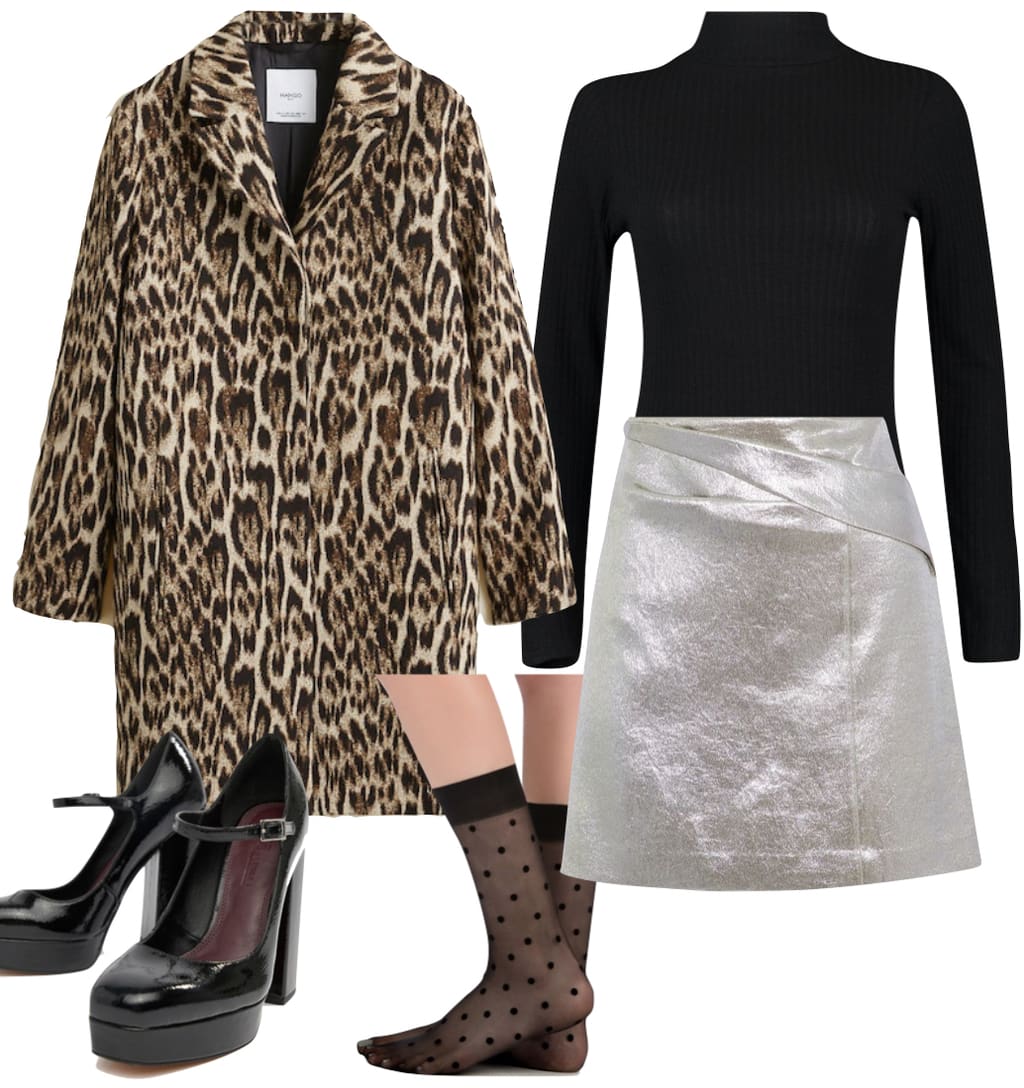 Products: Coat – Mango, Bodysuit – Boohoo, Skirt – The Outnet, Socks – Spanx, Heels – Asos
Ashley's ensemble makes for fab holiday party outfit inspo.
Go bold with a silver metallic mini skirt and a black turtleneck bodysuit. Leopard print is one of the hottest trends this season, so have fun with your outerwear by opting for a leopard print coat.
For an extra dose of flair, pair some sheer, polka dot socks with a pair of black patent platform heels.
Celebrity Look #2: Emily Ratajkowski's Sporty Style
Emily Ratajkowski bundled up this past week in a white puffer jacket worn over her sporty ensemble.
Emily opted for a comfy yet cool look, wearing black and white side-striped joggers with a black hoodie and white running sneakers. She added a trendy touch by wearing a pair of slim cat-eye sunnies.
Outfit Inspired by Emily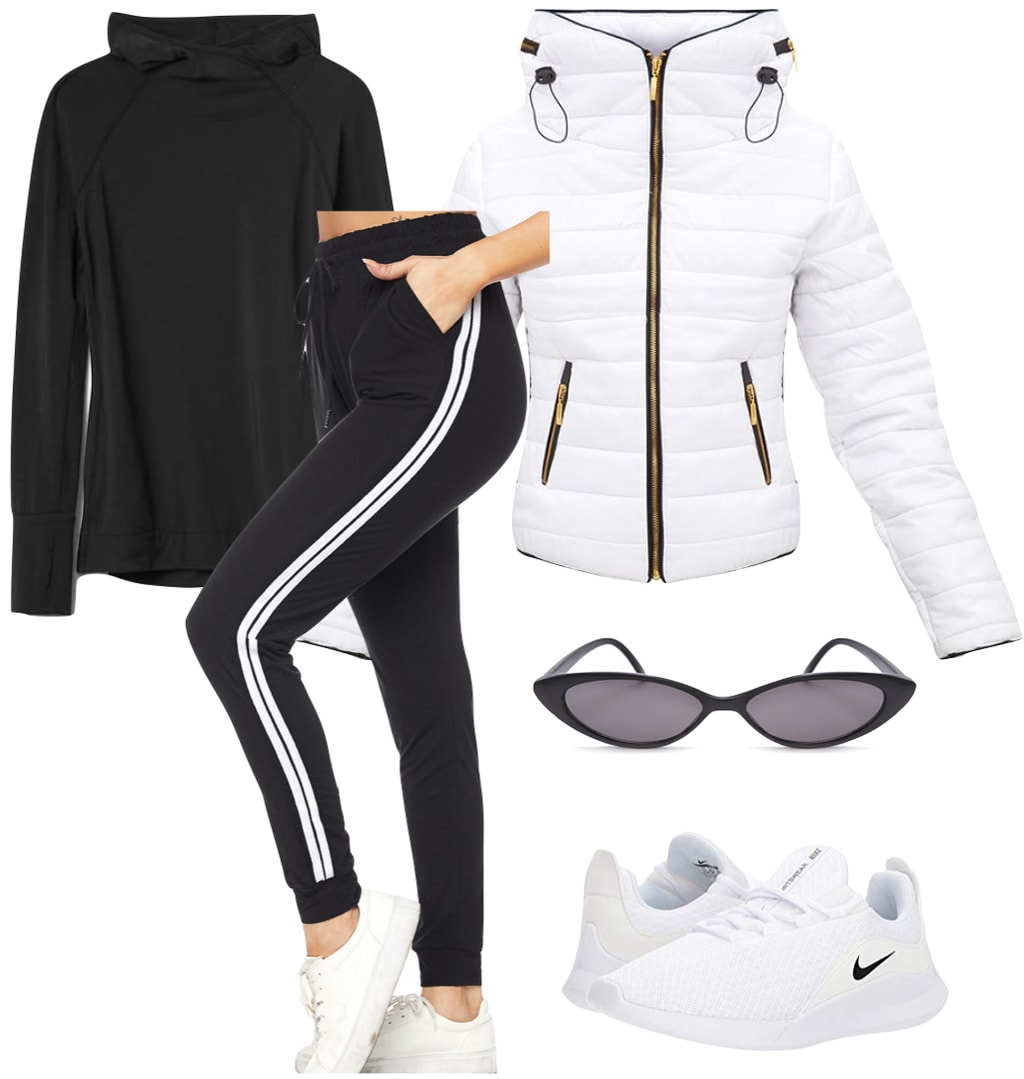 Products: Hoodie – Gap, Joggers – Soho Girl, Jacket – Pretty Little Thing, Sunglasses – Forever 21, Sneakers – Zappos
Emily's outfit is perfect for a chill day spent running errands or heading to a study session.
A pair of black joggers with white side stripe detailing are a good alternative to basic leggings and have an extra sporty feel; pair them with a black hoodie and some white sneakers.
A white puffer coat will keep you warm while adding some light to this dark ensemble. Give the outfit a trendy touch by wearing some slim cat-eye sunglasses.
Celebrity Look #3: Olivia Palermo's Chic Overalls
Olivia Palermo is always a trendsetter, and she recently rocked a pair of leather overalls that I never knew I needed, until now.
In addition to her overalls, Olivia wore an olive green coat, a black turtleneck, and some white high-top sneakers. She also carried a red duffle bag, adding a pop of color to her chic ensemble.
Outfit Inspired by Olivia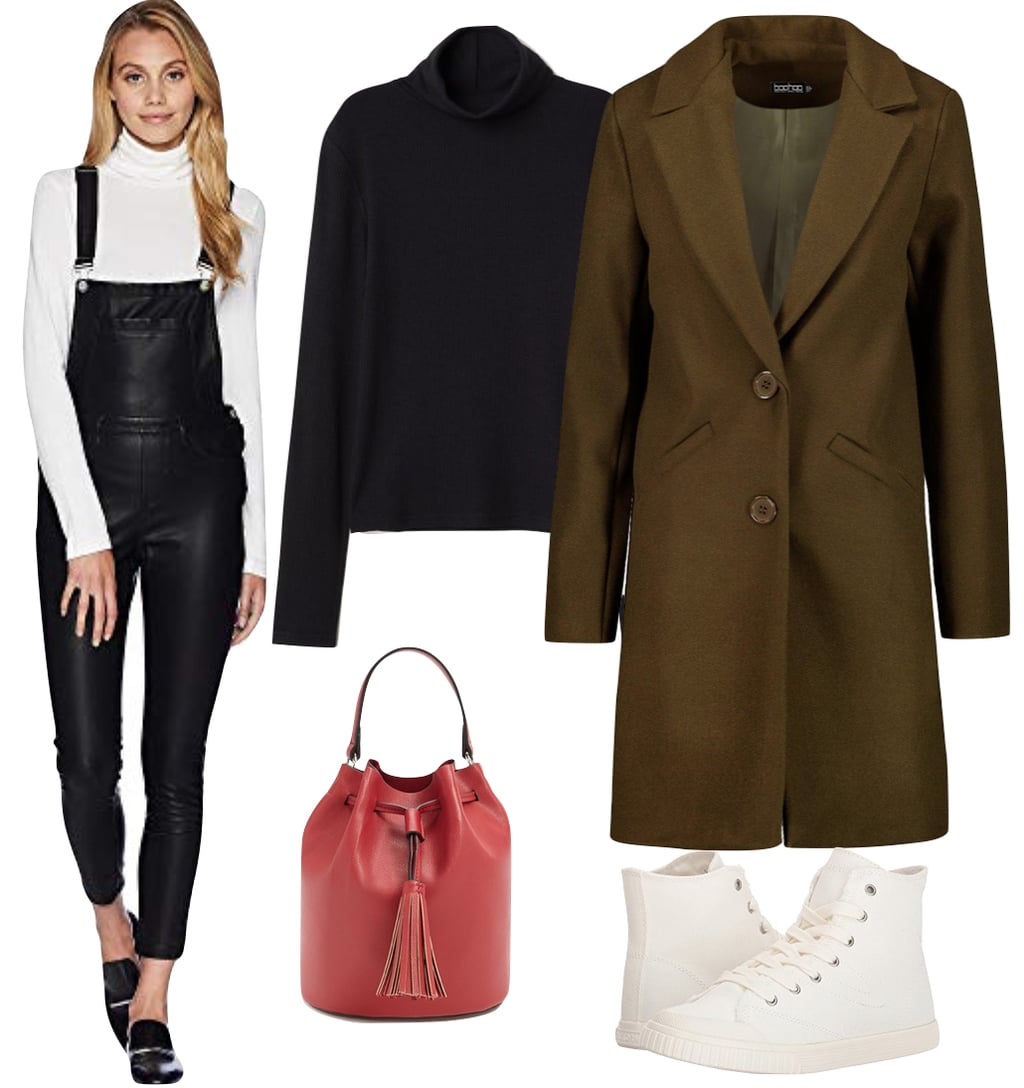 Products: Overalls – Zappos, Turtleneck – H&M, Coat – Boohoo, Bag – Forever 21, Sneakers – Zappos
To get Olivia's look, faux leather overalls are the key. These black vegan leather overalls will look ultra chic with a black turtleneck worn underneath and an olive green coat over top.
While they can also be dressed up, give the overalls a more relaxed, wearable feel with some white high-top sneakers.
Lend the outfit a pop of color by carrying a red bucket bag, which has a similar look to Olivia's duffle.
What do you think?
Which outfit would you be most likely to wear? What other celebs would you like to see featured? Leave a comment and let us know!