This post may contain affiliate links, which means we may receive a commission if you purchase through our links. Please
read our full disclosure here
.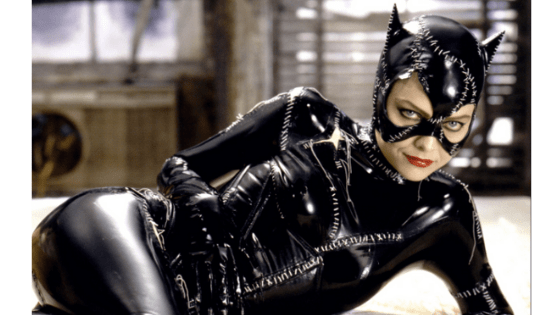 In the year 1940, Catwoman made her first appearance in the Batman #1 comic, and has forever since been an iconic villain. She has become known as Batman's primary love interest, yet also as one of his main nemeses.
Since her comic series debut, Catwoman has made many appearances in video games, film franchises, and in the Batman animated series. Each iteration of the iconic bad girl has left its own mark on pop culture.
In this article, we'll get style inspo from four pop culture versions of Catwoman: Michelle Pfeiffer's sexy all leather version from Batman Returns; Anne Hathaway's high class cat burglar from The Dark Knight Rises; the quirky 1960s Catwoman from the popular Batman TV series; and the classic cartoon Catwoman from the beloved Batman animated series.
Catwoman's Style Through History: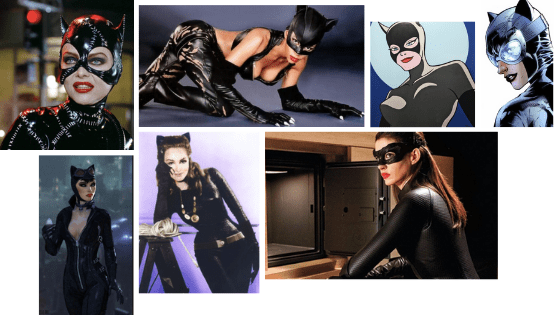 Catwoman Outfits: Batman Returns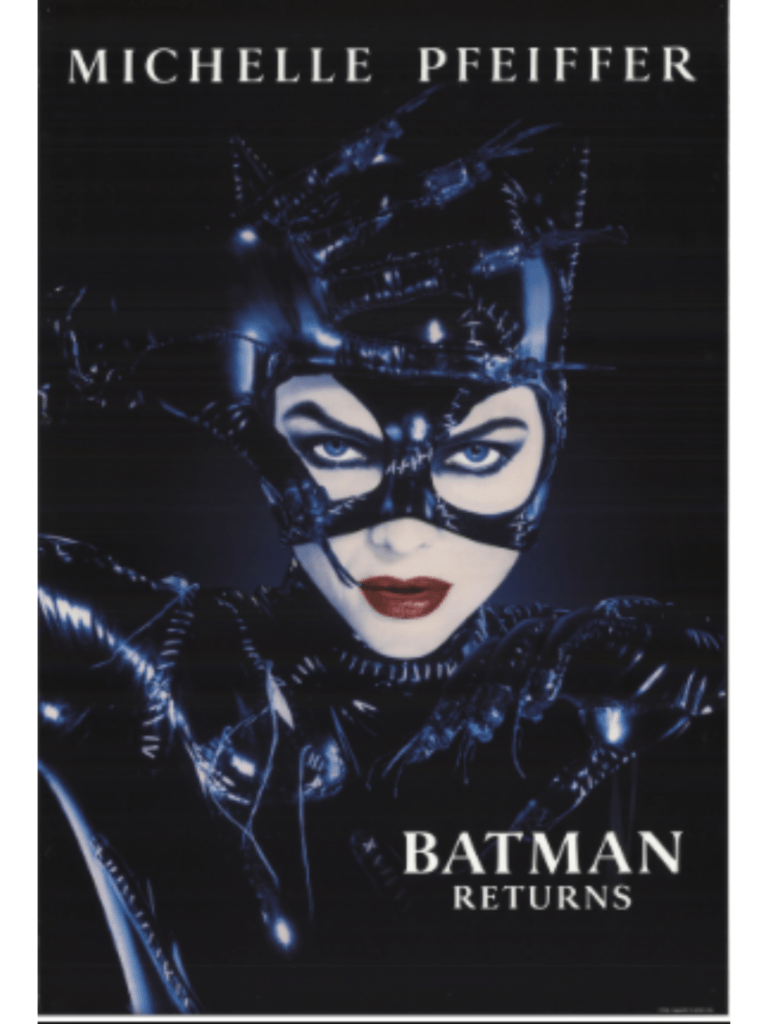 In 1992, the second Tim Burton Batman film, Batman Returns, was released. And this one was far more cooky than the first, featuring Danny Devito's The Penguin and Michelle Pfieffer's Catwoman.
Catwoman was always alluring but this film took it to a new level. In the comics, Catwoman was a manipulative and beautiful villainess. But in Batman Returns, this villainess became flat-out sexy through Pfieffer's performance and the iconic black leather catsuit she wore.
This is a look that many have come to recreate every Halloween, because of how truly iconic it has become.
You can definitely find Catwoman Halloween costumes everywhere (here's where you can buy a ton of them). But for an everyday take on this look, go for some faux leather pants, or even a faux leather skirt, and pair it with a nice black or white lace cami. And then jazz the look up with some leather heels, or even boots, to bring in the sexiness of the look.
(If you wanted to rock it for a low-key Halloween party, you could always add the cat ears — I included a pair for fun.)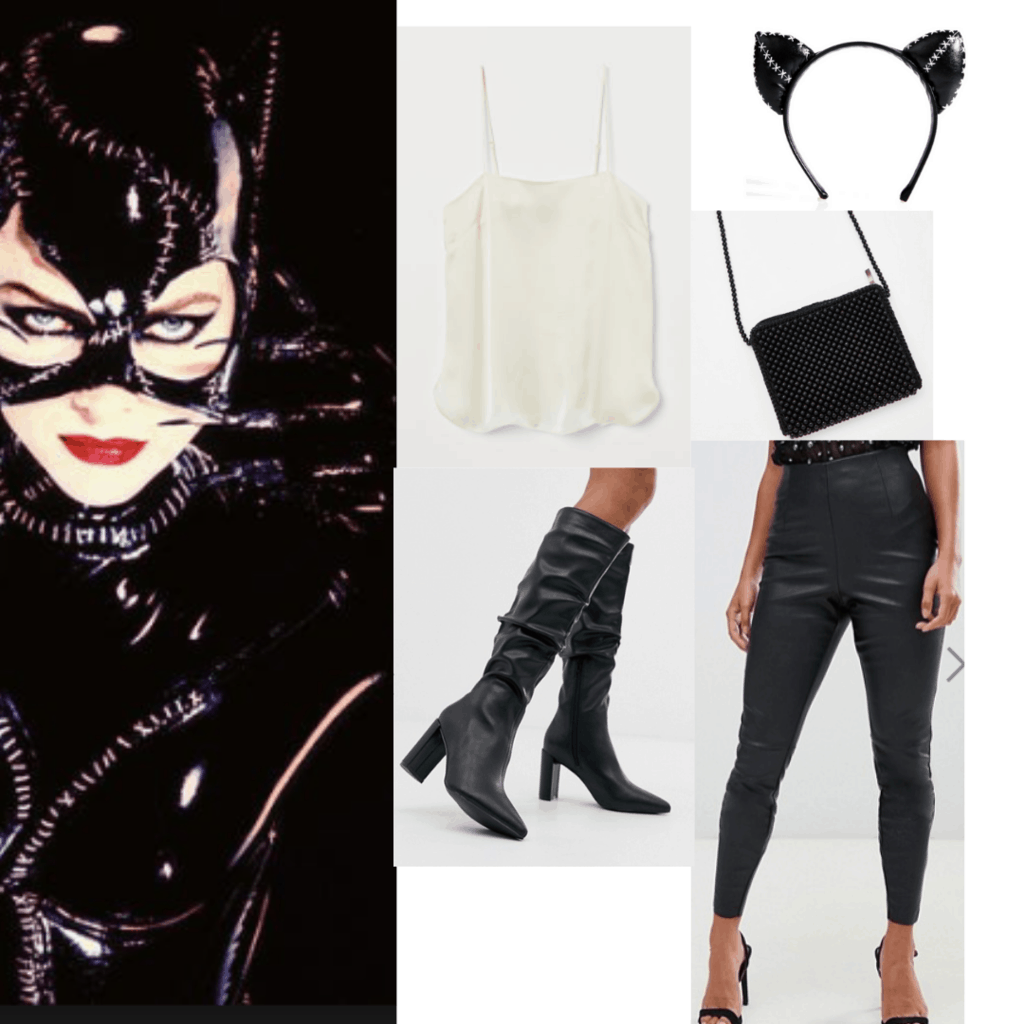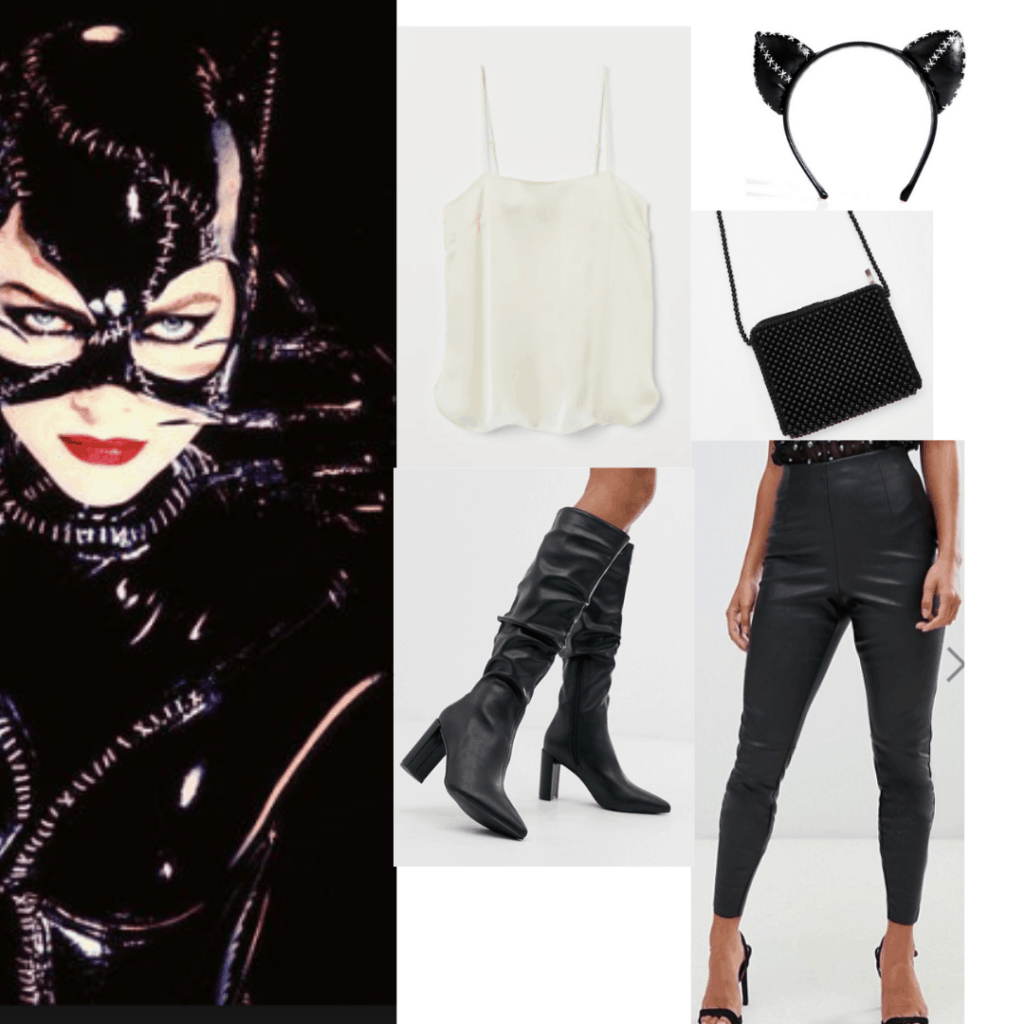 Products: Pants – ASOS, Cami Top – H&M, Shoes – ASOS, Ears – Dolls Kill
Catwoman Outfits: The Dark Knight Rises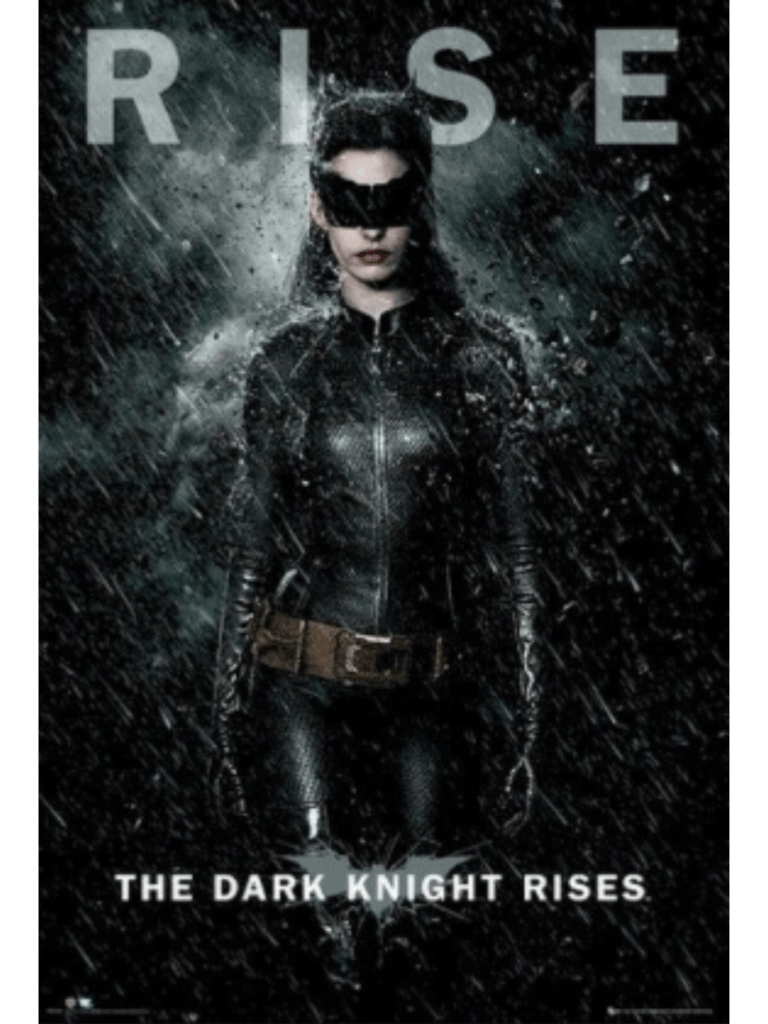 Twenty years after Batman Returns, another iteration of Catwoman appeared in the Dark Knight franchise, with Anne Hathaway playing the iconic character.
Though Anne Hathaway's Selina Kyle does still have the sexy nature of Michelle Pfieffer's version, Hathaway adds more sophistication to the character. Her version could be described as an Audrey Hepburn gone bad. She loves attending fancy balls and eating at nice restaurants, all with the end goal of meeting men that she can rob.
Hathaway's Catwoman gets to wear many glamorous ensembles, apart from her Catwoman suit. All of her looks are fully black with hints of white, complemented by her red lips.
To get the glamorous off duty look of Hathaway's Catwoman, go for either a fitted black dress or black skirt suit. Pair the look with sensible black heels and pearl accessories. And if you want to go the extra mile, throw on some sophisticated cat-eye sunglasses.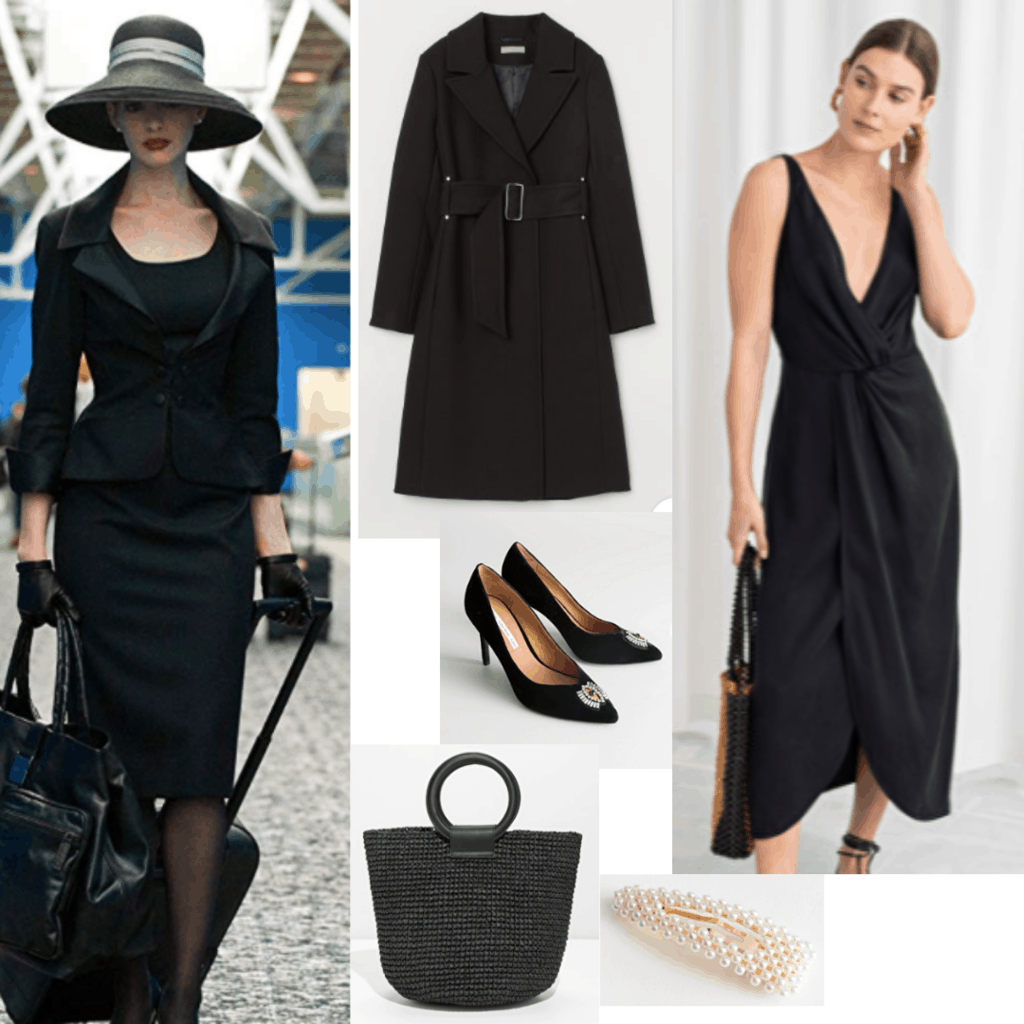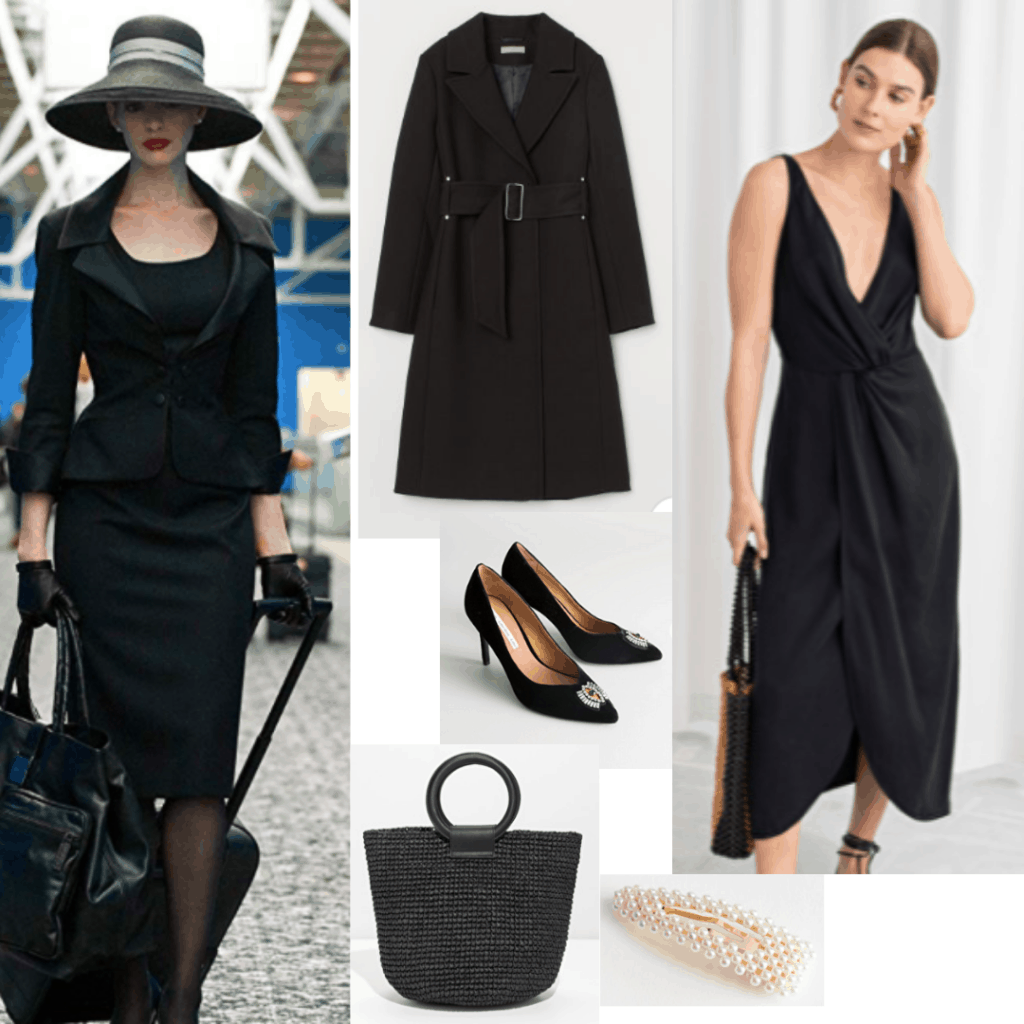 Products: Dress – & Other Stories, Coat – H&M, Heels – & Other Stories, Bag – & Other Stories, Hair clip – & Other Stories
Catwoman Outfits: Batman (1960)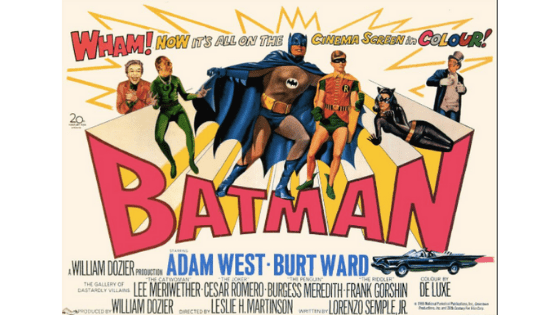 Back in the '60s, Batman characters were seen as crazy and quirky due to the hit Batman TV series. The show was filled with many of Batman's enemies, including Batman's on-again-of-again lover Selina Kyle, a.k.a. Catwoman.
With her '60s hair and her all-black catsuit, the TV Catwoman had a distinctly mod vibe about her. The boat neckline and tight fit of the jumpsuit were sexy for the time, yet not over-the-top.
This is perhaps the Catwoman outfit that is the simplest to translate to everyday fashion.
When recreating the '60s femme fatale look, go full on retro. Find a boatneck long sleeve top and some black cigarette pants, and boom, you've almost got the look.
Just finish the outfit with black booties and gold accessories for extra pop. And to be even more quirky (like we said, Halloween is coming up!), go ahead and add on a pair of black cat ears.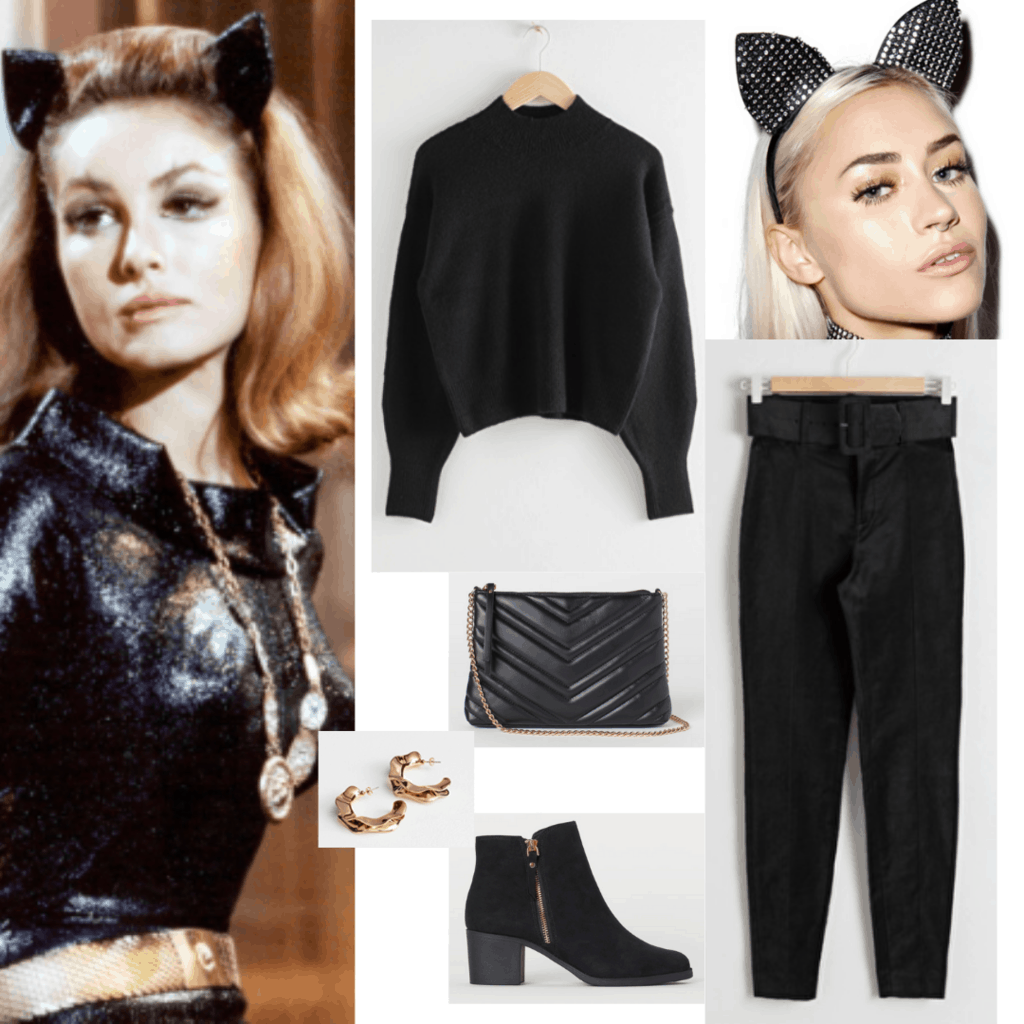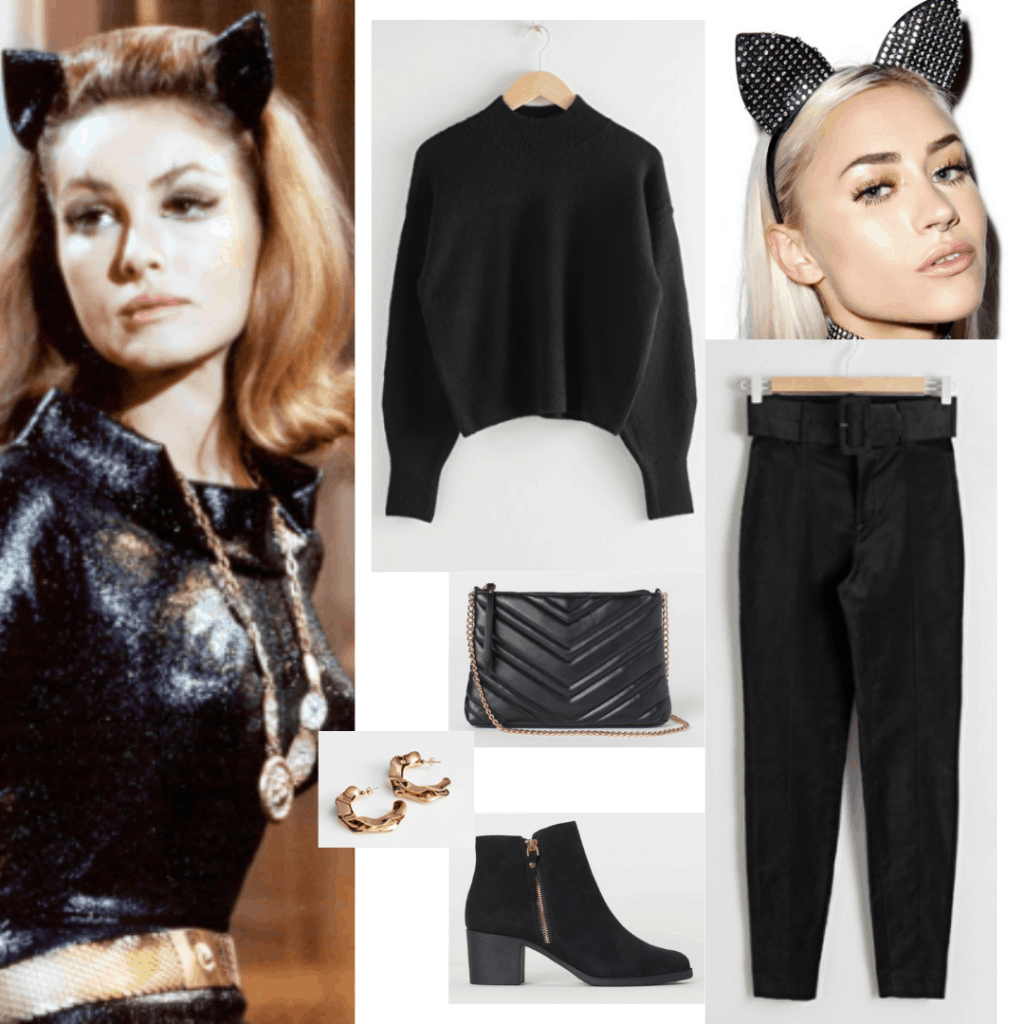 Products: Sweater – & Other Stories, Trousers – & Other Stories, Earrings – & Other Stories, Boots – H&M, Purse – H&M, Cat Ears – Dolls Kill
Catwoman Outfits: Batman Animated Series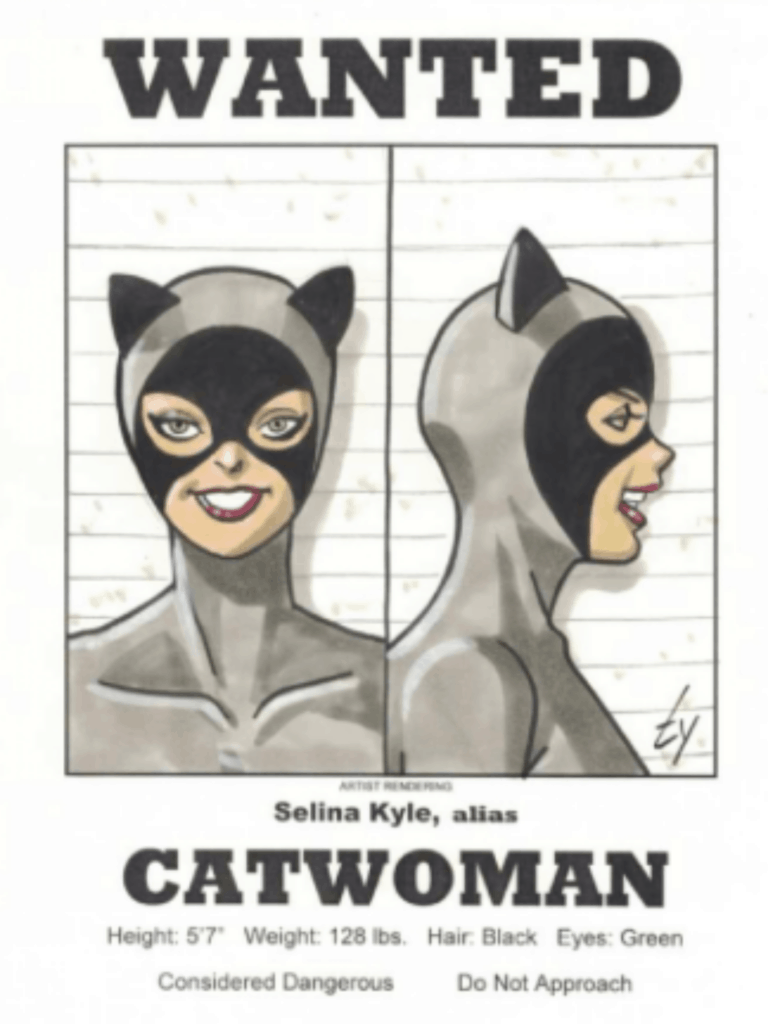 Even though the Batman live action TV series had been off the air for over twenty years, in the early 90's Catwoman made a comeback in the popular Batman animated series.
In the series, she continues to be Batman's girlfriend and enemy, and she loves stealing beautiful things because she feels she deserves them. Her look does change from the solid black ensembles we have seen in the other iterations: In the animated series, Catwoman's costume is almost fully grey with the exception of her black mask.
When it comes to recreating the cartoon Catwoman look, ditch black almost completely and focus more grey hues when looking for pieces. Go for a grey jumpsuit or even a full-on suit, that is both alluring and comfortable.
Add a splash of black with your accessories, namely a purse and some high heels.
This look would be perfect for those first few days back in the classroom, where you want to be comfortable, but also noticeably fashionable.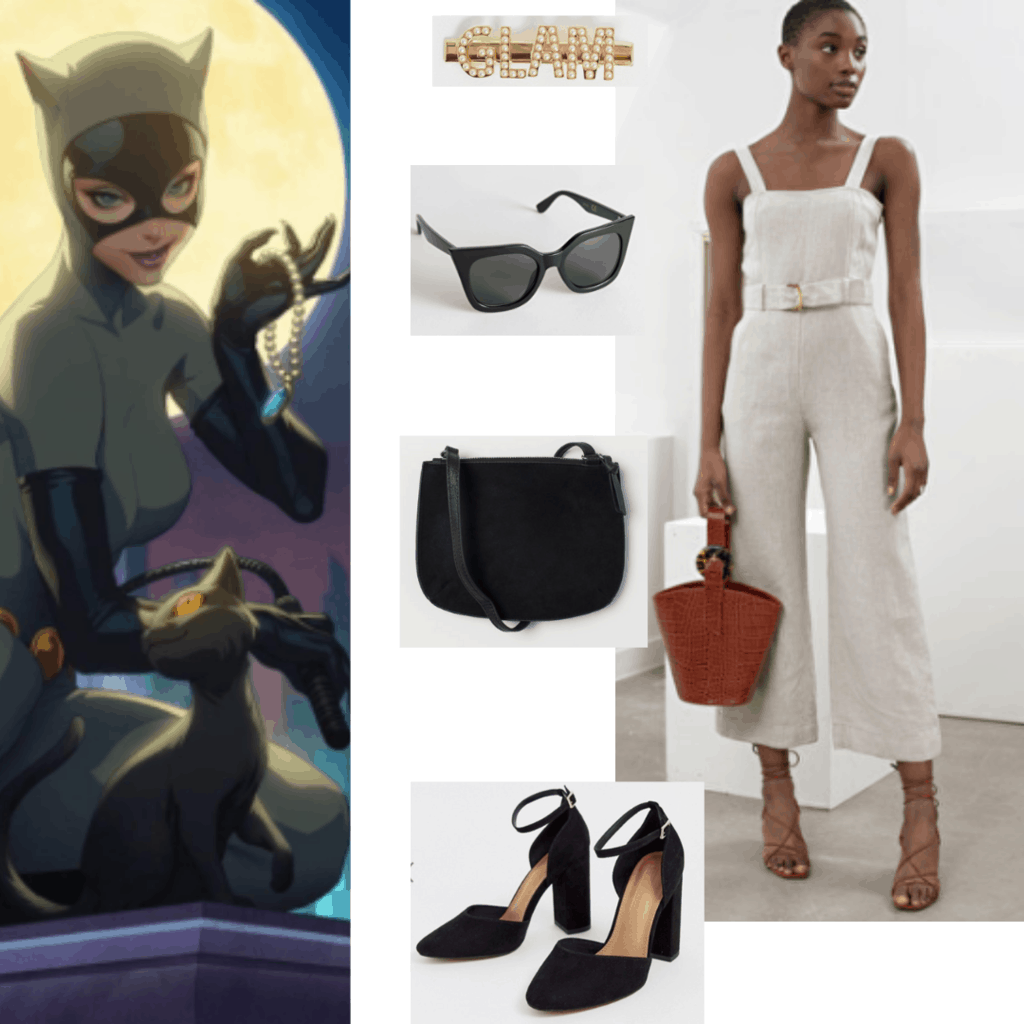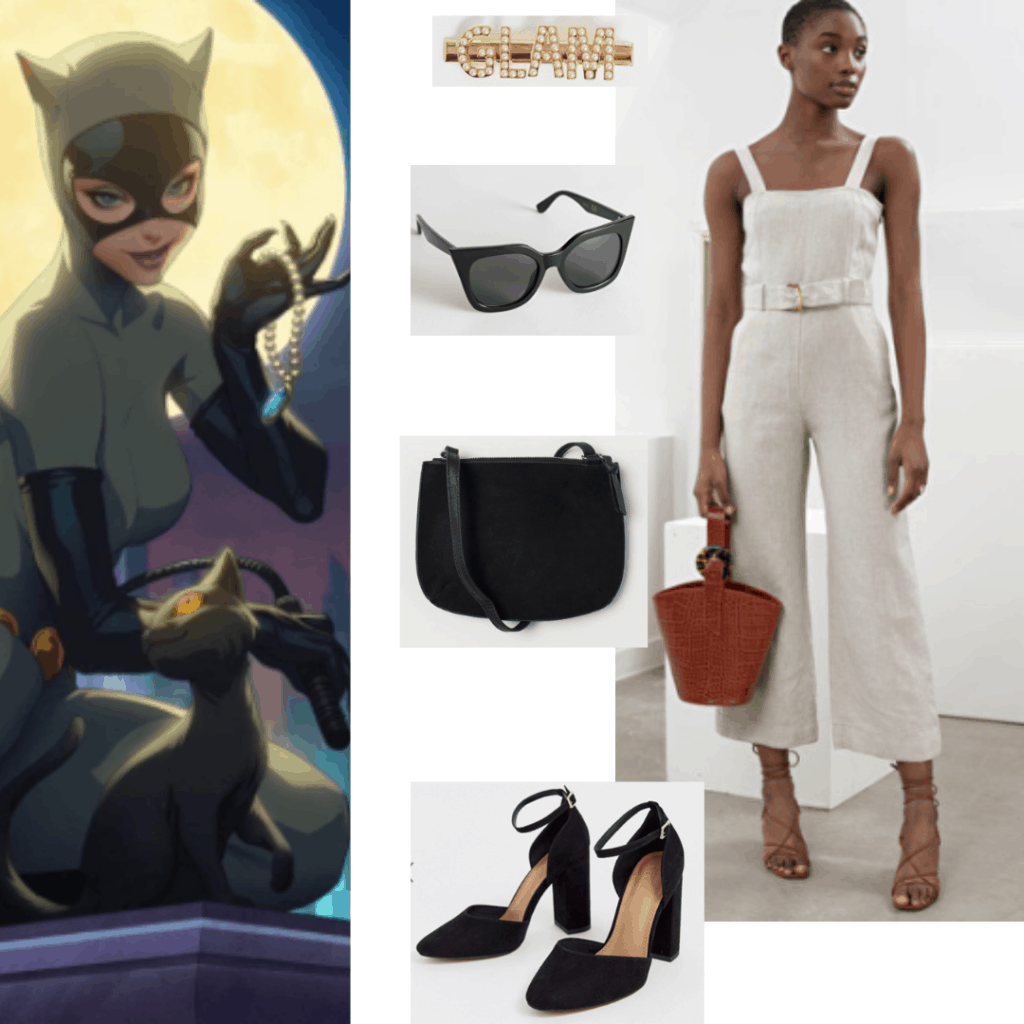 Products: Jumpsuit – & Other Stories, Sunglasses – & Other Stories, Heels – ASOS, Hair clip – ASOS, Bag – H&M
What did you think of these Catwoman style outfits?
Are you a fan of Catwoman's style? Which Catwoman iteration is your favorite? Would you try any of these Catwoman outfits yourself? Let us know by leaving a comment down below.