This post may contain affiliate links, which means we may receive a commission if you purchase through our links. Please
read our full disclosure here
.
Fashion inspiration can be found anywhere, and books are incredible sources for style innovation. Book-Inspired Fashion explores these treasure troves, and brings them them to you in looks inspired by vibrant characters, far away lands, brilliantly woven plotlines, and more.
I appreciate all kinds of books – thrillers, bildungsroman, chick lit, and just about everything else. This is the first time here, however, that I'm going to be covering a novel that isn't targeted towards the general or female audience. To me, labels and genres shouldn't define the books we read, nor should widespread media give us reason to read or skip a particular book.
So, I'm going to dive right into the literary world of James Bond, and as always, will focus entirely on the novel (and, of course, the fashion I glean from it).
Reading Between the Lines
As I mentioned in my last post, Casino Royale is the first book in the James Bond series, which has been continued by other authors since the death of English author Ian Fleming. Casino Royale was originally published in 1953, and was an immediate hit that forever left a mark on the spy fiction genre.
The book draws from Fleming's own life experiences as a former intelligence officer, with protagonist James Bond being partially based on and sharing many personal tastes with the author. After Casino Royale, Fleming continued to publish a Bond novel every year until his death, and the series never lost its popularity.
Casino Royale introduces James Bond as secret agent 007, working for the British secret service, MI6. He is sent to a casino in France in order to find and strip antagonist Le Chiffre of his funds because of his connection to Soviet-operated organization SMERSH. There, he meets ally Vesper Lynd, with whom he eventually falls in love – she's one of only two Bond girls to ever truly capture his heart.
This novel doesn't sugarcoat the life of a secret agent, and there is a brutal torture scene that had me slightly on edge. Keep in mind that there is a level of violence that is generally restricted to this almost-thriller type of book, although I would generally consider it not a very graphic book.
What I liked most about this book is the compelling combination of excellent pacing, wordplay, and the matter-of-fact way in which startlingly realistic images are transmitted with emotion and spirit. It's at once detached and fully immersed in the spirit of the characters. I enjoyed speeding through the book while lingering on some incredibly well-crafted passages.
Yes, there are (valid) arguments about the objectification of women in the world of James Bond, but don't let that stop you from experiencing this classic novel. The sexism definitely bothered me, but the fact that Bond is a flawed man was a nice change from the upstanding, morally-pristine protagonists of many other books I've read. It's not a perfect book, but I do think it's worth your time.
Spoiler Warning: Don't read the second and third outfit descriptions if you don't want the twists and ending of this novel to be spoiled in great detail!
1. Deep Champagne
"A dry martini," he said. "One. In a deep champagne goblet."

"Oui, monsieur."

"Just a moment. Three measures of Gordon's, one of vodka, half a measure of Kina Lillet. Shake it very well until it's ice-cold, then add a large thin slice of lemon peel. Got it?"

"Certainly, monsieur." The barman seemed pleased with the idea.

"Gosh, that's certainly a drink," said Leiter.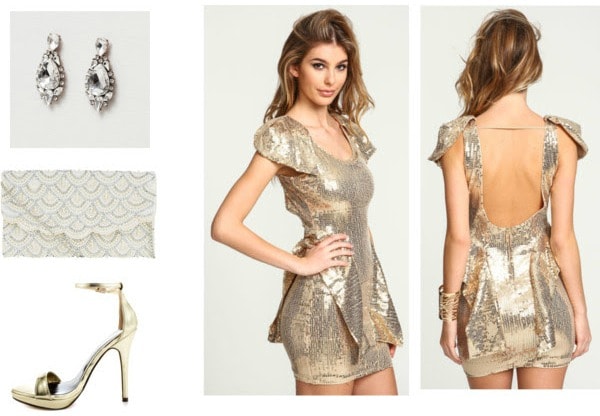 Products: Dress, Heels, Clutch, Earrings
This is certainly the first time I have based an outfit set around a drink. However, this seemingly insignificant interaction at a casino bar stands out to me: It cements the particularities of a cold, efficient secret agent.
Given that he is a man sent to beat the odds while given the discretion to kill, this moment displays a bit of Bond's more human side, because he is less of a machine than he appears. At the same time, however, this also expresses his calculating approach, with everyone serving a specific purpose to eliminate room for error. Essentially, Bond can never not be an agent.
Another interesting tidbit is that Bond names this drink the "Vesper martini," immortalizing his first love with a drink that appears many times in the subsequent books and movies.
This glitzy golden dress is the centerpiece of this look, largely because the drink itself is a light gold color, placed within a "deep champagne goblet." I wanted something formal to reflect the luxurious casino setting. It's a very feminine look because of the connection to Vesper, and is unabashedly risky because of both the low cut in the back, and because of the eye-catching gold color palette.
The accessories are kept simple to allow the dress to be the focal point of the outfit, and I only included earrings for jewelry. The dress is more than enough on its own.
2. Touch of Splendour
He remembered her beauty exactly. He was not surprised to be thrilled by it again.

Her dress was of black velvet, simple and yet with the touch of splendour that only half a dozen couturiers in the world can achieve. There was a thin necklace of diamonds at her throat and a diamond clip in the low vee which just exposed the jutting swell of her breasts. She carried a plain black evening bag, a flat object which she now held, her arm akimbo, at her waist. Her jet black hair hung straight and simple to the final inward curl below the chin.

She looked quite superb and Bond's heart lifted.

"You look absolutely lovely."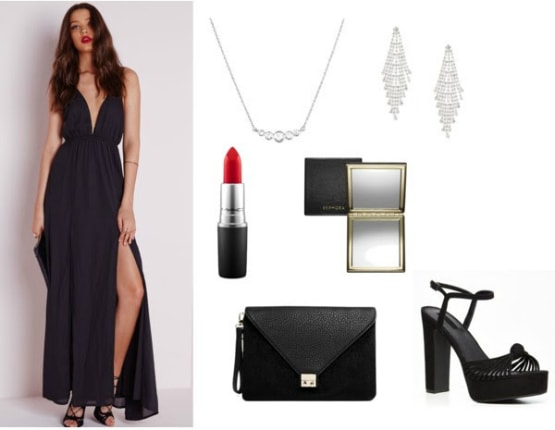 Products: Dress, Shoes, Purse, Lipstick, Mirror, Necklace, Earrings
I was originally against featuring Bond's observations of Vesper's physical beauty, but this passage stuck with me. I was drawn to the honesty in Bond's admiration and attention to detail. Also, I wanted to focus on who I consider the strongest character in the book, who is dealt the worst hand in luck and love.
Yes, Vesper is beautiful, but her unexpected humor and charm establishes two sides to her personality from the beginning, in stark contrast to her other, coldly detached demeanor. She is not painted as a simple trophy figure, but as a tortured woman who has equal standing as an agent with Bond (rare in the series).
The dress I selected contains all the drama and elegance I would choose for a woman who has so much to hide, with even more at stake. The long, black silhouette adds a hint of subtlety and mystery that suits Vesper perfectly.
The jewelry consists of a matching necklace and set of earrings, and the black bag (as described in the quote) is a simple addition to complete the outfit. The shoes are perhaps more adventurous than a typical pair of black pumps, and the red lipstick similarly provides a little something extra to stand out in a crowd.
3. Mess of Disentanglement
With most women, his manner was a mixture of taciturnity and passion. The lengthy approaches to a seduction bored him almost as much as the subsequent mess of disentanglement. He found something grisly in the inevitability of the pattern of each affair. The conventional parabola — sentiment, the touch of the hand, the kiss, the passionate kiss, the feel of the body, the climax in the bed, then more bed, then less bed, then the boredom, the tears and the final bitterness — was to him shameful and hypocritical. Even more, he shunned the 'mise-en-scene' for each of these acts in the play — the meeting at a party, the restaurant, the taxi, his flat, her flat, then the weekend by the sea, then the flats again, then the furtive alibis and final angry farewell on some doorstep in the rain.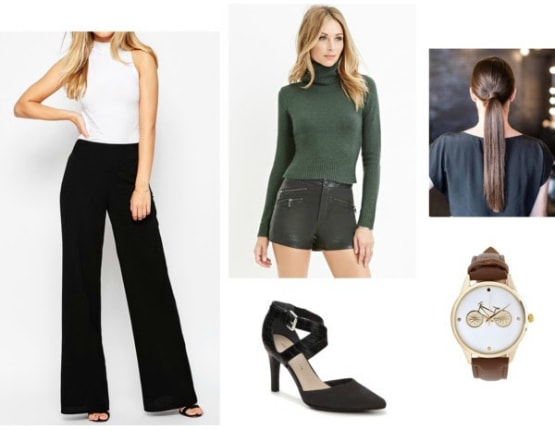 Products: Top, Pants, Shoes, Watch. Hair Photo: ELLE.com
This scene comes from a point near the end of the book, when Bond is struggling to reconcile his feelings for Vesper in the wake of his objectification of women. He feels shame for succumbing to feelings that had never before ensnared him, and I think this elevates Vesper to a place of power that isn't a result of attempted seduction.
The development of their relationship is refreshingly complex, and the sudden shattering of their happy time together is unexpected and shocking. After the two realize that they love each other, Vesper is revealed to be a double agent who is haunted by the fact that she cannot continue to work against Bond given that her feelings for him are genuine. She commits suicide because of the overwhelming guilt and deadly circumstances in which she is caught, and her betrayal stuns Bond.
Bond tries to emotionally detach himself from the situation by treating her death with bitter, disguised hurt, and this is so different from the happy ending that could have been, had the two been able to work through their personal issues.
This outfit includes some tough, masculine inspiration, in keeping with Vesper's character. After all, she held her own against Bond, retained an equal position to him, and essentially could have eliminated him as an enemy had she not returned his love.
The wide-legged pants are a stylish alternative to regular black slacks, and the turtleneck is a classic staple, tucked into the pants for a sleek silhouette. The shoes are simple black heels, and the watch that I chose has an image of a bike to reference France as one of the locations of this novel.
I'm always a supporter of ponytails for work, and so I wanted to include one in the look. It's only fitting: A skilled, experienced agent like Vesper would be practical as well as polished in order to cover all bases while on the job.
In the next Book-Inspired Fashion post…
Among other things, I study Spanish literature. So, the next post is going to be on what is likely the best-known work of Spanish literature in the world, and it is from the early 1600s. While it's a struggle for me to interpret and write about in the original old Spanish, I'm excited to write about it in English for all of you readers!
Hint: Don
And just as a reminder, please continue to give me book recommendations, or let me know if you want me to cover a specific book here! After writing this column for nearly a year, I'd love to try to incorporate more reader requests.
Your Thoughts?
Are you a fan of the vast world of James Bond? Have you ever read one of the books in the series? Let us know in the comments below!