Carven's Fall 2015 collection has a little bit of everything we love for fall. We're talking suit pants, blazers, soft floral skirts, leather pants, chunky boots, gold accents and more. This collection is all about putting a slight twist on classics and pairing soft with edgy.
Do you have your eyes on pieces from Carven's Fall 2015 collection? Keep reading for three budget-friendly outfits inspired by the looks on the runway:
1. Equestrian Chic
This is one of my favorite looks from the collection. It's so simple, yet not even the slightest bit boring. The navy blue jacket looks great against the black and white palette, and I love the slight hint of gold at the waist. (Gold, of course, is my favorite color.)
Get the Look: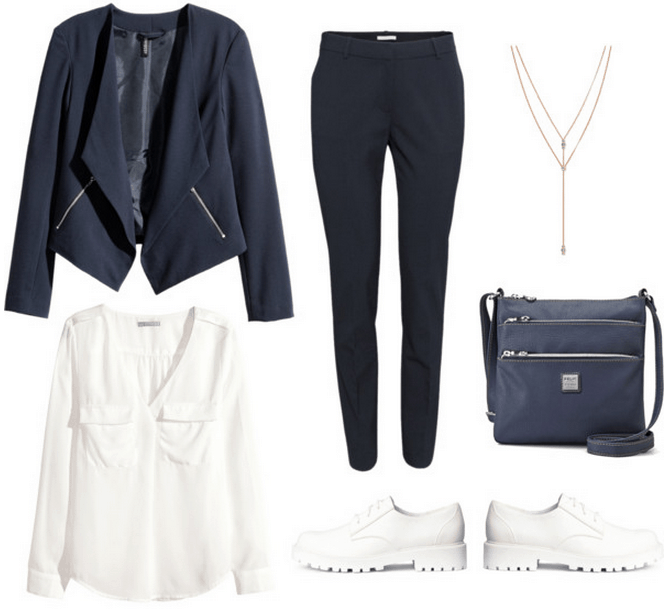 Products: Jacket, Blouse, Pants, Necklace, Bag, Shoes
Achieve a similar look with a dark blue zippered jacket paired with an airy v-neck blouse. Slip into black suit pants with tapered legs, then add white chunky soled shoes for a modern vibe. Accessorize with a y-drop gold-tone body chain. Finally, finish off the look with navy blue cross-body bag.
2. Feminine Focus
How perfect is this look? I love the idea of a sleeveless wrap dress worn over a sheer dress shirt. The tough navy blue dress is softened by the sheer white shirt for a feminine feel. And again, there's a perfect pop of gold at the waist. To finish, lavender shoes add a fun and lighthearted touch.
Get the Look: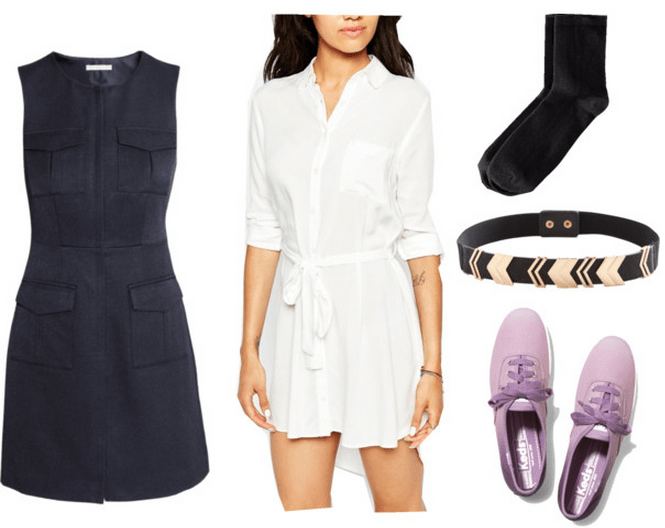 Products: Dress, Shirt Dress, Socks, Belt, Shoes
For this look, grab a relaxed collared shirt dress and pull the cuffs down. Over the dress, pull on a short, fitted navy blue sleeveless dress. I love the pockets on this one! Slip into some black fine-knit socks, then add an element of surprise to the look with purple ombre lace-up sneakers. Add a black belt with gold metal detailing to finish the outfit.
3. Floral Fluff
This ensemble is where summer and autumn meet. As with the previous runway ensembles, I love the soft, feminine elements that make up this look. How gorgeous is that floaty skirt? Again, the addition of darker elements, like the ankle boots and sweater, make for an edgy yet playful outfit.
Get the Look: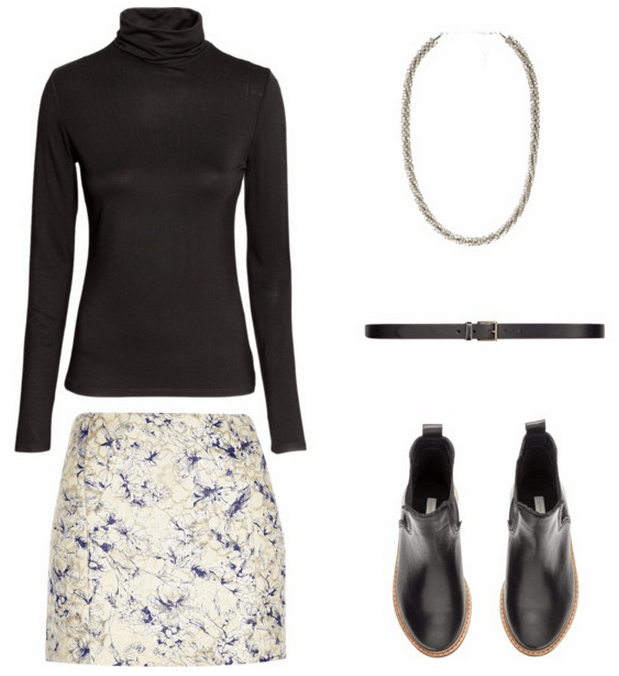 Products: Sweater, Skirt, Necklace, Belt, Boots
Channel this look with a long-sleeve turtleneck tucked into a lustrous gold floral mini skirt. A glamorous rhinestone rope choker will have all eyes on you. Pull on a pair of leather boots with elastic panels, then complete the look with a gold-accented faux leather belt.
Your Thoughts?
What do you think of the Carven Fall 2015 collection? Are you lusting over any of these looks as much as we are? Would you wear any of these ensembles? Remember to share your thoughts in the comment section below!