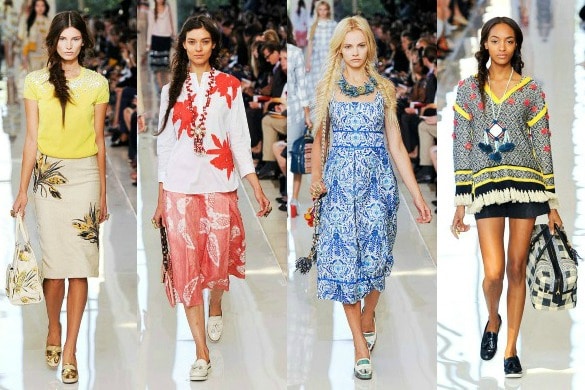 Tory Burch Spring 2013 RTW | ELLE
Vogue was spot-on when they describedTory Burch's Spring 2013 collection as an example of "preppy globalism." This season, Burch created looks that incorporated her signature polished vibe, but also added a worldy flair with unique embellishments, bold prints, and one-of-a-kind statement jewelry. The overall look is a fab mix of classic and bohemian aesthetics – perfect for summertime!
Want to get a designer look on a college student's budget? Below, we'll show you three lower-priced versions of looks from Tory Burch Spring 2013. Simply scroll down to check 'em out.
1. Golden Girl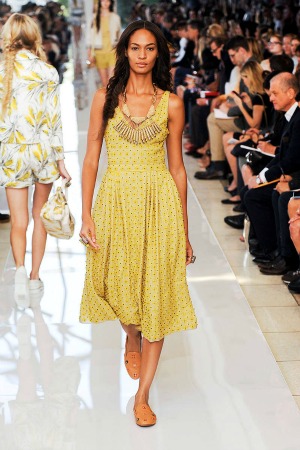 Photo: ELLE
The preppy globalism look is on full display with this ensemble, which pairs a yellow sundress with an oversized statement necklace. The necklace really amps up the style factor and adds interest to a classic A-line frock.
Get the Look: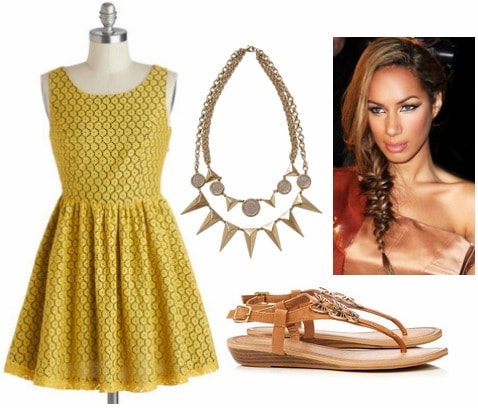 Product Info: Dress- ModCloth, Necklace- Piperlime, Shoes- Wallis | Hair Photo: ELLE
Recreate this outfit with a cute eyelet dress from ModCloth, which has a similar silhouette and color to the one from Tory Burch. Add a pair of neutral-colored embellished sandals to continue the summery vibe of the look. Next, accessorize with a tiered, spiked statement necklace. For the finishing touch, style your hair into a fishtail braid similar to the ones the models rocked on the runway.
2. Summer Chic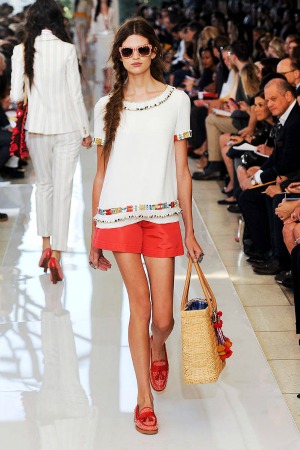 Photo: ELLE
Tory Burch created a super-stylish play on the typical shorts-and-t-shirt combo in her spring '13 collection. Pairing an embellished and fringe-adorned tee with bold red shorts makes for a chic take on a timeless look.
Get the Look: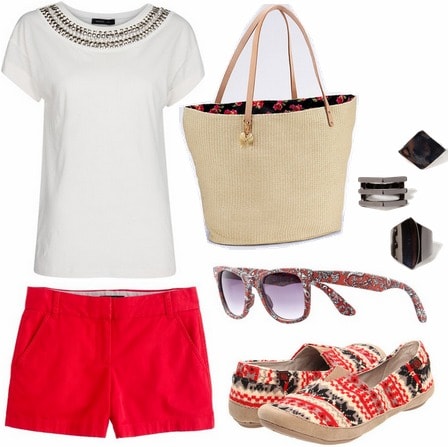 Product Info: Top- Mango, Bag- Victoria's Secret, Rings- Forever 21, Shorts- J. Crew, Sunglasses- River Island, Shoes- 6pm.com
For a similar vibe, take a not-so-basic white t-shirt with a cool studded neckline and pair it with some tailored red shorts. Add a pair of printed slip-on flats, as well as a classic straw tote bag. Slip on a pair of trendy patterned sunglasses, then accessorize with several mix-and-match rings.
3. Trendy Tie-Dye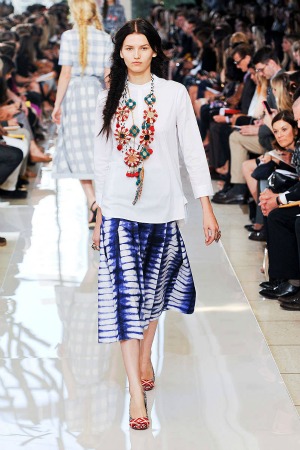 Photo: ELLE
Tory Burch proves that a tie-dyed look can be sophisticated with this stylish ensemble. A white tunic keeps things casual, while brightly-colored necklaces add texture and interest.
Get the Look: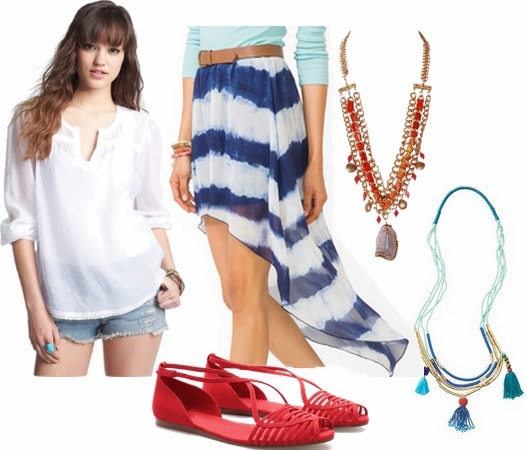 Product Info: Top- Nordstrom, Skirt- Forever 21, Red Necklace- Humble Chic, Shoes- Zara, Blue Necklace- LOFT
While the Tory Burch skirt is hand-dyed, you can get a nearly identical look with this budget-friendly option from Forever 21. Pairing the printed skirt with a white tunic gives this look a low-key and casual vibe. The top also creates a sort of blank canvas for the colorful necklaces – in this case, more is definitely better, so pile on two super-bold necklaces. Lastly, pick up on the red hue on one of the pieces of jewelry by adding a pair of crimson-colored flats.
Your thoughts?
What do you think of this collection? Are you a fan of Tory Burch? Which look is your favorite? Would you wear any of these outfits? Which designers would you like to see featured here next? Remember to leave a comment below and let me know what you think!