This post may contain affiliate links, which means we may receive a commission if you purchase through our links. Please
read our full disclosure here
.
Many of you expressed your interest in British style in response to my last post on British vs. American fashion, so I thought I would do a piece on inspiration from some of my favorite British style icons. There were plenty to choose from, but today I want to focus on some slightly lesser-known women. After all, we already know how to dress like Kate Moss, Sienna Miller and Emma Watson!
Today I have chosen to feature MTV Presenter Alexa Chung, TV presenters Fearne Cotton and Holly Willoughby, singer Florence Welch (of Florence + The Machine fame) and actress Carey Mulligan. Each of these women have fabulous day and night styles that are both unique and easy to recreate.
Below, I will be breaking down each of their styles and showing you both a day and a night outfit inspired by each girl.
Alexa Chung
TV presenter Alexa is known for her fun, eclectic style. She mixes unusual pieces to create eclectic, not-quite-matching outfits that demonstrate her rejection of fashion rules.
Essential Elements of Alexa's Style
Layering. Alexa definitely understands the temperamental nature of British weather and always keeps warm in an array of blazers, jackets and cardigans.
Stripes. Stripes are a fun and easy way to inject some flavor into your wardrobe, and Alexa uses them to create interest in a simple outfit.
Mixing girly with edgy. Alexa is best known for her laid-back festival-type look, but she also wows on the red carpet by mixing feminine dresses with edgy black booties. And she always loves to rock a laid-back jacket with her cutesy florals.
Leave something to the imagination. Alexa pulls off ultra-short dresses by keeping the rest of her body covered. She admits she doesn't have any cleavage, so she keeps it sexy but not trashy by putting her top half under wraps and just showing off those endless legs.
Outfit Inspired by Alexa- Daytime
I wanted to create an outfit that represented Alexa's laid-back but put-together daytime look. While Alexa loves her high-waisted shorts and simple striped tops, she often mixes them with fun accessories to keep things from looking too perfect.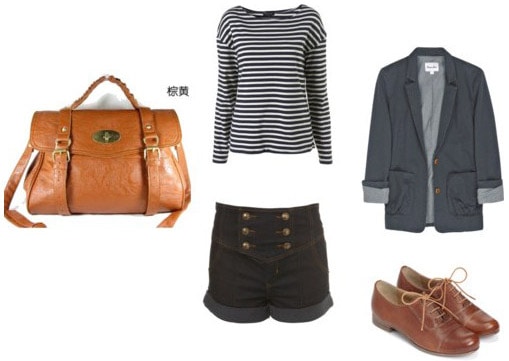 bag/striped top/blazer/high waisted shorts/oxfords
This outfit is great because it is so easy to recreate with pieces you already own, namely the striped top, denim shorts and oversized blazer. I added the oxfords to give the outfit a fun, masculine twist. Finally, what Alexa Chung outfit would be complete without the Mulberry "Alexa" bag? This bargain version is almost identical – for less than $12!
Outfit Inspired by Alexa – Night
I absolutely love Alexa's nighttime look, and one of my favorite outfits of hers is the one in the second picture above, where she's rocking an amazing lacy dress. I love how she creates a romantic yet edgy look with the little booties and clutch.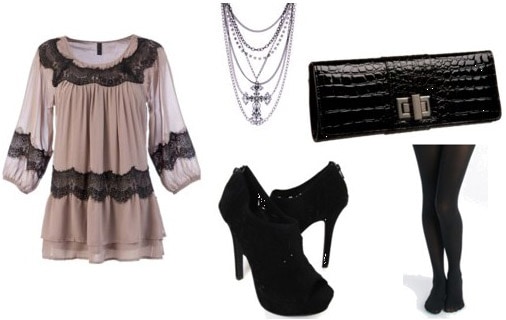 I got SO excited when I found this dress – but then I realized, it is super-short! So I added tights to wear underneath, but leggings would also look great with it, if you need more coverage. Alexa likes to keep her jewelry simple, but I thought this layered cross necklace worked well with the vintage Victorian look of the dress.
Fearne Cotton

Ex-kids TV presenter and radio DJ Fearne Cotton has a style all her own. Fresh, fun and edgy, there is nobody who dresses quite like her. She rocks Converse and bands t-shirts for day, but always looks amazing in mini-dresses and heels for red-carpet events.
Essential Elements of Fearne's Style
Fun shoes. Shoes are always a conscious choice for Fearne. Whether she's rocking biker boots with a girly dress or comfy Converse with a pretty skirt, her feet always make a statement.
Mixing prints. Fearne loves to mix different prints and patterns – like in her first outfit above. Need some help making the look work? We've got some tips on how to mix prints.
Mixing styles. I love that Fearne will often mix a pretty floral skirt with an edgy band tee, making her look feminine but also totally rocker-chic.
Finish with an amazing bag. We can't all afford Mulberry like Fearne, but we can channel her handbag style! She's known to rock brightly colored handbags, so try a red bag against a dark-toned outfit.
Outfit Inspired by Fearne – Daytime
I absolutely love how Fearne mixed prints in the first outfit above, finishing her look off with laid-back Converse. The ensemble is so chic but also looks very comfortable. Therefore, I decided to recreate something similar on a college budget.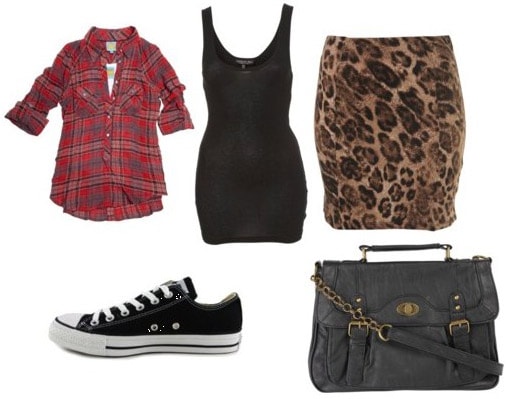 black tank top/plaid shirt/skirt/converse/bag
Like Alexa's day look, Fearne's daytime style is easy to recreate with the clothes you already own. Leopard print is a huge trend this season, and when paired with a plaid shirt, the otherwise-dressy leopard skirt becomes casual and funky. Finally, Converse are a great alternative to ballet flats for a fun daytime look, but you could also add heels to make this outfit work for evening.
Outfit Inspired by Fearne – Night
Fearne's evening look is really easy to recreate – all you need is a great dress and a cute pair of shoes!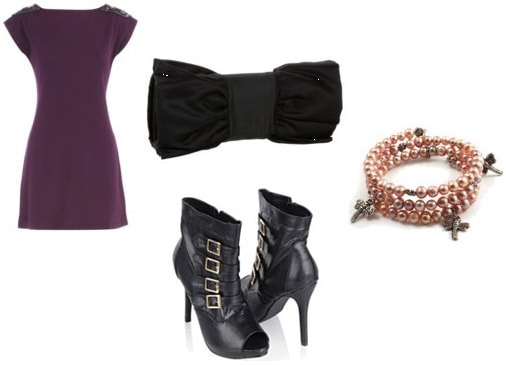 dress/biker boots/clutch/bracelet
I love how Fearne pairs her ultra-feminine dress with punky biker boots in the last picture above, and I also love the bright purple dress she wears in the second picture. So put 'em together and what have you got? This ensemble! This dress is a fabulous investment piece – it's simple enough for daytime as well as evening, and it would also be fab with boots and tights for the cold winter months.
Holly Willoughby
Fearne's best friend, TV presenter Holly Willoughby, is just as stylish, but has a different approach to fashion. While Fearne is a rock chick, Holly is a glam icon for curvy girls everywhere – embracing fitted dresses and showing off her assets with nipped-in waists. Her style is much more feminine and sophisticated than Fearne's, but works great for both day and night, too.
Essential Elements of Holly's style
Ultra-girly. Holly's look is really feminine – think floaty tea dresses and fitted evening gowns. She even gives her denim look a sophisticated edge with a cute patterned scarf and heels.
Rock those curves! Holly has curves in all the right places and boy, does she know how to show them off! To get her look, choose form-fitting dresses and plunging necklines, but choose longer lengths to avoid looking trashy.
Black opaques keep it classy. As Holly knows, when it comes to showing skin, sometimes less is more. She's known to rock black opaque tights with her little dresses, making for a sexy look that's also classy.
Perfectly polished. Holly's look is always perfected – there is never a hair out of place or a smudge of eyeliner to be found. She's also a fan of keeping things simple. On the red carpet, she lets her dresses do the talking, keeping jewelry to a minimum.
Outfit Inspired by Holly – Daytime
Holly's daytime look is really easy to recreate with a cute tea dress and a fabulous belt to define those curves.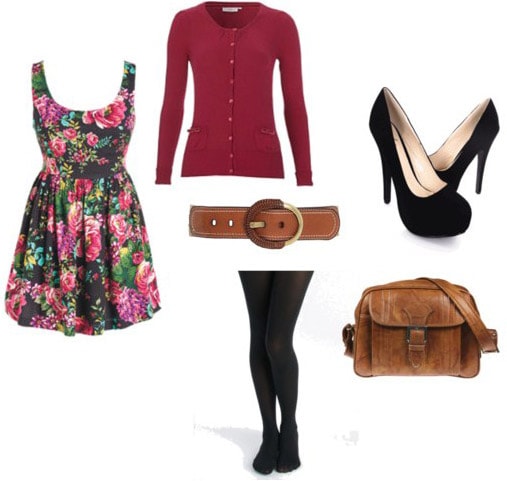 dress/cardigan/tights/black heels/bag/ belt
I love this dress because it's a perfect layering piece for winter (just add a long-sleeved tee underneath, or rock a cardigan on top), and the belt will help define its already-cinched-in waist. Belt the cardigan on top for an on-trend look. Finish off with a mix of tan and black accessories, including a vintage bag that Holly would love.
Outfit Inspired by Holly – Night
Holly's evening look is glamorous and sexy, so I wanted to create something simple and elegant, like the outfit she is wearing in the second picture above.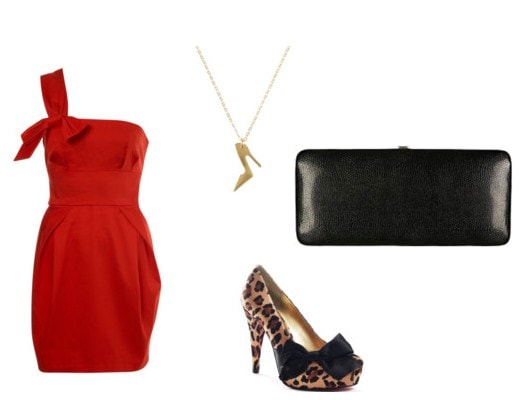 This look would be perfect for a Holiday party or New Year's Eve event. The bright red dress will ensure you stand out, and it needs minimal accessories – just add a simple necklace, leopard pumps, and a basic clutch, and you're good to go!
Florence Welch
Florence Welch has two very different style personas – during the day, she rocks an indie-inspired, eccentric look, while on stage, she's all about Greek goddess-style flowing gowns. We've already done a post here on CF inspired by her music, so this post is dedicated to her unique look, on and off stage.
Essential Elements of Florence's style
Masculine-inspired pieces. Florence is often seen in oxfords and oversized blazers, both of which give her girly look a masculine edge.
Don't be afraid to go long. Florence often wears long dresses on stage and they look fabulous on her. Maxi dresses were huge this summer, so continue the trend with a long evening dress or skirt.
Mix vintage and new. Florence's style is fun because she mixes her vintage pieces with modern items, creating a balanced yet eclectic aesthetic.
Play with a neutral palette for daytime. While Florence loves to wear bright colors on stage, during the day, she works muted tones of blue and mustard, as well as lots of black.
Outfit Inspired by Florence- Daytime
I wanted to create a daytime outfit that incorporated all of Florence's trademarks – high-waisted shorts, blouses, blazers, ankle socks and, of course, a great bowler hat.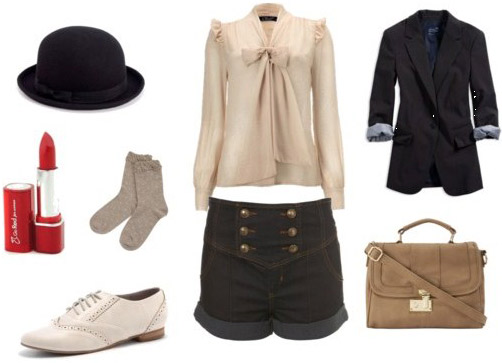 blouse/blazer/high waisted shorts/ankle socks/oxfords/satchel/bowler hat/lipstick/
This is probably my favorite outfit of this post. I love the look of tight-fitting shorts with a loose blouse, and I love the masculine shoes, blazer and satchel bag. Next, I added the ankle socks, hat and red lipstick for a fun, Florence-esque touch. As Florence proves, redheads absolutely can wear red lipstick!
Outfit Inspired by Florence – Night
With her flaming red curls and classic features, Florence looks like a Greek goddess on stage. Therefore, I wanted to find a beautiful Grecian dress and a touch of sparkle to recreate her red carpet and on-stage look.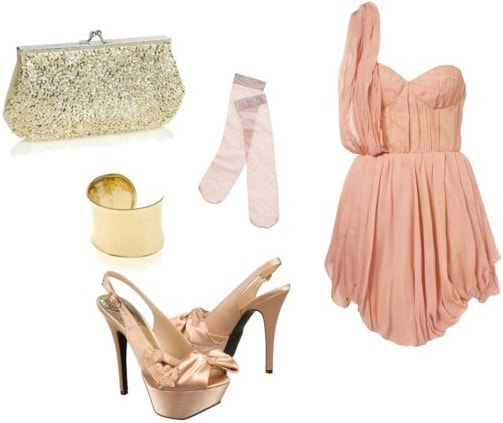 I debated including this dress because it's not exactly budget-friendly, but it was so beautiful and such a perfect example of what I had in mind for Florence's night dress that I had to use it. Obviously, there are dozens of other Grecian-inspired dresses out there that would be more budget-friendly. Next, I added a bit of sparkle (Florence loves her glitter!) and Florence's trademark silk socks and heels. Since the dress is such a statement-making piece, this simple gold cuff is all that's needed to complete the look.
Carey Mulligan
Actress Carey Mulligan was recently voted Best Dressed Woman of 2010 and it's easy to see why. While her daytime look is laid back and casual, her evening look is positively showstopping.
Essential Elements of Carey's Style
Relaxed, easy pieces for day. Carey loves black cropped trousers, and as you can see in the photo above, they look fabulous when paired with a loose, simple shirt.
Choose feminine pieces for evening. Carey's red carpet dresses are always pretty and feminine without being too sexy. She usually chooses classic shapes and adds minimal jewelry.
Minimalism. Carey's style is intentionally effortless – this girl doesn't like tons of flash. Even her red carpet looks are simple and classic.
Outfit Inspired by Carey – Daytime
To create a look inspired by Carey, my goal was to keep it simple. After all, Carey's daytime style is all about being comfortable yet classy.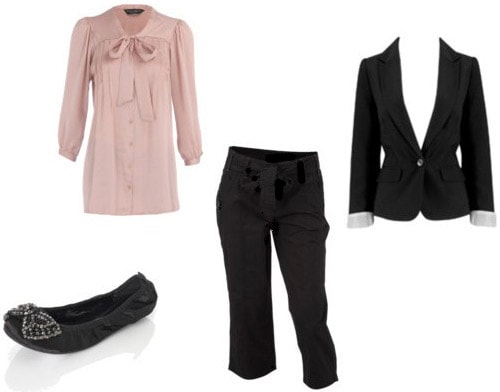 shirt/blazer/cropped trousers/pumps
I love this outfit because it is at once both laid-back and smart. Cropped trousers are a great alternative to jeans, and a smart blazer and shirt make this look work-appropriate, yet still comfortable and effortless.
Outfit Inspired by Carey – Night
I wanted to create an outfit based on Carey's gorgeous 2010 Oscar dress (pictured above). In case you don't remember, her beautiful dress was decorated with little knives and forks! As Carey's Oscar look proved, one statement dress is really all you need to stand out – accessories can be kept to a minimum when your frock is amazing.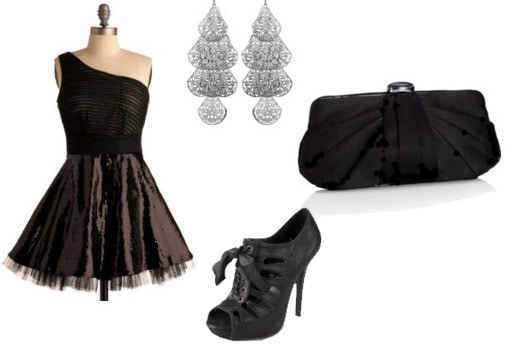 To begin, I chose a pretty black party dress with a similar shape to Carey's Oscar gown. I absolutely loved Carey's ribbon shoes, and these are a fabulous alternative. Finally, since the dress has an unusual neckline, you don't need to wear a necklace, so these beautiful chandelier earrings complete the look.
What do you think?
What do you think of British style? Who are you favorite British style icons? Which country do you think has the most stylish women? I'd love to know what you think! Let me know in the comments.