Fashion inspiration can be found anywhere, and books are incredible sources for style innovation. Book-Inspired Fashion explores these treasure troves, and brings them them to you in looks inspired by vibrant characters, far away lands, brilliantly woven plotlines, and more.
Surprise! I know after my last hint, you were expecting me to cover an emotional Jodi Picoult book. To be honest, that was the plan, and because a few of you guys tried guessing which novel it was going to be, I'll reveal my choice: The Storyteller, which deals with the impact of the Holocaust on a 21st century descendant who had never before identified as Jewish.
Ultimately though, I had to go in another direction and decided to draw inspiration from the magical, childhood-happiness of The Wizard of Oz. Rather than cover the original book, I'm covering the Marvel Comics edition, which I really think did justice to the book, movie, and every other rendition of it in the most fantastic, aesthetically-pleasing manner possible.
Reading Between the Lines
Originally published by L. Frank Baum in 1900, the children's book The Wonderful Wizard of Oz was a huge hit, eventually resulting in numerous sequels and various adaptations. Marvel Comics decided to bring about a comic book reboot of the beloved series, with Eric Shanower as the writer adapting Baum's original material, and Skottie Young as the artist.
The first volume in the series (a published collection of the first eight issues) was released in 2009 to critical acclaim and praise, especially for Young's amazing artistic representations of the characters most of us thought we were familiar with from the 1939 movie starring Judy Garland. I really appreciated the fact that Shanower stayed faithful to the original books, and loved discovering which departures the movie had taken. It gave me a lot of surprises to look forward to while reading the comics! In fact, these comic books are what made me read the original novel, despite the fact that I've never before been a big comic book fan.
I want to emphasize that the artwork truly is spectacular, and while I'll try my best to showcase outfits that are inspired by Skottie Young's phenomenal work, nothing can live up to the experience of flipping through the actual issues/volumes and being awestruck by the vibrantly evocative colors (courtesy of colorist Jean-Francois Beaulieu), shapes, and movements that really bring out the soul and childhood delight of the Oz series.
In case you are unfamiliar with the series, the premise isn't too complicated: Protagonist Dorothy Gale and her dog Toto are swept from Kansas to another world in which munchkins and witches thrive. She meets a few companions on her journey to find the famed Wizard of Oz, whom she hopes can return her home to her Uncle Henry and Aunt Em.
The three looks I've created are straightforwardly reminiscent of the three beloved heroes emblematic of the series: The Scarecrow, the Cowardly Lion, and my favorite– the Tin Woodman. Young's portrayal is unlike anything else I've ever seen, and they're instantly lovable and relatable.
(For outfits inspired by Dorothy Gale, here's a fantastic CF article that's already explored her boundless style possibilities!)
1. Only a Scarecrow
Oh, yes, I'm anxious. It's such an uncomfortable feeling to know one is a fool. It seems to me that a body is only a machine for brains to direct, and those who have no brains themselves are liable to be directed by others. But I may be wrong, I'm only a scarecrow you know.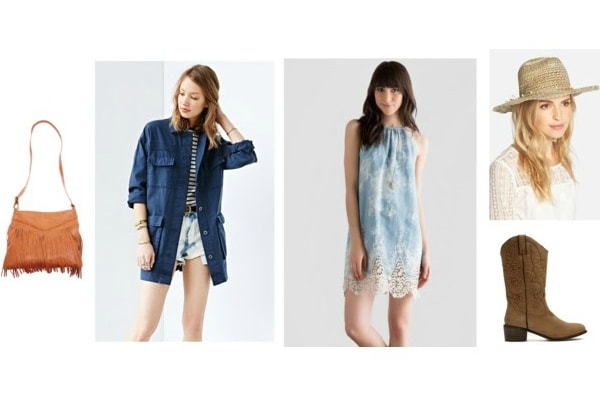 Product Info: Dress – Francesca's, Jacket – Urban Outfitters, Shoes – GoJane, Bag – Wet Seal, Hat – Nordstrom
There is a running theme of irony because this introductory statement from the Scarecrow already demonstrates that he is far more intelligent than everyone gives him credit for. Considering that he is just a few days old at this point, it is impressive how quickly he catches on to things and adapts to his every situation. In fact, he is the one that typically comes up with solutions to the group's obstacles and challenges, and is therefore invaluable to them.
The Scarecrow, as described by the artist, has consistently round curvature with regards to his physical appearance, with few (if any) sharp lines on his body. He is obviously not human, with his stitched mouth and uneven eyes, but appears warm and kind regardless.
His hat stands out as being different from a typical scarecrow hat– which Skottie Young indicates as an intentional move in his comments in the first volume– and it subtly softens his overall appearance. I started, therefore, with a floppy straw hat, because I believe that sunhats often complete an outfit by adding a casual but romantic aspect to the look.
The rest of the outfit is inspired by the Scarecrow's standard blue clothing, and I purposely tried to evoke a farm-type feel (fringe, cowboy boots, denim) to represent the setting in which the Scarecrow is found, which I imagine was comforting to Dorothy, who also grew up on a farm.
2. Who Hasn't a Heart
But during the year I stood there I had time to think that the greatest loss I had known was the loss of my heart. While I was in love I was the happiest man on earth, but no one can love who hasn't a heart, so I am resolved to ask Oz to give me one. If he does, I'll go back to the munchkin maiden and marry her.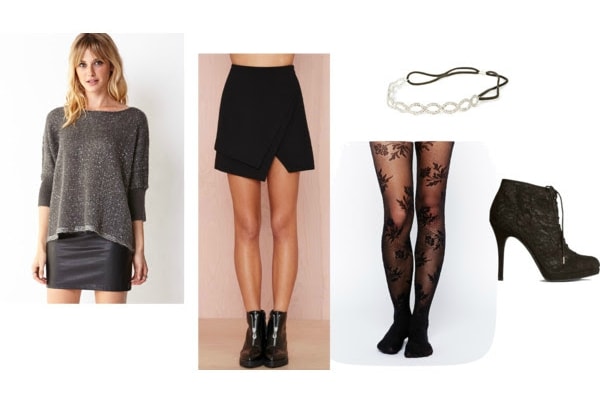 Product Info: Sweater – Forever 21, Skirt – Nasty Gal, Tights – ASOS, Shoes – H&M, Headwrap – Icing
The romantic story behind the Tin Woodman is one of the most compelling (if very minor) arcs within the novel. It really grounds his character into the setting, giving him the motivation and reason to seek out a heart after all of his flesh and blood had been replaced by metal.
Like the Scarecrow, the Tin Woodman's claims about himself are immediately proven to be inaccurate. He cries after accidentally stepping on and killing a beetle, and cannot fathom the idea of a tiger trying to kill a tiny mouse– a scene that eventually saves the life of the Cowardly Lion when it's revealed that the little mouse is the queen of all field mice!
I especially loved the Tin Woodman's depiction in the Marvel edition of The Wonderful Wizard of Oz because he retains so many human characteristics despite being made of metal. His mustache is the same one he had as a human, and his torso is as rotund as a man getting on in years. He isn't the bulky or robotic figure I had previously imagined, and I grew really attached to this visualization of the character I had thought of as a robot-human hybrid.
I love playing with monochromatic themes, but stretched the color palette just a little bit past pure grays by including black and silver pieces. I played with mixed patterns and textures here, particularly in the tights and booties, in order to mirror the Tin Woodman's personal history of being built into a metal form piece-by-piece until he lost all of his superficial humanity.
3. King of Beasts
It's a mystery. I suppose I was born that way. All the other animals in the forest naturally expect me to be brave, for the lion is everywhere thought to be the king of beasts. I learned that if I roared very loudly every living thing was frightened and got out of my way.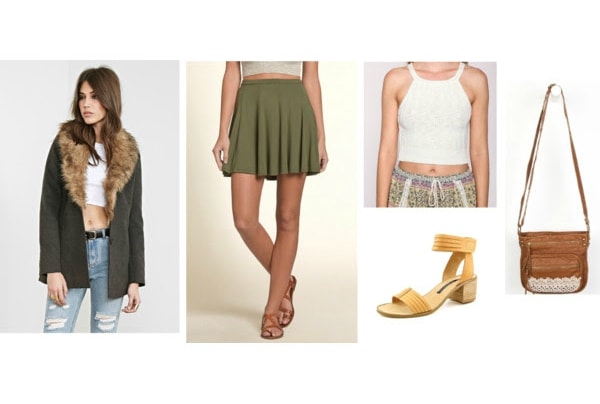 Product Info: Top – Love Culture, Skirt – Hollister, Jacket – Forever 21, Shoes – Shoe Metro, Bag – Tilly's
I can't stop praising Skottie Young's take on these classic characters, and the Cowardly Lion certainly fits in here. He looks incredibly, lovably adorable, and this is something Young intended, having commented that he used big, round circles to depict the Lion as a non-threatening character that is still recognizable as a great "king of beasts."
I used earth tones and faux fur to emulate the role of the Lion as a creature of the wild whose natural, comfortable habitat lies within a forest filled with other animals and nature. Unlike the Scarecrow and Tin Woodman, who never seem stupid nor heartless, the Cowardly Lion does demonstrate his cowardice at times, but is eventually able to return home and take up his role as the king of beasts.
This outfit combines shades of brown with the faux fur collar, bag, and shoes. Because of the variety of brown in nature, I wanted the end result to be a put-together look that still has contrasting elements, such as the winter jacket paired with the summer crop top.
Final Words
I highly recommend this comic book version of The Wonderful Wizard of Oz to anybody with even the slightest interest in fantastical children's literature. It's an unforgettable, remarkable edition that will delight children and adults alike because of its simplicity and beauty.
L. Frank Baum's imagination is hard to surpass, and it'll be difficult to find material of a similar caliber in the target age group that has such a well-established universe to explore! (Read: Baum went on to write 13 sequels, and these were then followed by numerous more after his death.)
Of course, don't forget to pick up the original novel too while you're at it.
Next time, I'm going to go with a reader recommendation! I'm surprised that I haven't covered a book like it yet because it's such a classic and favorite of mine.
Your hint is the word women.
After all, it's a book by a woman about women and for men and women alike. It was published in the late 1800s and could very well have been one of your required/recommended reads in your English classes.
Your Thoughts?
Have you ever read or seen any version of The Wonderful Wizard of Oz? What do you think of the Marvel Comics edition? Let us know in the comments below!