Fashion inspiration can be found anywhere, and books are incredible sources for style innovation. Book-Inspired Fashion explores these treasure troves, and brings them them to you in looks inspired by vibrant characters, far away lands, brilliantly woven plotlines, and more.
I love leaving hints about what book I'm going to cover next because it thrills me when you guess correctly. Still Alice is a book I just finished reading, unlike every other book I've written about thus far.
I'd wanted to read it ever since I found out that the then-unreleased film was based on a novel. Having only ever seen a brief 30 second teaser of the film, I purposely dived into this novel with as little background as possible – and finished it in a little more than two frantic hours.
Now, a bit of background on the book:
Reading Between the Lines
Still Alice was originally published independently by author Lisa Genova through the self-publishing platform iUniverse in 2007. Within a year, the book was brought to the attention of a literary agent (through word-of-mouth) and a six-figure contract was secured for Genova with traditional publishing house Simon & Schuster. The repackaged book was released, with expanded scope and reach, in January 2009, and became a huge bestseller. And, as you probably know, it received a star-studded film adaptation that was released at the end of 2014 to critical acclaim.
Alzheimer's disease, as you may have guessed, is at the center of this novel. Protagonist Alice Howland is a brilliant professor of linguistics at Harvard, is married to a cancer cell researcher, John Howland, and has three grown children: Anna, Tom, and Lydia. This novel essentially traces Alice's battle after discovering she has early onset Alzheimer's disease, but it's much more than that: it's a heart-wrenching love story, and a true reflection of what living with Alzheimer's is really like, for even the most intelligent of minds.
Like The Time Traveler's Wife, Still Alice is written in a straightforward, clear, and easy-to-follow manner that employs strong, heavy-hitting statements rather than a net of silky, lyrical prose. This doesn't make the writing any less beautiful, and is something I found helpful with regards to its methodical, timeline type narrative. In a way, it grounds the reader in reality rather than lifting them into a dream-like state, and that was just what a book like this needed.
Lisa Genova received her PhD in neuroscience from Harvard, where much of this book is set, and it's clear that she put her immense knowledge to the test in the writing of this novel. I found out right after finishing Still Alice that she was inspired by her childhood experience with her grandmother's Alzheimer's, which makes the emotion elicited by the book all the more real and tragic.
Honestly, this is the most heartbreaking book I have read in a long time, despite its element of predictability, and there is one scene in particular that made tears start pouring down my face. It's the basis for the third look, so without further ado, here are three outfits inspired by Still Alice:
Spoiler Alert: The third outfit will explain a lot about the ending of the book. While this novel does seem to be a bit predictable, I would still highly recommend you to stop reading before you get to that last look if you haven't already finished the book!
1. Everything She Did and Loved
She thought about the books she'd always wanted to read, the ones adorning the top shelf in her bedroom, the ones she figured she'd have time for later. Moby-Dick. She had experiments to perform, papers to write, and lectures to give and attend. Everything she did and loved, everything she was, required language (Genova 82).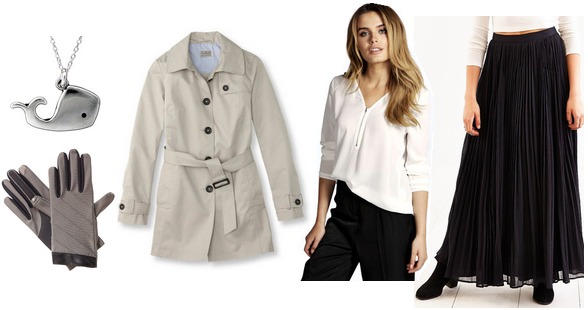 Product Info: Blouse – Boohoo, Skirt – Urban Outfitters, Jacket – L.L. Bean, Gloves – Target, Necklace – Etsy
I chose this scene instead of the actual scene in which she discovers she has Alzheimer's because it delves into issues deeper than just realizing one has a degenerative neurological disease – it describes what Alice believes are her top priorities. Without spoiling too much (yet), she does learn later that these aren't really what she wants the most, but it's definitely the first hard blow she receives after coming to terms with the neuronal damage the disease would deal her.
Before this, Alice was sure and steady, and had her life smoothly planned out. She lived a fairly methodical, predictable life, and that's what worked for her.
This outfit is based on a simplicity that I believe would make sense for a practical academician in chilly Massachusetts. While a butterfly is the symbol most associated with Alice, I chose a whale because of the reference to Moby-Dick, which definitely comes back a few times in the book (and offers a brief moment of much-needed comic relief).
This look is all about keeping it basic with muted colors – and not really knowing yourself until you've been through a fight that Alice considers worse than cancer.
2. Palette of the Sky
He let go of her, and she soared with exhilarating speed into the palette of the sky. The winds she traveled on were dazzling swirls of robin's egg blue, periwinkle, lavender, and fuchsia. The ocean below was a rolling kaleidoscope of turquoise, aquamarine, and violet (Genova 256).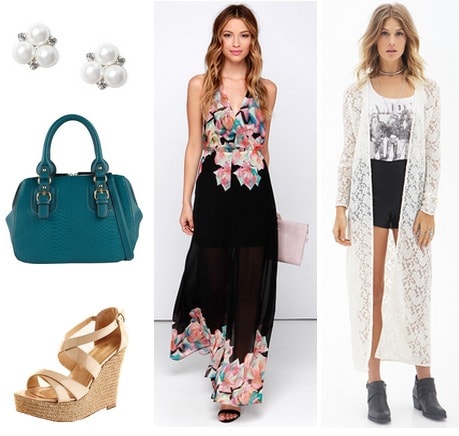 Product Info: Dress – Lulu's, Cardigan – Forever 21, Shoes – Boston Proper, Bag – ALDO, Earrings – Claire's
This scene, while appearing to be joyous and carefree, struck a chord in me because of the fact that it really isn't a happy moment at all. This occurs almost two years after the first scene of the book, when Alice is truly suffering the brute force of Alzheimer's in every aspect of her life. She is dreaming after already sleeping for 18 hours straight, and has a vibrant dream that is devastating to me because of its childlike, innocent quality. It's a moment of happiness in ignorance, and is all the more sorrowful for that reason.
This outfit has a multicolored design, like her dream, and it's also inspired by the fact that hope still remains, despite her steadily decreasing ability to recall any details. I like the floral print on this dress because it looks like mismatched shards of color (or memory?) that kind of landed together on a plain black canvas.
It's still relatively simple, without too much glamour or busy details, although I purposely wanted to include at least one formal look. A simple lace maxi cardigan adorns the dress, while subtle earrings and neutral-colored wedges finish off the outfit. Also, the bag is a shout out to the little blue bag Alice carries everywhere.
3. Hanging On
Final Spoiler Warning: Don't read ahead if you haven't finished the book!
The words she read seemed to push past the choking weeds and sludge in her mind to a place that was pristine and still intact, hanging on.

"John," she said.

"Yes." (Genova 317-318).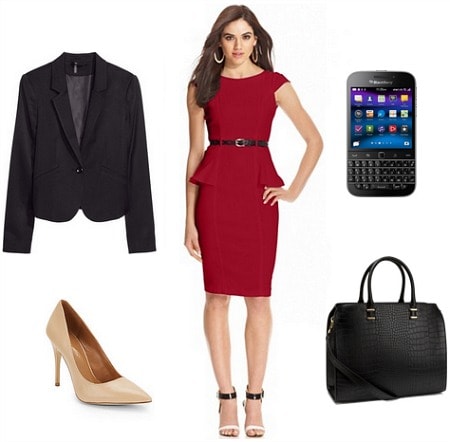 Product Info: Dress – Macy's, Blazer – H&M, Shoes – Saks Off Fifth, Bag – H&M, Phone- Blackberry
This moment comes a few pages from the end of the book, but I don't want to give you the wrong idea about the ending. The experimental treatment she receives fails miserably, and there's no magical cure that heals her.
Her relationship with John becomes strained, despite his continual caring for her, and he isn't actually present in the epilogue (although he is mentioned). It's clear that Alice's feelings for him are incredibly strong, however, and she states that she wishes she were her husband's passion rather than his research. Her memories of him are some of the strongest she has (stronger than those of her children and of her work), and remain with her for almost the entire book.
Now, the reason this scene made me bawl is because it comes right after Alice, for the first time, refers to John as "the kind stranger," which really establishes her final break from her previous relationships. She began thinking of daughter Anna as "the mother" and Lydia as "the actress" long before this, but this is the first incident (at least to my knowledge) that she refers to her husband as anything other than John. This scene, therefore, depicts a moment of clarity and love after finally losing it all, and it was what finally unleashed my tears.
Her relationship with John is complex but beautiful, and the pain and reality check that comes with it is what really made my heart lurch at its intensity. Their bond is also intrinsically intertwined with their professional academic lives, which is why this outfit is business-oriented.
I have the UK version of this book featuring a barefoot woman in a red dress, and this look is partially based off of it. I kept it simple, like all three of these looks, and made the red dress the centerpiece of the outfit. Alice mentioned that she hoped love was stored in the heart instead of the brain, and that's something I also wanted to convey here.
I threw in the Blackberry because it's really Alice's lifeline for most of the book, and I was devastated when (1) it broke, and (2) when she recognized her sorrow at it being broken despite not realizing why.
Final Words
In terms of fashion inspiration, this was the most difficult book I have ever created looks for. Every book I've written about, from The Night Circus to Holes, was almost effortless for me – the outfits and quotes jumped to my mind almost immediately. I was at a loss while covering this book. I was able to come up with the looks eventually, and I enjoyed the challenge. The topic matter of the book definitely had to do with my difficulty in unifying fashion with the tragic reality of Alzheimer's disease.
I do hope this book was as difficult to digest for you as it was for me, because this is a book that stays with you and isn't afraid to tug mercilessly at your heart strings.
Next time, I'm going to cover a classic that most of us read in high school, at one point or another. It's probably the oldest work you've ever had to read, but that doesn't mean it's lacking in action!
Hint: Old English
Your thoughts?
What did you think of this post? Have you read Still Alice? Do you like these outfits? Let me know your thoughts by leaving a comment below.