Some children/young adult series can stay in your heart far past childhood. For me, the Inkheart trilogy is one such series. Packed with adventure, magic, and larger-than-life characters trying to find their ways in the world, the series maintains and fills out an original, entertaining premise.
Inkheart begins with the story of Meggie and her father Mo, who has a particular skill: By reading a book out loud, he can make objects and people go in and out of the story he reads. While this power is great and magical, it leads to some unexpected consequences and as a result puts both Mo and his daughter in danger.
Throughout their journey they meet characters like Capricorn, a depraved crime lord, Dustfinger, a fire eater with a complex past, and Farid, whom Mo reads out of Tales from the Thousand and One Nights. So strap into your seats and keep a good book waiting for you after getting inspiration from this enchanting series:
Meggie Folchart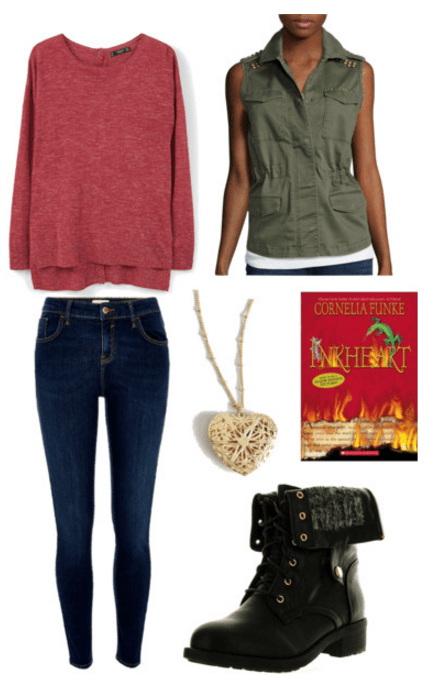 Products: Shirt, Jeans, Vest, Necklace, Boots, Inkheart
Meggie's story begins typically for a young adult protagonist: she's a young girl being raised by a loving single father who instills a love of reading in her. But soon her world is taken over by characters that her father read out of a book long ago, some with good intentions, some with bad.
Throughout the series, Meggie's wardrobe is mainly casual, with the exception of some gowns. But when you're tramping through unfamiliar territory, combat boots, a comfy shirt, and sensible dark jeans are go-to staples. Layer with an anorak vest and a heart-shaped locket. Don't forget to tote a good book!
Silvertongue
"Books have to be heavy because the whole world's inside them."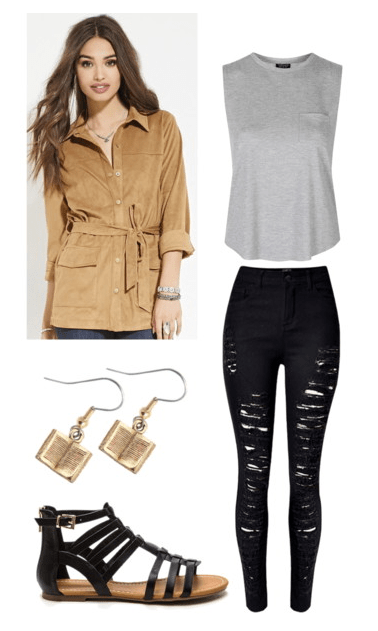 Products: Tank, Jeans, Jacket, Earrings, Sandals
Mo Folchart's talent brings him a lot of heartache, but his main priority is always to protect his daughter. He takes her to the mansion of Aunt Elinor, an eccentric relative who collects rare books. Get inspired by the courage of Mo and the series' theme of reading with this outfit.
This simple tank and these ripped jeans are perfect to have in your closet to go with any outfit you wish, while this suede jacket is perfect for spring weather. Go with flat sandals and these book earrings to finish off the look.
Fire-Eater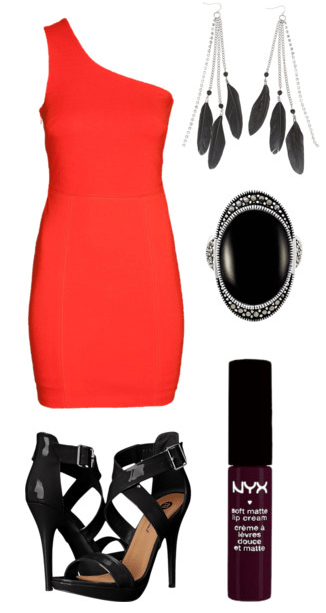 Products: Dress, Shoes, Earrings, Ring, Lipcream
Fire plays a big part in the Inkheart series, especially with the abilities of one major character, Dustfinger. Fire calls to mind a more nighttime-appropriate look, so that's how I incorporated it into this outfit's inspiration.
This red-hot dress looks super sultry with a dark lip color. Accent it further with black and silver jewelry, like this onyx cocktail ring and these whimsical feather earrings. Finish it off with these party pumps and you'll be on fire.
Discovering Magic
"Her curiosity was too much for her. She felt almost as if she could hear the books whispering on the other side of the half-open door. They were promising her a thousand unknown stories, a thousand doors into worlds she had never seen before."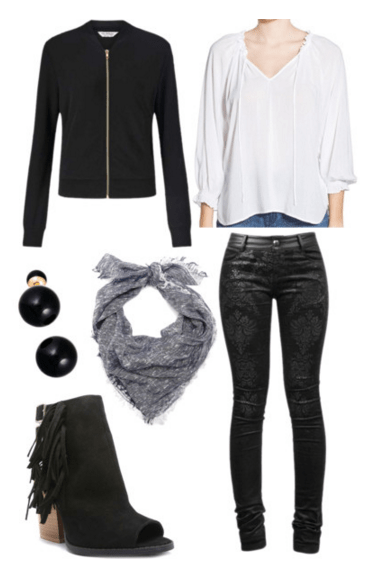 Products: Blouse, Pants, Jacket, Shoes, Earrings, Scarf
The Inkheart series dives into a twisted fantasy world. People there have diverse abilities and skills both magical and non, and while the world is very grounded, fantasy plays a large part in the characters' everyday lives. Meggie, along with her father and her book collecting Aunt Elinor, sees the magic in reading, a normal activity, something that I imagine many children felt while reading this series.
For a darkly magical look, mix some tight damask pants with a loose peasant blouse. This bomber jacket is practical and adds a modern touch, as do fringe booties. Add a grey scarf and stud earrings to embellish the outfit and you're set for a fantasy adventure.
Final Thoughts
I may be biased from my own sense of childhood nostalgia, but I truly think that the Inkheart series is a children's classic that can reach older generations too. Not only are the fantasy world and the characters fun and fascinating, it touches on wonderful themes about family and the power of the written word.
So what did you think? Have you read this series? Did you like any of these inspirational outfits? Which was your favorite? What book would you like us to do next? Let us know in the comments below!