This post may contain affiliate links, which means we may receive a commission if you purchase through our links. Please
read our full disclosure here
.
Fashion inspiration can be found anywhere, and books are incredible sources for style innovation.Book Inspired Fashionexplores these treasure troves, and brings them them to you in looks inspired by vibrant characters, far away lands, brilliantly woven plotlines, and more.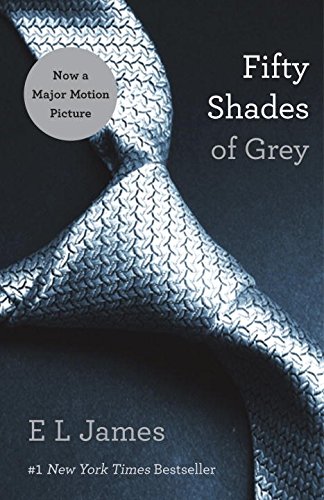 Cover Image via Amazon
You knew it was coming, but here we are: Fifty Shades of Grey by E.L. James. One of the bestselling novels/series of all time, and also one of the most controversial and influential of this decade – and certainly one of the most talked-about, as well.
From the very beginning, reviews have been mixed, and very few reviews have been middling. They mostly consist of either 5 star reviews honoring James' very existence, or 1 star reviews cursing the day that erotica could be published. I personally don't agree with either end of the spectrum, but it's certainly a fast-paced page-turner, that invites even the most reluctant readers to pick up and start reading novels again.
The film version was just released, and this book's soaring popularity has certainly not abated yet. And who knows when the Christian Grey phenomenon will? All I know is that I gleaned fashion inspiration from this series with a fair amount of ease, and I'm eager to share these looks with you guys. But first, a little background on the series:
Reading Between the Lines
The controversy elicited by this series starts not with the actual novels, but with their very inception. Initially posted online as a Twilight fan fiction by E.L. James under username Snowqueen's Icedragon, and then edited for publication (read: changing Bella Swan/Edward Cullen to Anastasia Steele/Christian Grey) by a small online publisher in 2011, this series rose largely from word-of-mouth, demonstrating the influence and potential that book blogs and personal recommendations could have on the marketing and sales of a book. The buzz created by the series led to it being picked up by a traditional publishing house in 2012, which ultimately resulted in the exposure Fifty Shades of Grey needed to shoot itself into stardom.
Sure, a lot of people dislike erotica on principle. Add in the fact that it started off as a fan fiction of the already controversial Twilight, and that makes it a recipe for disaster for leagues of book reviewers. Personally, I have not met a single person who has found the books boring or easily forgettable, and that was enough for me to cover the series this week. I found the books to be an incredibly fast read, easy to follow along, and generally like a grown up, twisted version of a fairy tale.
Of course, we should mention that Fifty Shades has drawn increasing criticism with the recent release of the film. Many argue that its depiction of BDSM is not healthy or accurate and in fact, that the relationship portrayed in the book is abusive, not romantic. With these sentiments in mind, we urge you to please read up on BDSM if it's something your interested in (never thought we'd type out that sentence on this site!) and understand that this is a fictional relationship and not anything one should strive to emulate.
After all, the likelihood of a beautiful young virgin meeting a billionaire in his 20s and ending up having a happily ever after with him is essentially the same premise as a beautiful young maid being chosen by the prince of the kingdom and living happily ever after. So, if you don't mind the lack of realism, and can acknowledge the problems with the depiction of this sexual relationship (and that it wouldn't be OK in real life), I would recommend giving the books a try. They are definitely more entertaining than most things on TV, and you'll breeze right through them!
Slight Spoiler Warning: I've already mentioned that there's a happily ever after, but I don't really go into any further detail about the plot, except at the third look. Stop there if you don't want any details!
1. You Are Mine
"Every time you move tomorrow, I want you to be reminded that I've been here. Only me. You are mine." (Fifty Shades of Grey, James)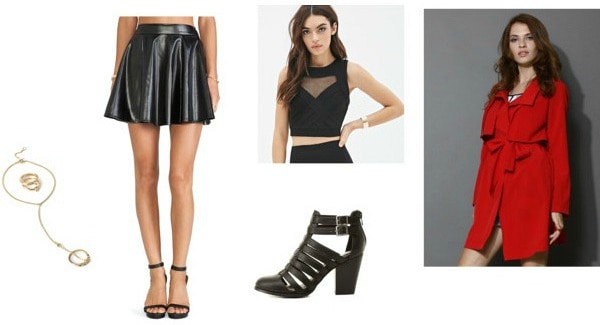 Product Info: Jacket – ChicWish, Top – Forever 21, Skirt – REVOLVE, Booties – Charlotte Russe , Jewelry – Forever 21
Christian Grey is a very possessive, dominant, and control-loving guy. It only makes sense that this carries over to Ana, on whom he lavishes attention and material possessions without hesitation. This all changes, however, when he realizes that he needs to be willing to show vulnerability and compromise in order to get Ana back, and there's a bit of a role reversal at certain points in the books. But in the end, Christian Grey is Christian Grey, and he likes his control.
This outfit, as you've probably expected, represents a bit of the BDSM relationship he introduces to Ana, and the control he derives from it. I didn't want to get so literal with the red and the black leather, but I couldn't help myself when I found this trench coat. It's girly and a little bit dramatic, and I paired it with the black top and skirt. The subtle blend of textures represents the striking contrast between Christian's (and Ana's!) polished veneer that he shows the public, and the edgy person he reveals himself to be in private.
And that bracelet-ring piece? It reminded me of his handcuffs and need for possession – and Christian's ability to buy Ana extraordinary jewelry.
2. Hearts and Flowers
"You wanted hearts and flowers," he murmurs.
I blink at him, not quite believing what I'm seeing.
"You have my heart." And he waves toward the room.
"And here are the flowers," I whisper, completing his sentence. "Christian, it's lovely."

(Fifty Shades Darker, James).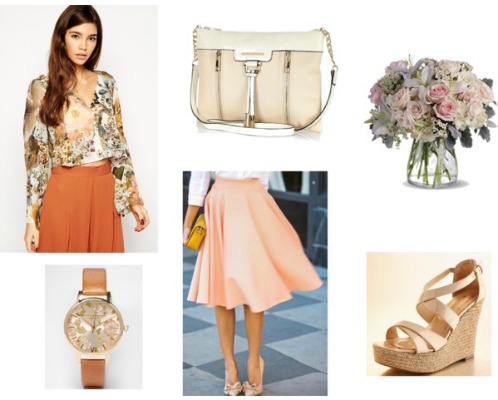 Product Info: Blouse – ASOS, Skirt – Chloies, Bag – River Island, Wedges – Boston Proper, Watch – ASOS, Flower Bouquet – Teleflora
After the edginess of the first look, I dived into a super-feminine outfit that showcased more of the professional relationship between Ana and Christian. After all, their relationship started with a legal contract!
This is a look that I would say easily translates from work to date night because of the loose, flared shape of the blouse and skirt – it has a very princess feel to me. I chose to use a top that features a floral print. I think flowers represent much more than nature – to me, they symbolize the blooming signs of life and love, which is something Christian and Ana share. I also chose the pink palette because it expresses the sweet, romantic side of their relationship that makes me swoon.
The accessories complement the femininity of the outfit, in color and shape. I know this watch is priced beyond most of our budgets, but I thought it looked absolutely perfect. Plus, this ensemble is inspired by Christian Grey's lady love, so I kept it in the look.
3. Mrs. Grey
"I was waiting for you," he says softly, his eyes dark gray and luminous.
"That's… that's such a lovely thing to say."
"It's true. I didn't know it at the time." He smiles his shy smile.
"I'm glad you waited."
"You are worth waiting for, Mrs. Grey."

(Fifty Shades Freed, James)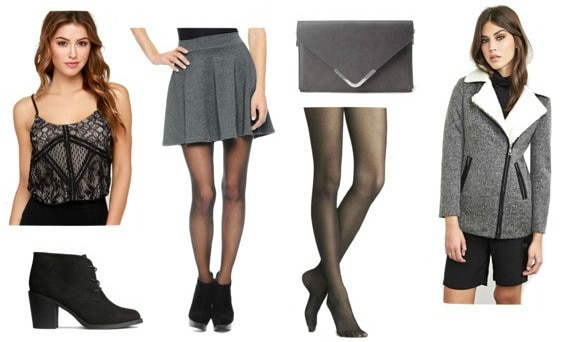 Product Info: Top – Lulu's, Skirt – Splendid, Coat – Forever 21, Shoes – H&M, Clutch – Forever 21, Tights – Express
I was initially planning to make a more mature outfit to represent what Ana experienced throughout the series, but ultimately created a more youthful look because I honestly think she grew up a bit too fast. After all, she starts off as a 21-year-old college student, which is where a lot of us are now – can you imagine the change her life undergoes?
I had a lot of fun mixing different shades of gray to create this look. I absolutely love the pattern of this top; it has an effortless feel while maintaining a dressier look. The skirt is more of a true gray, and its simplicity serves as a guideline for the rest of the outfit. Unfortunately, I couldn't find 50 different shades of gray, but I tried. I promise.
Final Words
This series really isn't as bad as other people think it is – it probably just isn't their style. For those of you that don't mind some predictability, gooey romance, and lots of emotional ups-and-downs, you'd probably really enjoy this fairytale-esque adult novel.
The girly-girl inside of me dreams of someone like Christian Grey (minus the BDSM and the trauma that he experienced as a child), and I was truly satisfied with the happy ending. This doesn't mean that I don't appreciate profound, unpredictable plots – it just means that I like my quick, romantic reads, too.
Next time, we're once again going to do a complete 180 – and no, the focus is not going to be romance! The book is one of my childhood favorites that I've read time and time again.
Hint: Dig.
Your Thoughts?
Have you read Fifty Shades of Grey, or seen the movie? What do you think about these looks inspired by such an overwhelmingly popular and controversial series? Let us know in the comments below!