I'll be the first to admit it: I thought Gone Girl was fantastic. It was exhilarating, witty, and dark, and made me laugh out loud as much as it made me gasp in outrage.
When I discovered Dangerous Girls, touted as Gone Girl's little sister and with a plethora of devoted fans, I knew I had to pick it up. And to my delight, it was just as thrilling, addictive, and twisted (in the best way) as I thought it would be. The ending made my jaw drop, and I couldn't stop recommending the book to friends who were interested in the thriller/YA/mystery genre.
Reading Between the Lines
Dangerous Girls was written by Abigail Haas (pen name for Abby McDonald) and published in 2013. Strangely, this book never gained the success or fame I believe it deserves. According to the author's website, it sold less than 450 hardback copies in the year after publication.
Despite its lack of material success, Dangerous Girls boasts a fantastic, compelling story that will hook you immediately. The book revolves around a brutal murder-of-passion that has occurred within a group of wealthy teenagers while on vacation in Aruba. The narrator, Anna, is the dead girl's best friend and the prime suspect in the case. Anna is imprisoned on the island while awaiting her trial. The clever psychological ride that ensues culminates with a shock unlike any I've encountered as a reader.
This book is emotional, stressful, sexy, and passionate to an extreme, with lines blurring between friendship and romance, loyalty and betrayal, and love and hate. The million dollar question, of course, is How much do you love me?
1. A Place to Escape
The world of girl friendship and intimacy that has always seemed so foreign to me suddenly opens up, just the way I'd glimpsed that very first afternoon. It may sound wrong, but I'm the happiest I've ever been that summer, even with my mom's chemo treatments starting up again, and that sickly-sweet medicated smell lingering over my parents [sic] upstair bedroom again. Because I have a place to escape now, a place of my own in the world, full stop.

I'm not alone anymore. (83)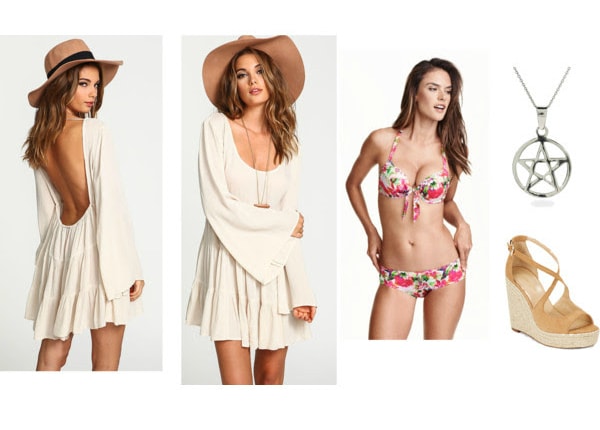 Products: Dress, Swimsuit Top and Bottom, Necklace, Shoes
This scene marks the start of Anna and Elises's passionate, too-close relationship that eventually makes Anna the main suspect in the murder trial. Their "friendship and intimacy" evolves quickly and develops into something interdependent, causing them to repeatedly pledge their love for one another and assert their unwillingness to ever leave the other behind.
This bond becomes a source of jealousy and fervor, but gives Anna a sense of purpose that she's never had before. Having been subjected to cruel bullying in school and her mother's devastating cancer, Anna finds an escape in Elise, who breathes life into her and promises her the world through friendship.
This outfit is inspired by the relaxed, carefree life that Elise's addicting presence offers Anna, even in the wake of personal tragedy. I've also included the necklace to represent the pentagram friendship necklaces the two always wear. This necklace is used against Anna in the trial, but here I'm using it to remember happier times.
2. Betrayal
You see? How simple it is, how one little piece of information changes everything. How it all just falls into place.

Betrayal (185)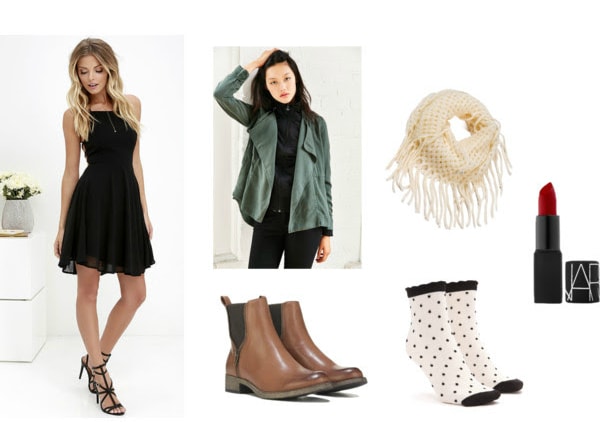 Product Info: Dress, Jacket, Scarf, Shoes, Socks, Lipstick
During the trial, Anna hangs on by thinking of the most important people in her life now that Elise is gone. This includes her hardworking father and her boyfriend Tate, who she sees as a golden boy.
This scene comes after a shocking moment that seemingly finalizes Anna's motive for the prosecution: the revelation that Tate has not only betrayed Anna in the trial, but had had an affair with Elise.
This brings an overwhelming surge of torment for Anna, because the two people who she loved most in the world have left her alone – something she had never imagined possible. And coming at a pivotal, halfway point in the novel, it drove me crazy trying to figure out if it was indeed something that she had found out prior to the murder, or if this was truly the first she had heard of it.
I dressed down this sophisticated black dress because I'm imagining this as a look that Anna would wear during the day with Elise, and then turn into a date-night look with Tate at nighttime.
3. Eight Years
I was going to go to college, some sun-drenched campus far away…

I was going to study abroad in Prague, and walk those golden bridges. Sip coffee in tiny cafés and flirt with cute waiters…

I was going to fall in love again…

I was going to hold her hand till the very end.

I tell them no.
Eight years is too long. (358-361)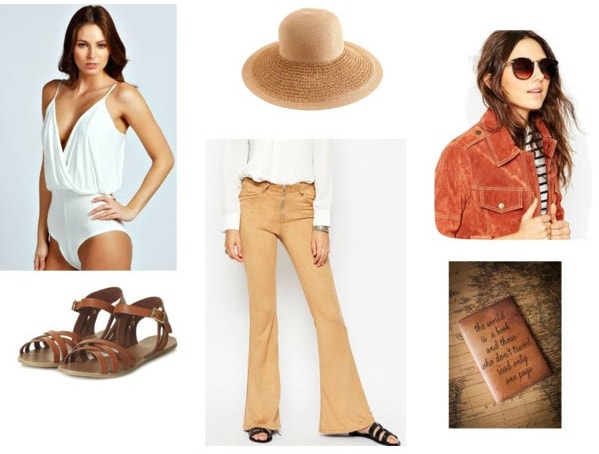 Product Info: Bodysuit, Pants, Sandals, Hat, Passport Cover, Sunglasses
Anna is offered a plea bargain after her team discovers new evidence to exonerate her and cast the prosecuting attorney as a ruthless, shark-like man. The deal hinges on Anna pleading guilty for manslaughter, which would offer her the chance of parole after eight years for a ten year sentence. The alternative, if she pleads not guilty and fails, is a minimum twenty-year sentence for first degree murder.
Anna decides, resolutely, that there is too much that she wants to do in the world, and she'll have it all-or-nothing. Eight years is too much for her to accept for a crime that she is not willing to plead guilty to, despite her own father and lawyer telling her that it's her best shot at freedom.
After so much time in prison without the support of friends or even American news networks, Anna takes a brief chapter to describe all that she had been planning to do before this ill-fated trip to Aruba. I've based this outfit around these fantasies of hope and travel by using loose shapes and earthy tones to evoke a dream-like state of luxury and happiness: the opposite of what Anna experiences in Aruba.
The white bodysuit is versatile and good for traveling, and the pants are stylish but more practical than heavy jeans or thin leggings. I added in the travel accessories because of her ambitions to travel the world (and also because of my obsession with travel-related things!).
Your Thoughts?
Are you interested in thrillers and mystery fiction? Let us know what you want to see more of in the comments below!