Fashion inspiration can be found anywhere, and books are incredible sources for style innovation. Book-Inspired Fashion explores these treasure troves, and brings them them to you in looks inspired by vibrant characters, far away lands, brilliantly woven plot lines, and more.
There have been so many fairy tale retellings in recent years, especially in Young Adult literature, that it's been hard to comb through and find one that meets your expectations, whether you're the kind of reader who likes faithful retellings, or the kind that likes dramatically original ones that barely maintain any traces of the original tale.
The book I chose for this week, Cruel Beauty by Rosamund Hodge, fits in the middle, with the story's foundation clearly influenced by none other than Beauty and the Beast, but with magical twists and turns that make you wonder how it will end.
Reading Between The Lines
Cruel Beauty by Rosamund Hodge was published in early 2014, and some initially dismissed it as just another fairytale adaptation. It didn't take long, however, for readers to recognize the imagination and world-building that went into creating the universe in which protagonists Nyx, Ignafix, and the shadow Shade reside.
The plot is similarly intriguing: Nyx has been raised her whole life to be the strong sister, and has known since childhood that she has been promised in marriage to the Gentle Lord, Ignafix. In addition, she has been taught how to disarm his magic in order to kill him, which has been one of her father's goals for years.
Ignafix, however, isn't what he seems despite the cold rumors surrounding the deals he makes with humans. The tagline of the story says it all: Her mission was to kill him. Her destiny was to love him.
I was especially drawn to Nyx because she's a complex, multidimensional character. She isn't a saint – she expresses true anger, vengeance, and even cruelty, despite being a fair, protective fighter at heart. The dynamic between Ignafix and his shadow is equally interesting, leaving readers guessing until the end.
This book also doesn't have a traditional fairytale ending, because it's much more complicated than a simple happy (or unhappy) ending – you'll have to read it to find out! I had no idea how it was all going to end until the last few pages, and that's something I really admire in fairy tale retellings.
I've created three outfit sets based on the physical world that Rosamund Hodge has created for this story. Before you read them, please note that the last outfit set contains vague spoilers.
1. Distant Fire
They say that once the sky was blue, not parchment[…]

Not so for us. The wavy, golden rays of the sun looked like a gilt illumination in one of Father's old manuscripts; they glinted, but their light was less painful than a candle […] For most of the light came from the sky itself, a dome of cream veined with darker cream, like parchment, through which light shone as if from a distant fire.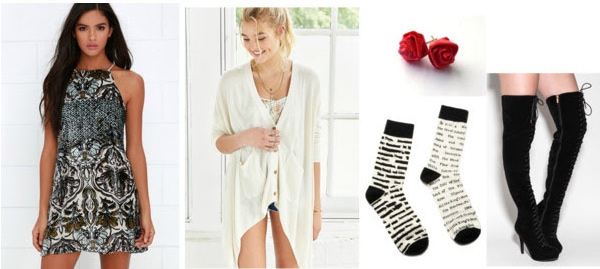 Products: Dress, Cardigan, Socks, Boots, Earrings
The sky underneath which Nyx and her family live is akin to parchment, with legends of blue skies taunting those who have never witnessed blinding sunlight or fluffy clouds. Details like these create a sense of fantasy that adds complexity to the traditional castle setting we're used to seeing in fairy tales.
This outfit reflects this world, with a smattering of color in a mostly monochromatic color palette. The dress has a beige and black base, with shades of blue and pink adding interest. The socks and black boots keep with the black/white motif, while varying the feel of the outfit, which isn't quite casual or formal.
The red rose earrings are bright but subtle and represent the hidden fire behind the parchment sky. The earrings also reference the book cover, which has a large red rose framing a spiral staircase, which was one of the first things that caught my eye.
2. Ten Thousand Times Brighter
"Have you seen lamplight shine through dusty air, setting the dust motes on fire?" He waved a hand. "Imagine that, spread across the night sky—but ten thousand motes and ten thousand times brighter, glittering like the eyes of all the gods."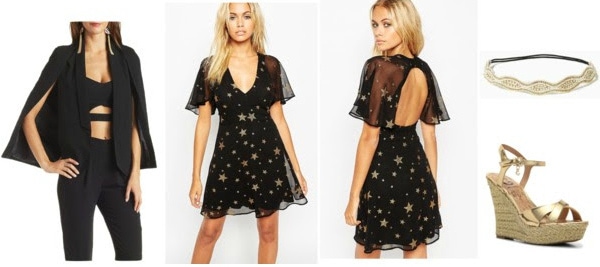 Products: Dress, Jacket, Shoes, Headband
The Gentle Lord, Ignafix, has lived far longer than Nyx can imagine, and has witnessed things that she has only ever heard about. Here he describes stars in the night sky, the likes of which Nyx has never seen. Their relationship here has become much deeper than the cat-and-mouse dynamic they started with, and it is with this bridging of two worlds that he mesmerizes the innate curiosity in Nyx.
I particularly love the attempt to illustrate stars to someone who has no concept of them. How interesting to describe them as dust motes on fire, glittering like the eyes of the gods!
For this look, I knew I wanted to choose a fabric that depicted small pieces of light against a dark surface, but I wasn't expecting to find this amazing chiffon dress with a star print. It's the centerpiece of this look, with a subtle black cape blazer and gold accessories to complete the cohesive expression of stars in the night sky.
This look has a formal edge, but the print remains a bit playful, like the act of stargazing on a date. This look could be worn at night, perhaps at an observatory in place of the secret, magical place Ignafix takes Nyx, in the middle of the sky.
3. Fire and Shadow
The fire roared down upon us. It curled through our hair, then wrapped around our wrists and faces, trying to drag us apart. It seared across my skin, hotter than the Heart of Fire, and yet more painful was how it seared through my mind. The fire burned away my memories, taking back his name and mine, both of my pasts and all of my hopes, the sky and the sparrow and the world itself. I clung to somebody I did not know, could not imagine knowing, but I still knew beyond all doubt that he was mine.

We fell until we had been falling forever and always, and always would continue falling, because nothing existed outside this chaos of fire and shadow.

But I held on to him.

And he held on to me.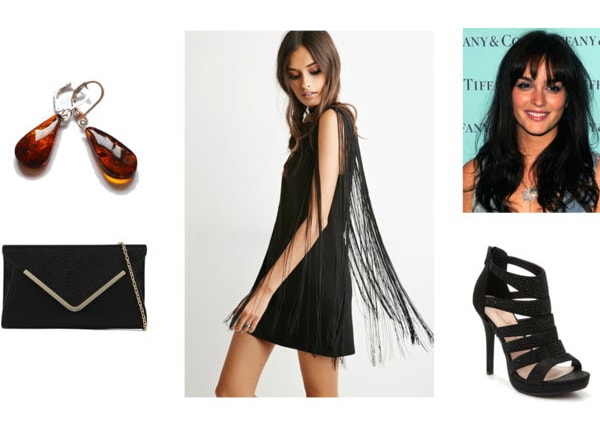 Products: Dress, Shoes, Earrings, Clutch. Hair Photo: ELLE.com
This scene appears at the climax of this book, and is the culmination of all the magic, torture, and emotions that Nyx and Ignafix have experienced. They have ended up in a place of destruction and pain, but still resolve to stick together. I find it to be a beautiful scene, using fire as a weapon that mercilessly attacks both the interior and exterior world of the characters, from memories to physical burning.
There's real beauty in the fact that their love has bound them together, and that despite their mutual faults – such as Nyx's hidden cruelty – they are meant for each other and will not let even hell pull them apart.
It was difficult to create an outfit that reflected the kind of torture and love the characters feel, but I settled on a black dress to represent the unity found in darkness and nothingness. This fringe dress brings drama into the look, and I therefore kept the rest of the outfit simple, with strappy heels and a basic clutch.
The gorgeous earrings are my favorite piece in this outfit, because they're a stunning dark amber shade that stands out from the rest of the look. They hint at the fire that I've interpreted as invisible, penetrating flames, and are also incredibly elegant. As for hair, I imagined lost, loose, messy hair to prevent the outfit from being too formal.
In the next Book-Inspired Fashion post…
Prepare for a return to classics, with a popular short novel written by none other than George Orwell, one of the most influential writers of the 20th century.
See you next time, and I hope all of you enjoy a wonderful holiday season!
Your Thoughts?
What do you think of fairy tale retellings? Is the market already oversaturated with them, or can there never be enough? Let us know in the comments below!