This post may contain affiliate links, which means we may receive a commission if you purchase through our links. Please
read our full disclosure here
.
Today, we're going to turn our attention to the choker. We've done quite a few pieces on CF about this trend but I want to show you how something a little more risqué can be wearable and appropriate for those sleepy Monday mornings.
And to get rid of that sleepiness, I'll show you how to make an easy energy bar you can eat for breakfast or carry on the go for an afternoon snack. Keeping up with the theme of staying awake, mind maps are on the agenda for today's organization tip.
Hopefully, these tips will get you through the spring fever!
Outfit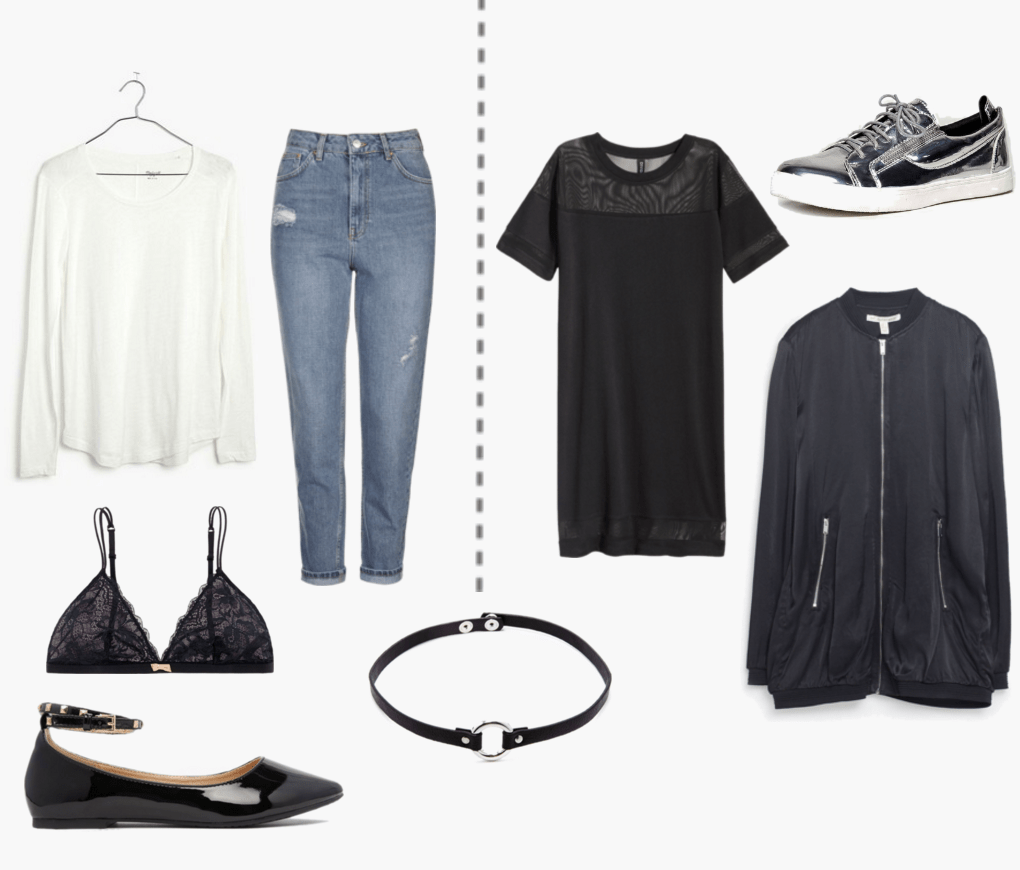 Outfit 1: Shirt, Jeans, Bralette, Shoes, Choker // Outfit 2: Dress, Jacket, Sneakers
Accessories make the outfit and chokers are definitely this season's it piece. The great thing about this trend is that there are so many different styles at a variety of price points, so it's super easy and inexpensive to try. Today, I'm going to focus on edgy leather chokers. The one above from Forever21 is great because it definitely has that provocative look but it's not screaming anything you don't want it to.
That said, if you want to tone down the look a little, pair the choker with a simple tee-shirt and jeans combo. Try a mom-jean if you're feeling experimental but if that's too much for a Monday morning, go for a straight-leg for a relaxed, modern vibe. As always, bralettes are a great replacement for those suffocating wiry things we call bras. I chose a black one to mirror the choker's vibe but if you'd rather keep your unmentionables just that, here are a bunch of color options! To finish off outfit no. 1, we have a pair of cute ankle strap flats. The overall vibe of this look is polished with a hint of that je ne sais quois.
If you're feeling especially energetic or daring on Monday, maybe go for the trendier outfit 2, based around a tee-shirt dress with mesh paneling. Mesh and edgy accessories complement and amp each other up. Bombers are great transition pieces for that weird in-between time when it's too warm for a parka but too cold to go jacket-free. If the monochrome black is too much for you, try this jacket to break it up. I know you're probably itching to throw on your brand new white sneakers after seeing all the street-style inspiration photos…but I'm challenging you to try something one step more daring and go with this metallic sneaker, instead. (You trendsetter, you!)
Breakfast
And here's the "no bake" energy bar that I promised…wait, did someone say "no bake"? Because as a college student with a very sensitive fire alarm, those are my favorite words. I'm going to share a three-ingredient, no-bake, no-fuss, super easy energy bar recipe with you.
Here's what you'll need: 1 cup nuts, 1 cup (12-15 whole) pitted dried dates, and 1 cup of dried fruits.
To make: Toss everything into a blender or food processor until everything comes together in a delicious ball of energy. Then flatten it out onto some plastic wrap, and chill for at least an hour or overnight. Cut the result into bars as small or as big as you'd like. You can store the extras in the fridge or the freezer. These keep for roughly three months in the freezer and around a month in the fridge.
Feel free to experiment with it adding in different dried fruits and nuts, and maybe using a nut butter instead of all the required dried dates. I've also thrown in a bit (or a lot) of cocoa powder for a healthy, inexpensive alternative to Clif bars.
Organization Tip
Last time, I talked about how to take notes effectively so that you can study smarter, not harder. Today, I'm going to show you how you can consolidate information into a beautiful, visual study guide in the form of a mind map.
Mind mapping was originally apparently used for taxonomy but it's been known to be an effective study technique. Why? Mind mapping helps you to learn the information by association, not memorization. And all you really need are a few colored pencils/pens, some blank paper, and a bit of creativity. If you really can't bear the thought of abandoning your computer, there are also mind mapping programs available (like these).
Here's how it works: identify the topic that you're studying, and write it in the center of your paper. Mind mapping usually works best if you hold your paper landscape because it allows for more information to be connected fluidly. Then, identify secondary/tertiary subtopics and connect them to the center using curved lines — the curves are supposed to help your brain stay awake! Using images instead of words or even using images and words together is also useful because it's a different way of learning the information.
Originally, a mind map was supposed to contain only one word per line. But a lot of users have modified it so that they can write information below a heading or make note of equations, instead. Here are a few examples, so that you can get started on your own. Remember to have fun with it, though, and use methods that work for you! If you know you're a visual learner, fill yours to the brim with colorful pictures. If you'd rather read things to yourself till they're drilled into your brain, you can still use this technique — try color-coding or paraphrasing the information so you know that you understand it 100%.
So what do you think?
Are you going to give this edgy look a try? And do you like "no bake" foods as much as I do or is that just a me thing…? Definitely try out the study tip and everything else, and let me know what you think and whether or not it works for you!