Over the past few months, we've been interviewing some of our favorite fashion bloggers and finding inspiration in their styles. In case you missed them, see our past interviews with Maria of Lulu Letty, Elizabeth of Delightfully Tacky, Georgina of Cupcake's Clothes, Tieka of Selective Potential, Rebecca of The Clothes Horse, Keiko Lynn, Kendi of Kendi Everyday, Sally of Already Pretty, Mel of Idee Geniale, La Carmina, Julie of Orchid Grey, Alicia of Cheetah is the New Black, Andrea of Blonde Bedhead, Emily of Cupcakes and Cashmere, Blair of Atlantic Pacific, Rachel of That's Chic and Veronika of Girl and Closet.
Today we're meeting Kani of K is for Kani.
About Kani

Kani is a blogger and student from Australia. Having only started her blog last year, she is already one of the most recognized style bloggers in the world, drawing hundreds and hundreds of followers. She loves vintage hunting, photography and the city of Melbourne. Let's meet her!
Our Interview with Kani
1. Tell us a little bit about yourself (who you are/what you do/where you're from, etc.)
I'm from Australia, I write the blog K is for Kani. I also design and create hair accessories on Etsy (kisforkani.etsy.com).
2. How would you describe your sense of style?
I would say it's very vintage meets trendy. I love mixing vintage with some of my new purchases and handmade items to create my look. It's a bit girly and preppy.
3. How did you find your style?
I guess I experimented with all sorts of different things and went through all sorts of phases before settling with something I'm comfortable with!
4. What inspired you to start a style blog? What motivates you?
I love fashion and would really love to spend my life surrounded by it! I love the beauty of creativity and I love photography as well. I guess starting a blog was only natural.
5. Did you go to college? What was your college experience like?
I'm still at uni/college and it's definitely different [in comparison to how it is] overseas. I like the freedom of only having to go to class 3 days a week, as well as the independence.
6. As an Australian blogger, do you find it strange to be dressing for the opposite seasons of US and European bloggers?
Definitely, there are definitely many more US/European bloggers out there so it's always a bit strange. Sometimes I find myself lusting for beautiful and heavy winter coats whilst reading other blogs, when the reality is, it's about 40 degrees (Celsius) where I am.
7. Where do you like to shop?
Definitely anywhere with vintage pieces!
8. What advice do you have for being stylish on a college budget?
Make sure you purchase versatile pieces that can be incorporated into many different looks to get the most out of each item.
9. What are your favorite pieces in your wardrobe?
Probably the red suede wedges I just purchased from ASOS.
10. Who/what inspires you?
Everything in the world around me inspires me!
11.What are the pieces you couldn't live without?
A roomy brown bag, a pair of lace up boots, a wide brimmed hat and a denim jacket.
How to Dress Like Kani
1. Color, color, color!
If you want a Kani-inspired look, do not be afraid to wear color! Kani has so much fun with color and isn't scared to mix clashing hues. Add an unexpected bright cardigan, shoes or socks to give your look a splash of color.
2. Choose girly, vintage-inspired pieces.
Kani's style is very girly – she favors pretty dresses and skirts much of the time. But she doesn't just choose mini skirts; I love her long-length skirts and dresses, which give a really cute vintage feel to her looks. Add girly accents with socks and collars.
3. Have fun with prints.
Florals, stripes, spots, stars-and-stripes, leopard print… Kani loves prints and patterns! Mix contrasting patterns and prints for a fun look inspired by her.
4. Be creative with layers, even in summer.
Kani always plays with layering (even during the hot Australian summers) and this creates interest in her outfits. Follow the tips above on mixing prints and colosr to add fun and texture to your look. Experiment with unexpected combinations – you never know what will work!
5. Top it off with fabulous hats, hair accessories, and legwear.
Kani makes her own gorgeous hair accessories, and she often tops herself off with one, or substitutes a pretty hat. Cute legwear is also big with Kani – ankle socks appear all-year-round, as do fun patterned or colored tights. Finish off with an amazing pair of heels!
Outfit Inspired by Kani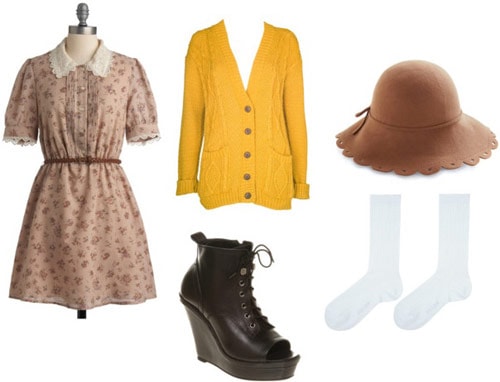 dress / cardigan / ankle socks / boots/hat
I had originally planned to do a really bright, patterned-filled outfit for Kani, but as soon as I saw this dress, I knew I had to use it – the pretty color and vintage-inspired details perfectly represent her pretty, feminine looks. I did choose a bright cardigan, though, to give the look a fun edge, and made it perfectly Kani with a big hat, ankle socks and heeled boots.
Your thoughts?
Do you love Kani's blog as much as we do? Are you a fan of her girly sense of style? Let us know with a comment!