This post may contain affiliate links, which means we may receive a commission if you purchase through our links. Please
read our full disclosure here
.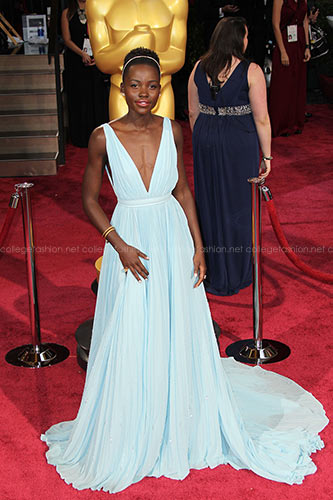 The 91st Academy Awards are almost here. One of the most distinguished and respected traditions in filmmaking history, the Oscars is like the Super Bowl for diehard movie buffs.
The broadcast is more than just an awards show. Following highly publicized movements like #oscarssowhite and #metoo, the ceremony has become a space for the Hollywood elite to speak out about the issues that matter to them and raise awareness for social issues affecting entertainment.
I'm a particular fan of the #askhermore movement, which encouraged reporters to stop being so sexist and ask the women they interview interesting, engaging questions aside from focusing only on fashion.
Yes, the fashion at the Oscars is incredible, but so are the starlets wearing the gowns! So here are a few of our favorite Oscars looks and a little more about the women bringing them to life:
Audrey Hepburn in Givenchy, 1954
Always effortlessly classy, this Audrey Hepburn look is one of the finest to ever grace the Academy Awards. The classic vintage silhouette is still one that's seen on red carpets; I wouldn't be surprised to see someone rocking it this Sunday. Audrey won the Oscar in this Givenchy masterpiece for her role in Roman Holiday.
Aside from being a phenomenal actress, Audrey's background growing up in wartime and later success as a philanthropist make her both fascinating and inspiring. If you want to know more about her history and iconic image, check our guide to Audrey Hepburn's style.
Marion Cotillard in Jean Paul Gaultier, 2008
Marion won the Oscar for her epic performance as musical icon Edith Piaf in La Vie En Rose in 2008. She also earned a César Award (the French equivalent of the Oscar) for the same role. A queen of acting and fashion, Marion naturally rocked a mermaid-inspired gown that was fit for royalty.
Beyond being a talented actress, the French star also plays bass guitar, keyboard, tambourine, and sings (although for her role as Edith Piaf, she trained in lip-syncing so the film could use Edith's real music). She has released singles and even gone on tour with French band Yodelice! When they inevitably make a movie about Marion's life, I would love it to be a musical in which she plays herself. Who else could?
Meryl Streep in Pauline Trigere, 1980
This is the cutest look in Oscars history, and I will debate anyone who disagrees! Meryl Streep's matching jacket and ballgown combo is a fun and funky choice for a ceremony known for its lavish, fancy attire.
Even cuter than Meryl's ageless style and beauty are her record-setting 21 Oscar nominations. She's the most decorated nominee in the history of the Academy Awards. At this point, they should change the name of the show to The Meryls because that would be more accurate.
Melissa McCarthy in Marina Rinaldi, 2012
Serving us Greek goddess vibes, Melissa McCarthy's muted jewel-tone gown is exactly the kind of regal fashion we expect from Hollywood's best. Its stunning details and shape have vintage elegance that suit Melissa's classic accessories.
Melissa was attending the 2012 ceremony after her breakout comedic role in Bridesmaids when she was nominated for Best Supporting Actress and became an international superstar (of course, us stans have loved her since her days as Sookie St. James).
She has since designed her own clothing line that caters to women of all sizes. Melissa is nominated again this year for her role in Can You Ever Forgive Me? so make sure you're watching to find out of she wins.
Lupita Nyong'o in Prada, 2014
Lupita Nyong'o's real-life Cinderella look on the red carpet catapulted her into fashion-icon status when she accepted an Academy Award for her first ever film role in 12 Years A Slave.
She has now become one of the biggest movie stars in the world appearing in blockbuster hits like Black Panther (nominated for 2019 Best Picture) and the new Star Wars trilogy.
Lupita is also writing a children's book that's going to combat colorism and teach kids to love their skin tones, so that officially makes Lupita Nyong'o the most beautiful person in Hollywood, inside and out.
Penelope Cruz in Armani-Privé, 2012
Dressed like a star from the Hollywood golden era, this soft blue dress with strikingly simple jewelry made for one of the most timeless and beautiful looks in Oscars history.
Penelope Cruz is no stranger to making Oscars history, though. She was the first ever Spanish actress to win an Oscar when she took home the statue for Vicky Cristina Barcelona in 2009.
Penelope has two other Academy Award nominations to her name. She was also the first Spanish actress to get a star on the Hollywood Walk of Fame and will probably be the first Spanish actress to rule the world.
Who has your vote for best Oscar look of all time?
Will you be watching the Academy Awards? Who are you most excited to see take home a statue? Let us know in the comments!