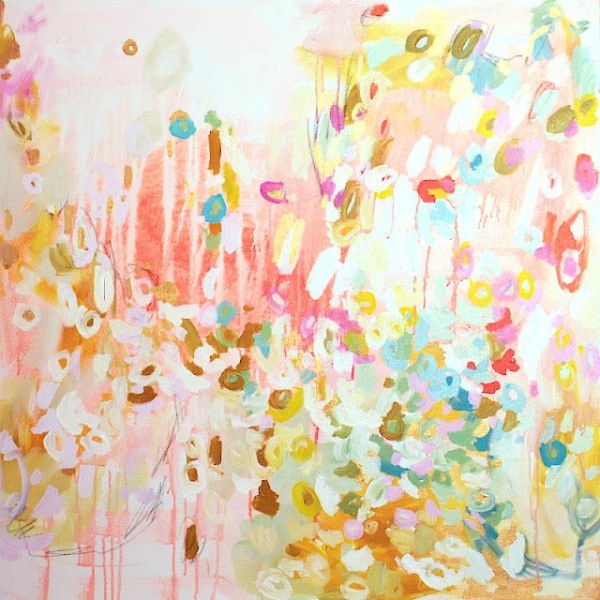 "That Bowtie I Like" via Michelle Armas Online Store
I recently came across a painting I found on Pinterest and became slightly obsessed. Turns out, after a little bit of research, this painting was created by an up-and-coming artist by the name of Michelle Armas.
Located in Atlanta, Michelle has a sort-of whimsical sense to her abstract works, providing a platform for lots of color and fun textures on her canvases. If you're not familiar with her paintings, be sure to check them out on her site and Etsy shop.
If you're looking to switch up your fall wardrobe, look no further than to these gorgeous paintings! Surprisingly, these canvases provide an excellent source of fashion inspiration for everyday on-campus outfits. Below, I've created a series of outfits inspired by Michelle Armas's brilliantly colorful works. Scroll down to see them all:
Happy Go Lucky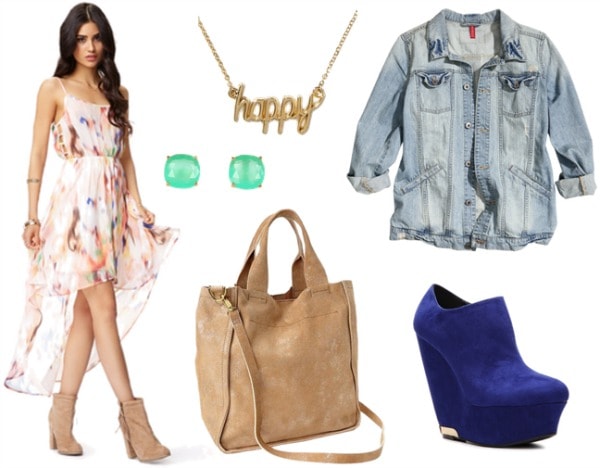 Dress, Jacket, Shoes, Bag, Necklace, Earrings
Michelle Armas's paintings capture an abstract essence like no other. Own her unique flair with this outfit! Wear a printed flowy dress with a pair of killer ankle booties for a pop of color. Throw on a denim jacket and grab a metallic bag for an edgy vibe. Complete the look with a "happy" nameplate necklace and colorful stud earrings.
Laid-Back Luxe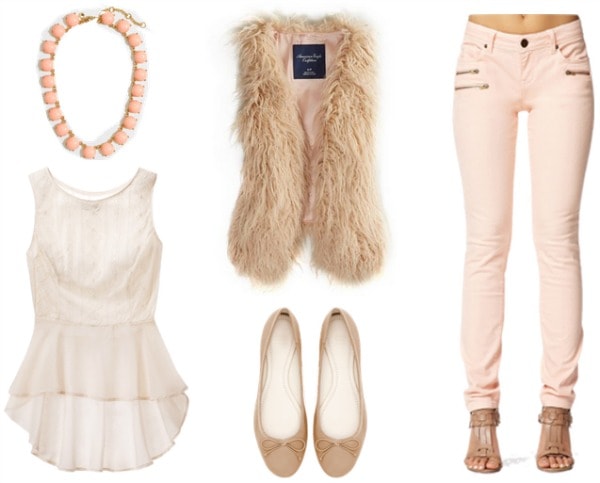 Top, Vest, Pants, Flats, Necklace
Michelle Armas loves to use shades of pale pink in her work, along with hints of glimmer. Achieve this glam aesthetic with a few key pieces. Start with a flowy peplum tank over blush pink jeans. Grab a faux fur vest for a boho twist. Slip on a pair of ballet flats for a comfy but feminine appeal, then complete the ensemble with a jeweled necklace in a pretty peach hue.
Color Blocking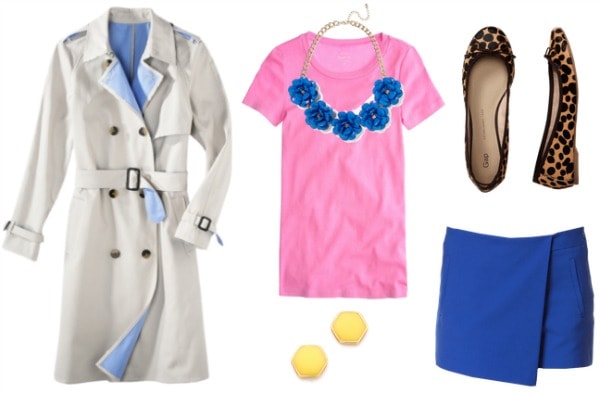 Top, Skirt, Coat, Flats, Necklace, Earrings
Many of Armas's paintings follow the same rule – brighter is better! So, try rocking a color-blocked look with a bubblegum pink tee tucked into a cobalt blue skirt. Throw on a khaki trench for a classic vibe and add leopard print flats for a trendy twist. Finish the outfit with a floral bib necklace and yellow stud earrings.
What do you think?
Are you a fan of Michelle Armas's works? Would you wear any of the looks above? Which outfit is your favorite? Would you like to see more posts like these in the future? Let me know in a comment below!