This post may contain affiliate links, which means we may receive a commission if you purchase through our links. Please
read our full disclosure here
.
For this installment of Fashion Inspired by Art, we'll be discussing Takashi Murakami's Flower Matango. This work is so fun, plus it fits perfectly with the laid-back vibe of summer. I hope you all enjoy!
Mixed Media Merchandising: About Takashi Murakami's "Flower Matango"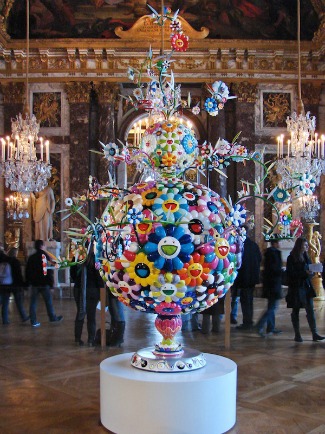 Takashi Murakami's "Flower Matango" (2001 – 06) via Wikimedia Commons (Click image to enlarge.)
Takashi Murakami (born 1962) is a mixed media artist from Tokyo, Japan. He is most well known for coining the term superflat, which showcases flattened forms like cartoons. Murakami's works range from paintings and sculptures to more commercial art, like merchandise and fashion design (like his Louis Vuitton collaboration).
As depicted in Flower Matango, his signature aesthetic style centers around super cute animal-like figures portrayed in bright, shiny hues. His style presents low-culture objects as works of high art, remarking on how the culture of post-war Japan has caused the gap in the classes to be "flattened", creating little difference between "high" and "low" culture.
Outfits Inspired by "Flower Matango"
Classy Cutie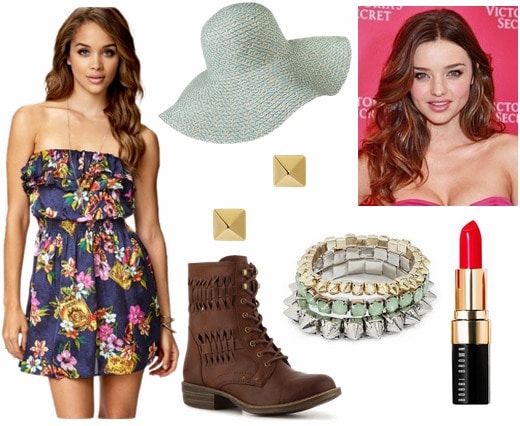 Dress, Hat, Earrings, Boots, Bracelets, Lipstick | Hair photo via ELLE
This outfit is inspired by the mix between "high" and "low" classes shown in Murakami's work. More classic pieces, like this floral dress and wide-brimmed hat, give off a feminine, flirty look. Juxtapose this with some brown combat boots and studded earrings to represent a more grungy style. This set of bracelets includes both studded and jeweled pieces, which again mixes "high" and "low" style. Add loose waves and a bright red lip to finish this cute and sassy ensemble.
Flirty Fun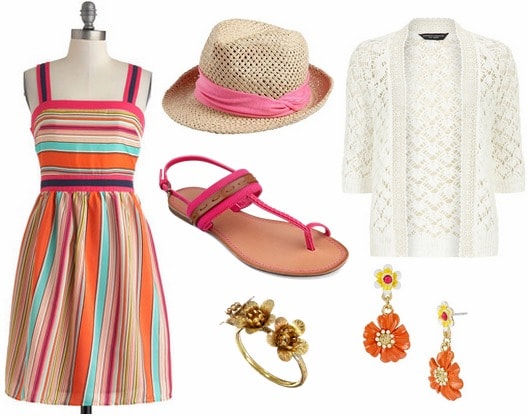 Dress, Hat, Earrings, Ring, Cardigan, Sandals
Mimic Flower Matango's cute style with a fun and feminine outfit. Start with this multicolored dress and pink sandals, which have a comfy, yet girly vibe. Add some flower jewelry – like these adorable earrings and gold ring – to reference the sculpture. For warmth, throw on a fitted cardigan, then finish the look with grown-up pigtails and a fedora for a fun, yet stylish vibe.
Smooth Siren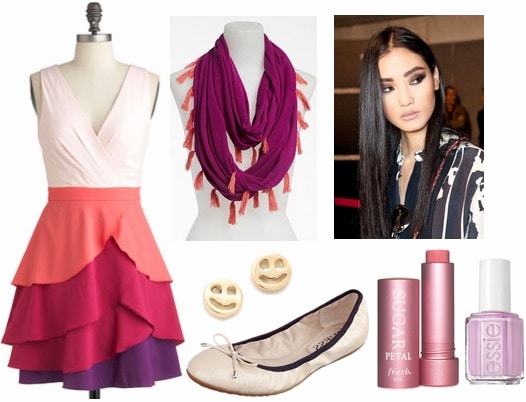 Dress, Scarf, Earrings, Flats, Lip Balm, Nail Polish | Hair photo via ELLE
This outfit is all about the smooth material of the sculpture. Start with a silky dress that has petal-like designs at the bottom. Slip on some patent leather-like flats and an infinity scarf to complement the colors. Add a pair of smiley face earrings and some purple Essie nail polish to amp up the fun factor. Finish with a light pink lip balm and straight, shiny hair for a smooth, streamlined style.
What do you think?
Have you seen or studied Murakami's works before? Do you like Flower Matango? What do you think about fiberglass sculptures? Do you enjoy the style of Japanese art? What do you think about the inspired outfits? Which one is your favorite? Let me know in the comments below, I'd love to hear your opinions!