This week in Fashion Inspired by Art, we'll be discussing Peter Paul Rubens' The Judgement of Paris.
Early this week, I kicked off my very first trip overseas on my own Grand Tour to see the amazing sights and art of Europe! I thought I would celebrate by sharing a famous painting that's housed in the National Gallery. I hope you all enjoy!
The Golden Apple: About Peter Paul Rubens' "The Judgement of Paris"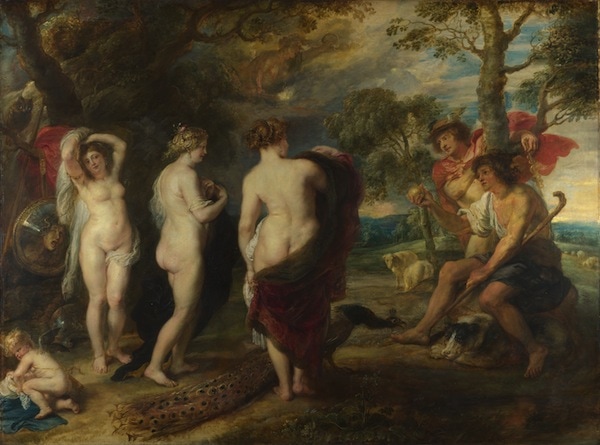 Peter Paul Rubens' The Judgement of Paris (c. 1632 – 35) via Wikimedia Commons
Sir Peter Paul Rubens (1577 – 1640) was a Flemish Baroque painter known for his realistic depictions of flesh tone. He was one of the few Baroque artists who was highly regarded for his artistic talent during his lifetime. Although he was most popular for his paintings, he was also an accomplished diplomat and scholar. His work strongly influenced his contemporaries (like Rembrandt) as well as many future figure and/or portrait painters in Europe.
This painting depicts the mythological story of the Judgment of Paris, which was the initial event that lead up to the Trojan War. In the story, Eris, the goddess of discord, is not invited to the marriage of Peleus and Thetis. In her jealousy, she throws a golden apple into the throng of guests, claiming it is "for the fairest". Three different goddesses, Hera, Athena, and Aphrodite, attempt to claim the apple. Zeus is appointed to chose the winner, a task which he slyly passes off to a mortal, Paris.
The goddesses try to each bribe Paris: Hera offers to make him a king, Athena offers to make him a powerful warrior, and Aphrodite offers to give him the most beautiful woman in the world (Helen of Troy). Ultimately he chooses Aphrodite as the fairest, leading up to the capture of Helen, queen of Sparta.
Outfits Inspired by "The Judgement of Paris"
Harmonious Hera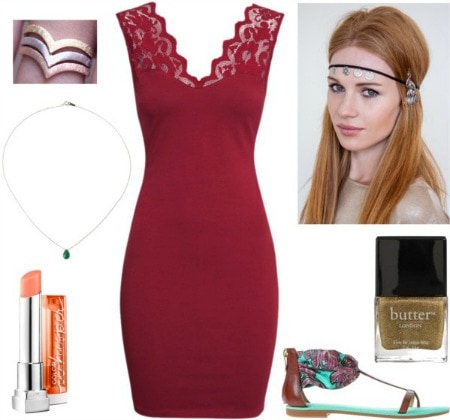 Rings, Necklace, Lipstick, Dress, Headband, Nail Polish, Sandals
This outfit is inspired by Hera, the goddess of marriage.
As the queen of the Grecian gods, Hera is frequently depicted in pomegranate-colored clothing with a crown. Sample this idea with a burgundy lace dress and a set of tricolor crown rings. Perhaps her most well known symbol, as seen in the painting, is the peacock. So, slip on a peacock headband and a patterned sandal to showcase this colorful animal. Finish with a royal gold nail polish, simple drop necklace, and nude lipstick for a dressy, pulled-together look.
Angelic Athena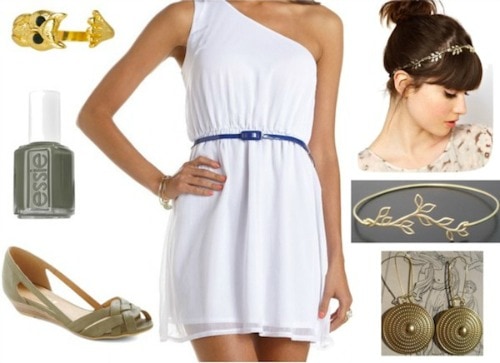 Ring, Nail Polish, Wedges, Dress, Headband, Bracelet, Earrings
The beautiful virgin goddess Athena is the perfect stylistic mix between militaristic and feminine.
Channel this goddess of wisdom's style with a flowy Grecian dress and olive accessories. Two of Athena's symbols are the olive branch and the owl – channel the branch with a gold headband and bracelet, then add some other olive-colored accessories, like nail polish and wedge sandals, for a military vibe. Finish the look with shield medallion earrings and an owl ring for a smart, girly style.
Alluring Aphrodite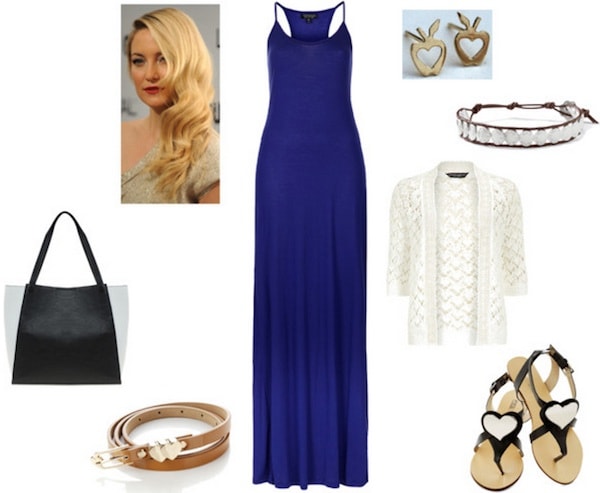 Purse, Belt, Dress, Earrings, Bracelet, Cardigan, Sandals | Hair photo via ELLE
This final ensemble channels the goddess of love herself, Aphrodite.
Start by creating a casual-cool vibe with a signature oceanic blue dress. As a token of Aphrodite's win as the fairest, don a set of apple earrings. Add a belt and sandals, both embellished with hearts. Another one of her symbols is the scallop, which can be seen in the bracelet and crocheted cardigan. Lastly, grab a large purse and rock a sexy, loose hairstyle for an ultra-feminine, relaxed look.
What do you think?
Have you seen or studied Rubens or this painting before? Do you like The Judgement of Paris? What do you think about oil painting? Do you enjoy the style of Baroque art? What do you think about the inspired outfits? Which one is your favorite? Let me know in the comments below, I'd love to hear your opinions!