This post may contain affiliate links, which means we may receive a commission if you purchase through our links. Please
read our full disclosure here
.
This week's Fashion Inspired by Art features an anomaly in the Impressionist period in art history. Keep reading for three rainy day outfits for fall inspired by the painting!
About the painting
French artist Gustave Caillebotte painted Paris Street; Rainy Day in 1877. The oil painting depicts a blanket of soft light approaching an otherwise dreary, rainy day. The two subjects in the foreground of the painting are wearing the "height of contemporary fashion" for 1877. The woman wears a hat, veil, and fur-lined coat over a simple brown dress. The man wears a mustache, top hat, and a long coat with a popped collar. The couple, along with most of the other street-dwellers, are most definitely middle class.
Paris Street; Rainy Day technically falls under the Impressionist time period. Caillebotte's painting style, however, is a far cry from the loose brush strokes that characterize much of the Impressionist period. Caillebotte painted very structured, clear-cut forms. From the wet cobblestones to the clean outlines of the figures, this clarity differs from most Monet and Degas works.
This painting is famous for its photograph-like style. The camera, having been recently introduced in 1816, influenced Caillebotte to paint figures in the background as "out of focus." The painting also features figures that are cut off from the scene, rendering the work more realistic.
Outfit 1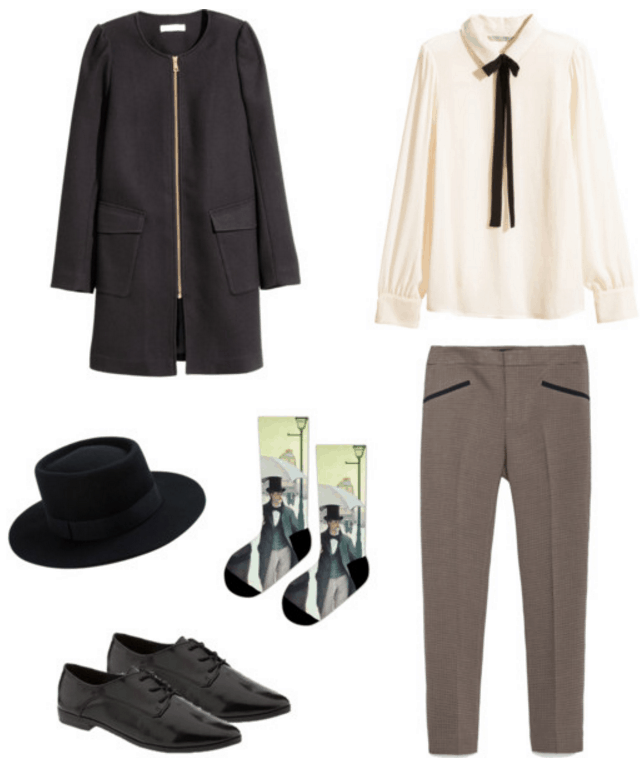 Products: Coat (more affordable version here), Blouse, Trousers, Hat, Socks, Oxfords
This first outfit is inspired by the man facing the audience in the foreground of the painting.
I translated the man's starched, white shirt into a trendy black neck bow blouse. Clean, skinny, cropped trousers are a modern translation of his taupe-grey pants. Patent oxfords will keep you dry if it's sprinkling outside. Finally, I found these awesome socks printed with the painting! They give the otherwise austere outfit an element of quirkiness.
Outfit 2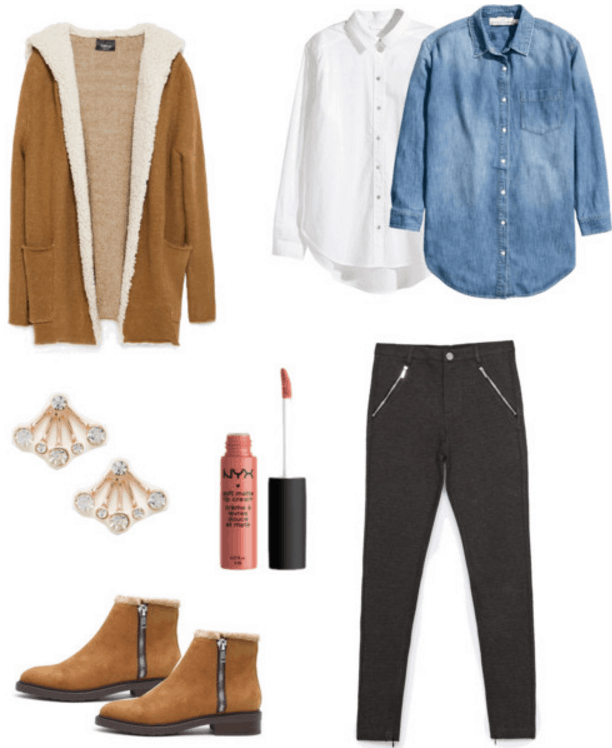 Products: Coat, White shirt, Chambray shirt, Pants, Boots, Lip Cream, Earrings
This second outfit is inspired by the main female figure's outfit. Her fur-lined coat inspired this sherpa-lined coat from Zara, while Forever 21 happened to have sherpa-lined boots that perfectly matched.
The woman in the painting has a peek of a blue collar sticking out of her coat, inspiring this blue chambray shirt (on sale now!). For a more muted, look, substitute the bright chambray shirt for a plain white button-up.
Though the woman in the painting was middle class, diamond earrings were on-trend. These diamond ear jackets are a modern translation of her earrings.
Outfit 3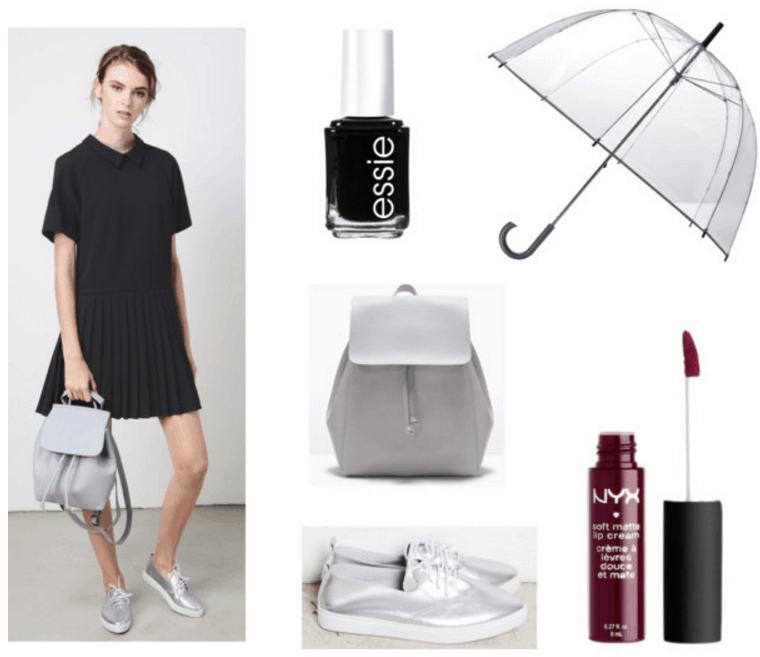 Products: Dress, Shoes, Backpack, Umbrella, Nail Polish, Lip Cream
This last outfit is inspired by the painting's theme of "trendy person on a rainy day."
Thanks to fashion blogger Tara Milk Tea, I discovered this awesome site called And Well Dressed (not an ad, I swear!). Their clothes are quite affordable (mostly under $30!), I thought I should share this gem with you all. The collared, pleated dress and backpack make the look a preppy option for class. Metallic sneakers take the look from Wednesday Addams to something a bit more street style.
Add a vampy, berry lip to really add some gloom to a rainy day. I love this lip cream from NYX in the shade "Copenhagen."
Final Thoughts
With winter and rainy season approaching (at least for here in California!), patent shoes are a must. Channeling the demure aesthetic that Gustave Caillebotte painted, wearing shades of gray can be chic, rather than bland. For extra color, consider a quirky pair of socks or a different lip shade.
What do you think?
What are your favorite gloomy paintings? Would you have guessed that this painting was Impressionist? What is your favorite art history era? Can anyone give me tips on realizing my Parisian chic dreams? Let me know in the comments below!