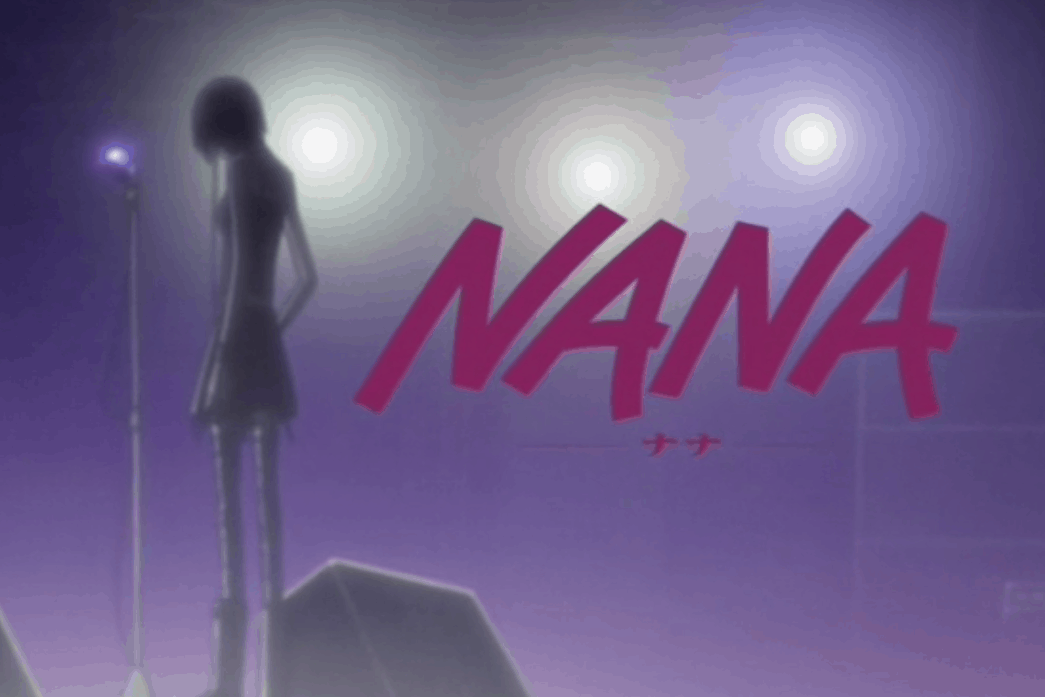 Sometimes, when you're having the worst week ever, like literally the worst, the universe drops a beautiful gift into your lap… like your favorite anime of all time nestled in your Netflix queue between Pretty Little Liars and Scandal.
For me, that anime is NANA, a story that any girl with a subscription to Shoujo Beat in the 2000s will immediately recognize. NANA chronicles the starred-crossed friendship of two very different young women, both named Nana, who both move to Tokyo to realize their dreams and wind up being roommates.
It also happens to have an excellent soundtrack, and, like anything that comes out of Ai Yazawa's brain, all of the characters are incredibly stylish.
It's a beautiful story about love, friendship, music, dreams, and happiness, but if you are going to watch this– and I highly recommend you do, if you enjoy watching subbed animes– be prepared to cry. You will cry. You will cry so much.
IT'S SO GOOD, YOU GUYS.
NANA Crash Course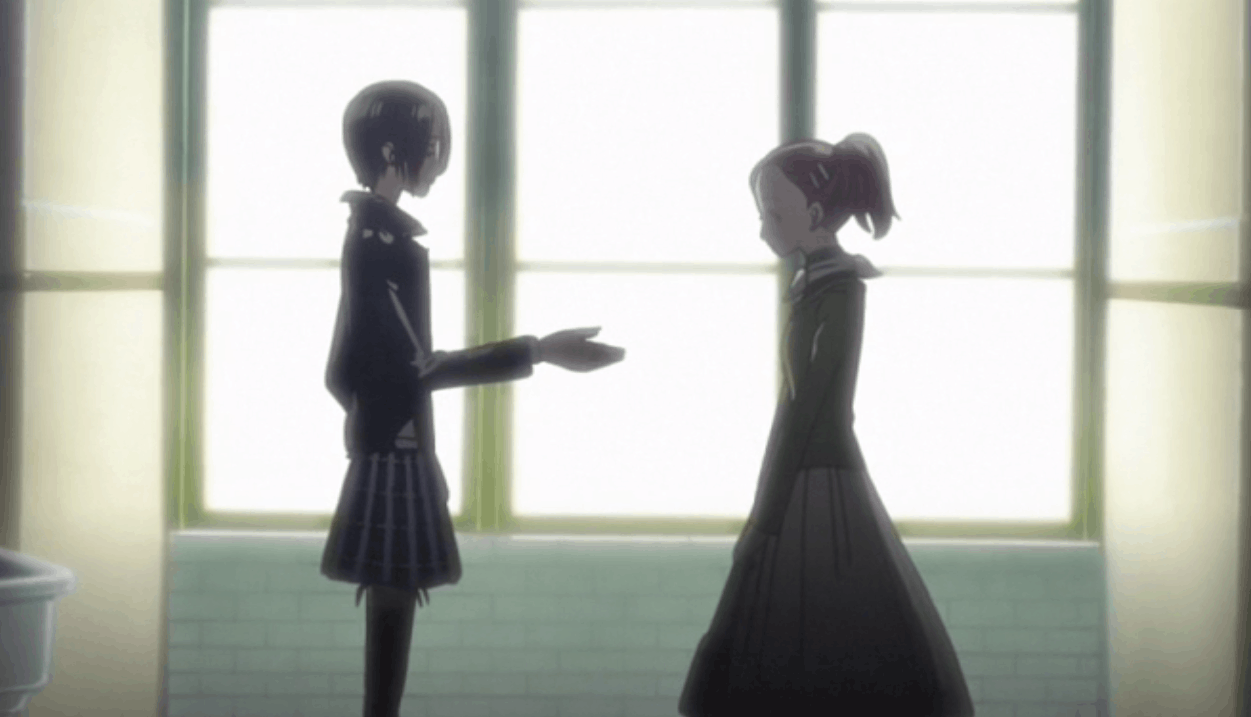 NANA is the story of Nana Komatsu and Nana Osaki, both aged 20, who meet on a train to Tokyo. Both young women are moving to the city to pursue their dreams– the mysterious and edgy Nana Osaki wishes to become a famous punk singer, while cheerful and capricious Nana Komatsu wants to be closer to her boyfriend, Shoji.
They develop an unexpected bond on the train, and, through another random twist of fate, wind up as roommates. As the summer wears on, Nana O. and Nana K. (also called Hachi) grow closer and their lives become intertwined as Nana O.'s band, the Black Stones, become increasingly more popular.
The NANA manga (the Japanese comic version that preceded the anime), created by mangaka Ai Yazawa, was serialized in Cookie magazine in Japan from 2000 to 2009, and in Shoujo Beat in the US. The manga is considered one of the most popular and recognizable shoujo mangas of all time, and spawned the 2006 anime version as well as two live-action movies.
In 2009, Ai Yazawa fell ill and was hospitalized, and the NANA manga was suspended indefinitely. Though rumors have been swirling for years that the series will start up again soon, there has been no official announcement of the manga's return.
Nana Komatsu (Hachi)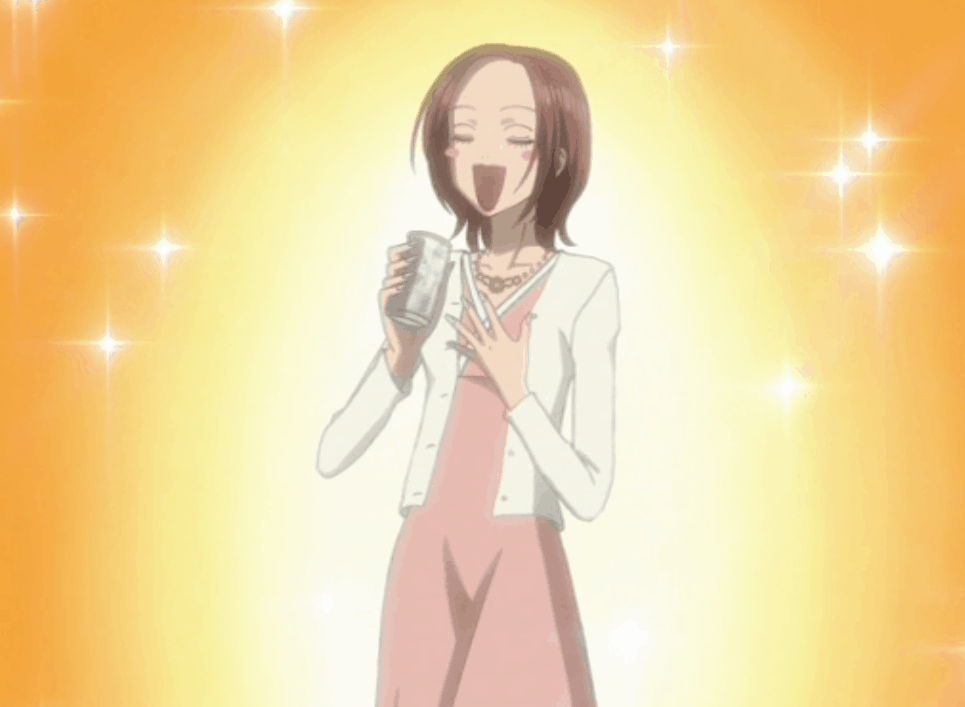 The naïve and friendly Nana Komatsu (also known as Hachi, or Hachiko) is the narrator of the series. Hachiko, who is well-known amongst her friends for falling in love at first sight, follows her boyfriend Shoji to Tokyo… despite her lack of ambition.
Though she gets a bad rap for being naïve and somewhat clueless, Hachi is kind, sweet, and perceptive, and is constantly growing and adapting to her new life. Like many Yazawa characters, Hachi is robust and surprising, and easily breaks out of the anime trope of the naïve, innocent ingenue.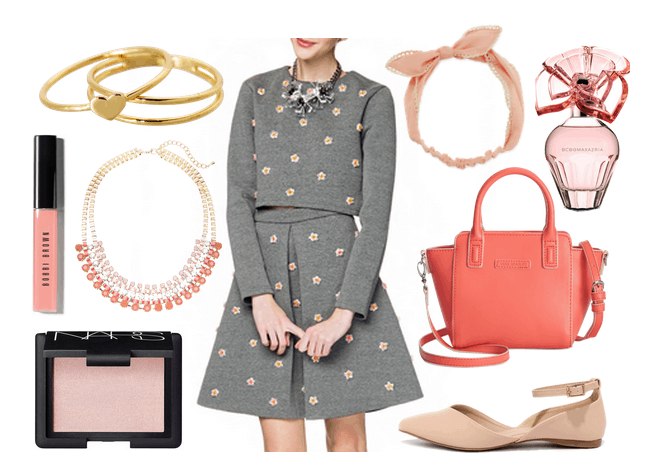 Rings, Lipgloss, Necklace, Blush (in "Reckless"), Separates, Headband, Perfume, Bag, Flats
Hachiko's vintage-inspired style is cute, sweet, and feminine. She wears a lot of pastels and '60s brights, like orange, yellow, pink, white, and pastel blue. She has a fondness for cutesy floral patterns, ladylike shoes, and luxurious bags.
For a modern take on Hachi's style, start with '60s-inspired separates with an adorably retro floral pattern, then pile on cutesy accessories, like a coral crossbody bag, a blingy statement necklace, a handkerchief headband, and a stack of delicate gold rings.
A pair of neutral d'orsay flats add a touch of sophistication to ground the outfit, while a soft pink blush and lip gloss create a sweet, youthful look. Finish the outfit with a perfume that starts with a sweet strawberry scent, but finishes with sophisticated notes of sandalwood and musk.
Nana Osaki
https://www.youtube.com/watch?v=5kCbwVFwjM8
Nana Osaki is the vamp to Hachiko's ingenue. Nana is honest, assertive, and charismatic, but mostly keeps to herself to conceal her mysterious past. She goes to Tokyo with hopes to make it as a famous singer with her band, the Black Stones, but is not without her own romantic aspirations.
Like Hachiko, Nana is a surprising character, who, despite her harsh exterior, is kind, gentle, and sensitive, and isn't as independent as she initially seems. She struggles with her sudden fame as she and her band become more popular.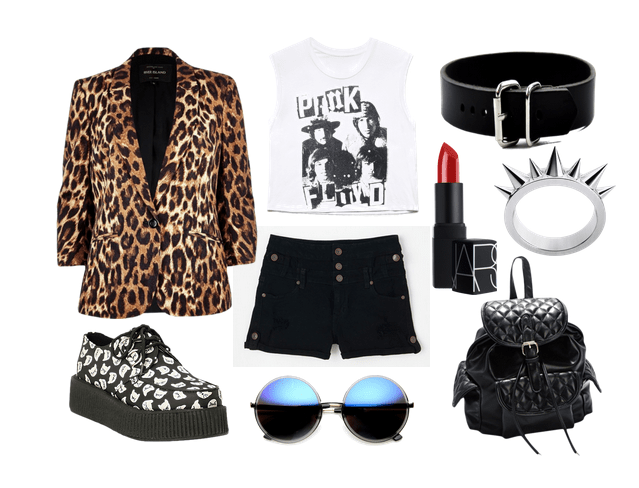 Blazer, Creepers, Muscle Tee, Shorts, Sunnies, Choker, Lipstick, Ring, Backpack
Nana Osaki's style is quintessentially punk with twists of '80s glamour and '90s grunge (her favorite designer is Vivienne Westwood, after all!). Her off-duty uniform generally consists of plaid skirts, ripped tees, combat boots and leather jackets, but on stage, Nana's style is more glamorous, with feminine ruffled dresses, edgy make-up, and piles of jewelry. Her favorite colors to wear are red and purple.
For a look that channels Nana O.'s enviable style, pair a well-worn band tee with a pair of high-waisted shorts with a bit of hardware, like brass buttons, then throw on a luxurious leopard-print blazer.
For a cooler alternative to Nana O.'s ubiquitous combat boots, slip on a pair of kitty-cat creepers. Pile on trendy, edgy-cool accessories, like a spiked ring, a leather choker, and mirrored sunnies. Finish the look with a swipe of bright red lipstick– one of Nana O.'s signatures.
Junko Saotome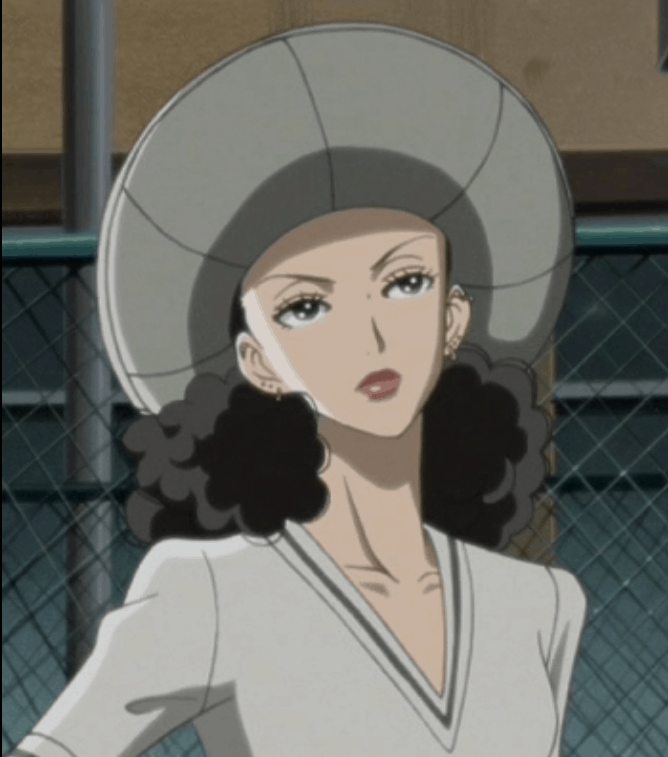 We all have a Junko in our life. Junko Saotome is Hachiko's practical and motherly best friend since high school who regularly dishes out some tough love when Hachiko (and her boyfriend, Shoji) are acting like fools. Despite her tough demeanor, Junko is creative, romantic, and loves her friends deeply.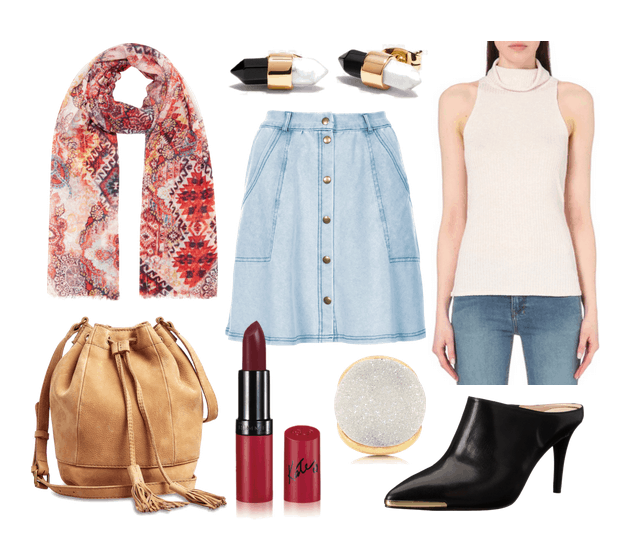 Scarf, Bag, Earrings, Skirt, Lipstick, Ring, Tank, Mules
With her crazy height, untamable hair, and artistic sensibility, Junko's style is fearless, trendy, and sophisticated. She is often seen wearing creative outfits and pulling off trends us regular humans couldn't even pull off in their wildest dreams.
Bring out your inner Junko by pairing two of the most fearless trends of the summer together: a button-front skirt and a turtleneck tank. Add sophisticated accessories, like a pair of pointy-toed mules, a printed scarf to tame your wild curls, and a buttery bucket bag.
Creative jewelry, like two-toned studs and a rough-hewn stone ring, add an artsy vibe. Finish with a burgundy-colored lipstick for an extra grown-up look.
Layla Serizawa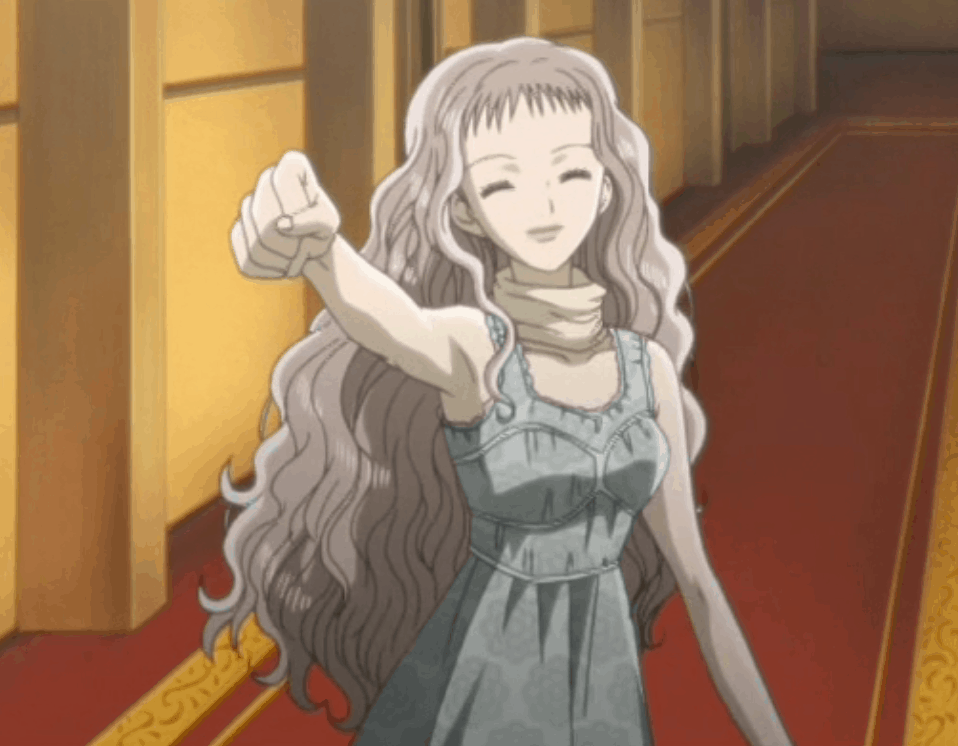 Layla Serizawa is the beautiful and extremely talented singer of the Black Stone's rival band, Trapnest. As the Black Stones grow more popular, the members of Trapnest become more prominent within the story as the members of the two bands develop relationships with one another.
NANA Ending Starless Night
Like Nana O., Layla (named after Eric Clapton's song of the same name) struggles with the pressures of fame and her identity as an individual. Though her onstage presence is charming, graceful, and sophisticated, off-duty Layla is playful, childish, and delicate.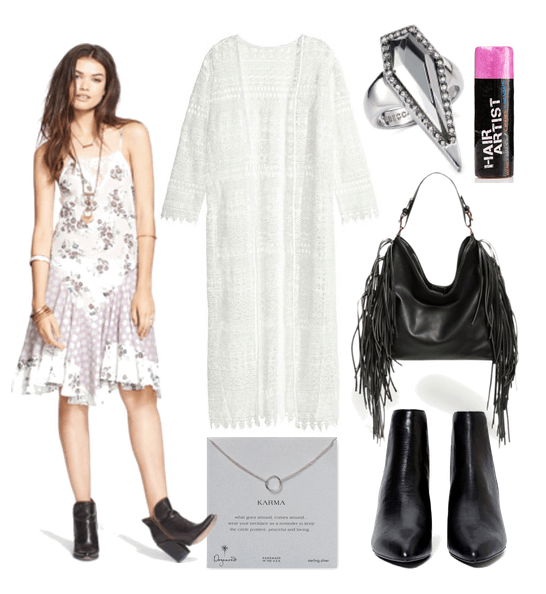 Slip, Kimono, Necklace, Ring, Hair Chalk, Bag, Booties
Layla's style is befitting of a young and successful rock star. She is often depicted in glamorous and sexy dresses and heels with a rock-and-roll edge, and she enjoys trying out fierce yet feminine trends.
Rock out with your inner Layla with a low-backed slip dress and a floor-length lace kimono. Add some edge to the look with a fringed black leather bag and a pair of pointy-toed booties. Throw on delicate and edgy jewelry, then add hair chalk to get Layla's enviable dusty pink mermaid hair.
What do you think?
Have you watched NANA? Who is your favorite character? Would you wear any of the looks here? Would you like to see more NANA characters featured? Let me know in the comments below!