This post may contain affiliate links, which means we may receive a commission if you purchase through our links. Please
read our full disclosure here
.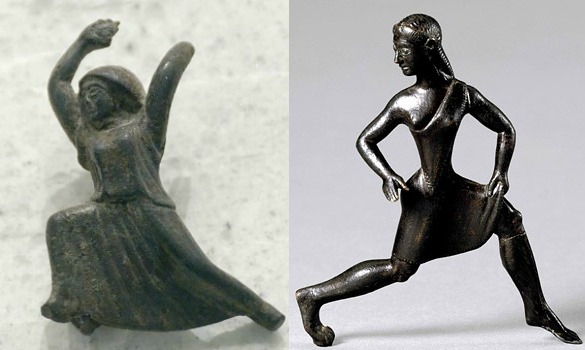 Welcome back to Fashion Philosophy! This week, we'll be looking at a group of historical women that I find fascinating: the women of ancient Sparta.
Most of the time when we look back at history, we see male-dominated societies with segregated women. Sometimes, though, we find a little pocket of time and space where women rocked the world. Ancient Sparta is one such example.
Classics 101: A brief history lesson
The majority of people living in Sparta during the Classical period were Helots – or, in more common language, slaves. To keep the slaves from rising up against their masters, Sparta became a militarized state. Soon all men were required to train for and serve in the military for many years during childhood, adolescence, and a adulthood. (This later became the reason the rather small city-state became a major rival of Athens.)
As we've seen before in this column, when most of the men in a society are off fighting wars, the women of that society gain more power and freedom at home. This was the case for the ancient Spartan women.
The Spartans valued women in a way that was unique in ancient Greece because while a man was expected to be a fearsome warrior, women were expected to produce fearsome warriors. Plutarch once quoted Queen Gorgo as saying, after being asked why only Spartan women could rule men, "Because we are the only ones who give birth to men."
As further evidence of this, a man only got his name on his tombstone if he died in battle, while a woman only got her name on her tombstone if she died in childbirth.
From childhood, Spartan girls were treated as equals to their brothers. They were given the same amount of food and encouraged to get outside and exercise. They attended public schools while their brothers were training to be warriors. Instead of getting married at 12 or 13, which was the norm in ancient Greece, they got married in their late teens or early twenties.
As adults, women were the ones who managed the household and the family while their husbands were away at war. This meant that they ran businesses, oversaw the Helots, owned land, and raised their daughters.
Women competed in the Olympics and were able to divorce their husbands without losing their own financial savings or custody of their children.
If it was with the intention of producing strong children, a Spartan woman could even sleep with men besides her husband! In fact, if a woman was known for producing strong offspring, it was not uncommon for men to ask her to carry their children. Older men were also known to ask their wives and younger men to have children together.
There's quite a lot of literature about Spartan women because writers at the time were fascinated by these strong, opinionated, independent women. They were also known to be beautiful because, unlike their Athenian sisters, Spartan women weren't malnourished from a young age and took excellent care of their bodies.
Elements of Spartan Style
Short Hemlines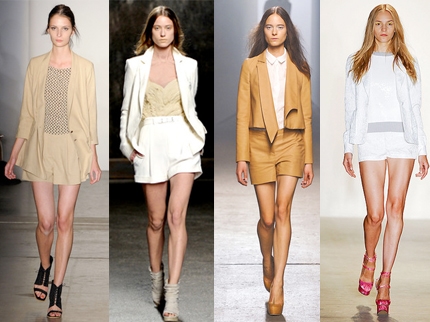 Photo: ELLE
As mentioned, Spartan women were highly encouraged to exercise. The rationale for this was that you had to be a strong woman to give birth to strong citizens. So, naturally, they didn't wear the usual Grecian garb.
While women in Athens wore heavy, shapeless robes and were kept mostly indoors, Spartan women wore very short, practical robes that allowed them easy movement as they exercised or went about their daily lives. Writers of the time were astounded to see so many women out and about (and without chaperones!), and thought it scandalous that they showed their thighs in public.
To channel your inner Spartan goddess, throw on those high-waisted shorts or that LBD. This is the time to show off a lot of leg.
Short Hair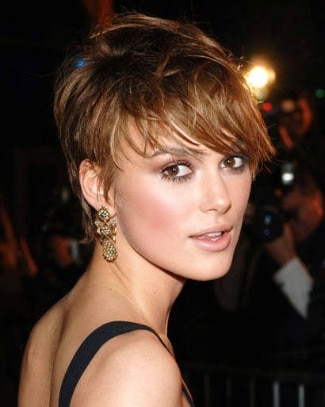 Photo: ELLE
Spartans had a very strange way of getting married, known as "bride-captures." Essentially, a marriage would be arranged, the bride's father would give his blessing, the bride would dress as a man and cut her hair, and the groom would carry her off to his bed to consummate the marriage. He would then head back to the barracks and she would go home. Throughout the entirety of his twenties, the husband was expected to serve in the military, and so he would sneak off from the barracks at night in order to spend some time with his wife.
At any rate, after that, Spartan women were expected to keep their hair short.
If you're already rocking a trendy short hair style, then you're good to go. If not, I'd recommend styling your hair so that it's up and out of your face to channel a Spartan-like look.
Fun Fabrics and Jewelry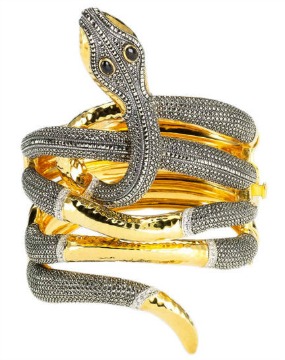 Photo: ELLE
Women didn't worry themselves with doing the chores or sewing their own clothing – they had Helots for that. Instead, they'd purchase bangles and lavish fabrics from the Perioeci (free immigrants to Sparta) and have the Helots do the rest. The fabric and bracelets were most likely coveted objects, since a higher quality of either was a sign of wealth.
If you're taking inspiration from Sparta, look for interesting fabric patterns and textures and be sure to pile on the arm candy.
Putting it All Together: Fun Fashion for Summer Spartans
Date Night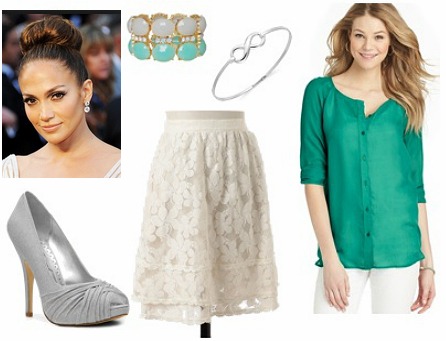 Product Info: Shoes – Designer Shoe Warehouse, Bracelet – Humble Chic, Bangle – Macy's, Skirt – Ruche, Blouse – LOFT | Hair Photo: ELLE
Since men served in the military full-time until their thirties, young couples in Sparta had nothing but date nights! Channel a Sparta-worthy date night look with the above ensemble.
Start with a lovely lace skirt that falls above the knee and pair it with a gorgeous green top. Accessorize with lovely pair of grey heels. Tie the color scheme together with a stone bracelet and add a dainty bangle for some zest. If you have long hair, put it up in a sock bun to complete the look.
Greek Goddess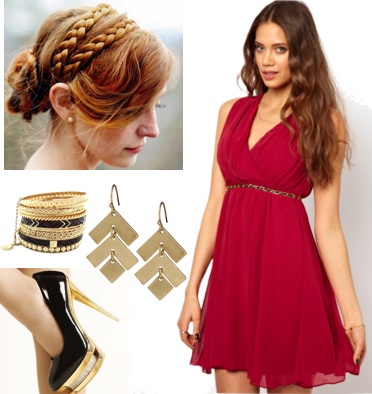 Product Info: Braid Headband – Etsy, Bangles – Macy's, Earrings – Piperlime, Shoes – Storenvy, Dress – ASOS
This outfit is the most "Spartan" to me and would be ideal for a dressy night out or any formal occasion.
Start with a flowy and drapey chiffon dress inspired by a Grecian style, making sure to use the belt that comes with it to define the waistline. Accessorize with black and gold bangles, earrings, and shoes that match the belt. Finally, tie your hair up in a bun and add a braided headband, like the one above from Etsy – it's a synthetic hair braid that is available in a large variety of shades.
Exercise in Style
Product Info: Shorts – Victoria's Secret, Watch – Zappos.com, Shirt – Foot Locker, Sneakers – Reebok | Hair Photo: ELLE
Spartan women kept their bodies in tip-top shape – so, of course, I needed to add a workout outfit that was both functional and stylish.
To get this look, throw your hair up into a ponytail, then pair a pink top with patterned gym shorts and comfy running shoes. Obviously, jewelry isn't the most practical thing to wear while working out, but a pink watch with a built-in lap timer is always a good idea.
Weekend Warrior
Product Info: Clutch – Target, Top – Forever 21, Shorts – Etsy, Bracelets – ASOS, Flats – ASOS | Hair Photo: ELLE
I don't know about you guys, but I definitely need to get out at night more often. This is a party look inspired by Spartan women's tenacity.
Keep things loud, yet low-key with a muscle tank and denim shorts. I love the edginess of the shorts and the studs on the tank – and the roaring lion seems like a great symbol for Sparta. Keep accessories simple with lanyard bracelets, a sequined clutch, and cute bow flats. Twist your hair up in a messy bun that'll still look great if it shakes loose while you're dancing.
Thoughts?
What do you think of the outfits? Did you know about ancient Sparta? Who should I cover next? Leave a comment below!