This post may contain affiliate links, which means we may receive a commission if you purchase through our links. Please
read our full disclosure here
.
Adele first entered our favorites list in 2008, and ever since, she's been releasing heart-melting records that top the charts. At the ripe age of nineteen, Adele released her first album, appropriately titled 19. With her release of 21 in 2011, Adele skyrocketed through the charts with hits: Rolling in the Deep, Someone Like You, and Rumour Has It. In 2015, she released her newest album, 25, and her single Hello is still topping the charts.
I've been a huge fan of Adele's since her first album, and in that time she has inspired me both musically and style-wise. Her look has evolved with time, but Adele has always kept her style classic, with dark clothing, clean lines, and a cat-eye being her signatures.
Adele's Style
Adele has stepped up her fashion sense as her star has risen. She loves to mix classic pieces with on-trend items. She's usually found wearing modest clothing that is tailored to her perfectly and has flare. Along with her sense of style, Adele's look is always completed with her strawberry blonde hair done up and flawless makeup including her signature cat-eye liner.
Click through the gallery below for a few of Adele's best recent street style looks:
Outfits Inspired by Adele
Below, I've created two looks to help you get Adele's style vibe both on and off stage.
Outfit 1
Adele is often seen wearing fitted dresses that are at a midi or floor length on days she has to dress up for an event. Below, I have put together a set that captures Adele's look for interviews or appearances.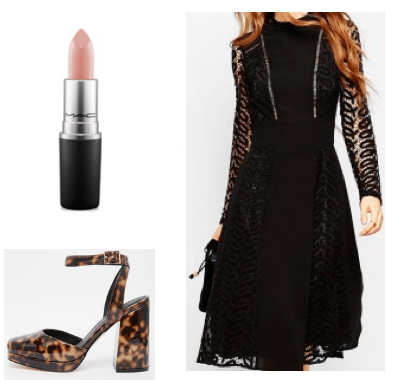 Products: Lipstick, Shoes, Dress
This outfit is classic Adele. The long sleeve black dress is reminiscent of ones she has worn on multiple occasions. The bit of embroidery take the simple LBD and makes it perfect for dressing up with tights or down with chelsea boots. These heels, though, capture Adele's taste: They're not too high and have a thick heel, yet the tortoiseshell print makes them fun and trendy. Lately, Adele has been seen wearing neutral lip shades so this MAC Pro lipstick in Fleshpot mirrors her look.
Outfit 2
For Adele's casual looks, she is often seen wearing dark, tight fitting pants with a loose top. Here is a winter version of something Adele would be seen wearing: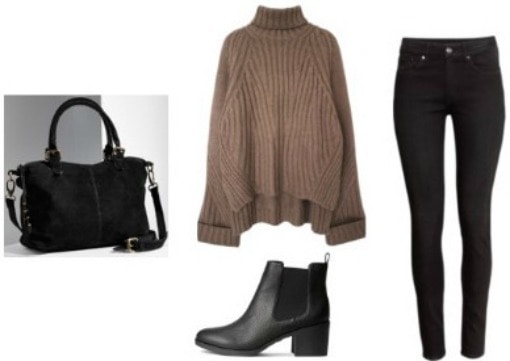 Products: Bag, Sweater, Boots, Jeans
This outfit has a hint of coziness while also looking put-together. Black jeans are a staple in any wardrobe, especially Adele's. Pair the outfit with a large black bag to hang on your elbow and simple chelsea boots to complete the inspired look.
BONUS: Adele's Makeup Look from "Hello"
As you probably know, Adele's makeup look is always flawless, yet understated at the same time. I love it!
Want to get Adele's beauty vibe? Here is an amazing makeup tutorial for Adele's Hello music video by Pixiwoo:
What do you think?
Are you a huge Adele fan like me? Do you find her style inspiring? Tell me what you think and let me know if you have any questions below!