This post may contain affiliate links, which means we may receive a commission if you purchase through our links. Please
read our full disclosure here
.
When you think of a fashion icon from the past, who is the first person that comes to mind? Marilyn Monroe? Audrey Hepburn? Edie Sedgwick, perhaps? While all three of those women have enviable styles that we absolutely love, there are so many other fashionable women that have graced the history pages.This biweekly column focuses on just that: unexpected and out-of-the-box fashion icons from the past. We feature women who have not only made an impact, but also have distinct signature styles that we can still draw inspiration from today.
If you haven't seen them already, be sure to check out our other "A History of Style" posts on Amelia Earhart, Billie Holiday, Joan Jett, Louise Brooks, Dorothy Dandridge, Elizabeth Taylor, Edith Head, Mary Tyler Moore, Sylvia Plath, Edith Bouvier Beale, Marlene Dietrich, Frida Kahlo, Cyndi Lauper, Isadora Duncan, Pam Grier, C. Z. Guest, Debbie Harry, Josephine Baker, Osa Johnson, Jean Seberg and Bettie Page.
This week, we'll be taking a closer look at '60s fashion muse Peggy Moffitt's bold, color-blocked and totally mod sense of style. Read on to learn more about Peggy's life and unique style, then check out some outfit ideas to help you channel her look for yourself:
5 Facts About Peggy Moffitt
Margaret "Peggy" Anne Moffitt was born in Los Angeles on May 14, 1940.
Peggy began her career with several small acting roles starting with1955's You're Never Too Young. She also appeared in an uncredited role in the famous Michelangelo Antonioni film Blow-Up.
After marrying photographer William Claxton, Peggy began to model. She became an extremely popular model during the mod era and acted as designer Rudi Gernreich's fashion muse.
In 1964, Peggy gained international fame by modeling Gernreich's infamous topless monokini (semi-NSFW photo) swimsuit. Of course, this was considered quite controversial at the time, but also made Peggy a household name in the fashion world.
Peggy's unique, asymmetrically-cut short hair became part of her signature look. Her cropped 'do was cut by none other than the late, great Vidal Sassoon using his famous five-point method, and Peggy's never looked back since. In fact, even though she's now in her seventies, Peggy still rocks that one-of-a-kind haircut.
Peggy's Style 101
Mod Squad. Peggy helped to define many signature '60s-era mod looks. By wearing short hemlines, saturated colors and unique prints and patterns, she helped to create a one-of-a-kind look that is still considered inspirational today. Pay homage to Peggy's style by rocking a fun, mod-inspired outfit, like one of the looks below.
Color-centric. In addition to merely wearing bold colors, Peggy also loves color-blocking to create fashion-forward looks. Try incorporating two or more bright shades to create a stylish outfit inspired by Peggy.
Kiss and Make Up. Aside from actual clothing, Peggy also has a signature make-up routine. Her heavily-done eye make-up was inspired by Kabuki theater and really showcases her fun-loving and artistic personality. You can recreate her look with a lot of liquid eyeliner, false lashes and some help from this YouTube tutorial.
Outfits for Inspiration
Outfit #1: Pink Lady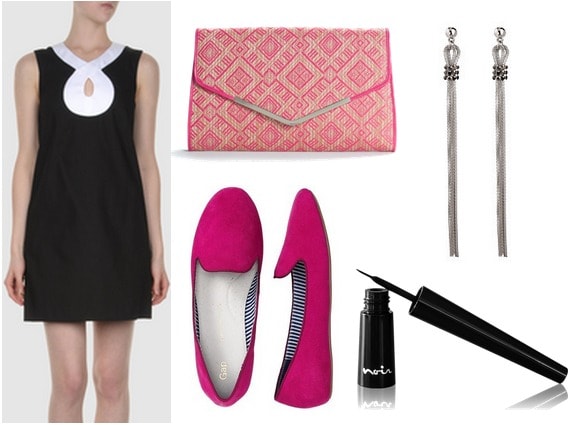 Product Info: Dress- yoox.com, Clutch- DSW, Earrings- Max and Chloe, Loafers- Gap, Liquid Eyeliner- Noir Cosmetics
Outfit #2: Black, White & Red All Over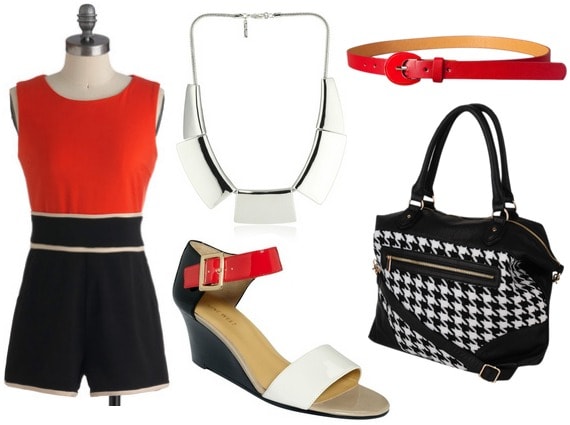 Product Info: Romper- ModCloth, Necklace- Endless, Belt- Joy, Sandals- Nine West, Bag- Forever 21
Outfit #3: The Mod Beachgoer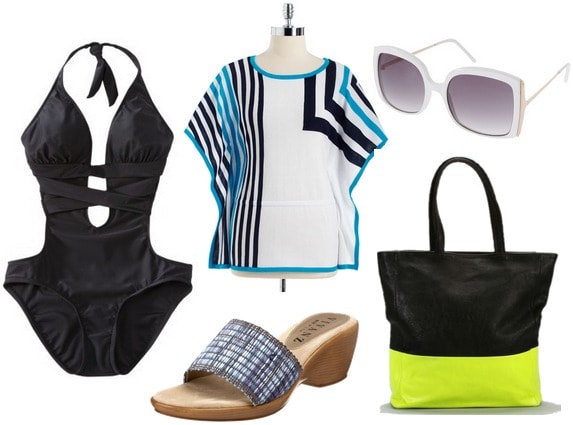 Product Info: Swimsuit- Target, Cover-Up- Lord & Taylor, Sunglasses- ASOS, Sandals- Endless, Tote Bag- Windsor
What do you think?
Do you find Peggy's style inspiring? What do you think of her look? Would you wear any of these outfits? Let me know what you think by leaving a comment below!