Fashion inspiration can be found anywhere, and books are incredible sources for style innovation. Book-Inspired Fashion explores these treasure troves, and brings them them to you in looks inspired by vibrant characters, far away lands, brilliantly woven plot lines, and more.
Last time I promised you some historical romance, and this relatively hidden gem combines the magic of 20th century Europe with a charming romance that's more fairytale than not. It's been one of my favorite light-reads for years now, so I'm just going to jump into some background before getting to the ballroom-inspired outfits.
Reading Between the Lines
The Plot
A Countess Below Stairs was published in 1981 by British author Eva Ibbotson, who is actually better known for her children's books. This was the first in her series of romance novels, and was reissued a few years ago in the Young Adult genre (which Ibbotson never agreed with). It features an enchantingly traditional romance that has made women around the world sigh in delight.
The protagonist, Anna Grazinsky, is the eponymous countess who was raised in Russia until the fall of the Russian monarchy. She is a vivacious, energetic, and sincere girl who takes a position as a maid in England when her family's fortunes turn. She ends up secretly working at the home of a young Earl named Rupert, who, along with the rest of household, is immediately taken by Anna's ethereal grace and kindness.
Of course, a love triangle soon emerges involving the beautiful Muriel, who Rupert feels duty-bound to marry, even though it's apparent that Muriel is a terrible fit for the household.
My Thoughts
There's a large cast of loveable characters that belong to Anna and Rupert's respective households, and this gives this novel an extra edge because there really are no sections of the book that I would skim through. The whimsical character descriptions and dialogue wrap up the sheer charm of this book, and it was so difficult for me to settle on three quotes.
I will warn you guys, however, that the quotes are longer than normal, and this is because I wanted to convey the lovely, compelling narrative voice Ibbotson uses to craft the story, so be aware of that!
The three outfit sets are also a bit more formal than usual, because they are inspired by Anna and Rupert's aristocratic backgrounds and the extravagant jewels, gowns, and dances of the early 1900s. These looks would be nice inspiration for any formal events you have coming up.
Finally, while you may have guessed that this book has a happy ending, I'm going to explore that in detail in the last outfit set, so please don't read the description if you don't want to know how Anna and Rupert navigate their way through their complex, upper-class love triangle!
Without further ado, here are the outfit sets inspired by the beauty of A Countess Below Stairs.
1. Little Star
But the real treasure of the Gravinsky household with its winter garden rampant with hibiscus and passion flowers, its liveried footmen and scurrying maids, was a tiny, dark-haired, bird-thin little girl, their daughter, Anna.

On this button-sized countess, with her dusky, duckling-feather hair, her look of being about to devour life in all its glory like a ravenous fledgling, her adoring father showered the diminutives which come so readily to Russian lips: "Little Soul," of course, "Doushenka," loveliest of endearments but, more often, "Little Candle" or "Little Star," paying tribute to a strange, incandescent quality in this child who totally lacked her mother's blonde, voluptuous beauty and her father's traditional good looks (2).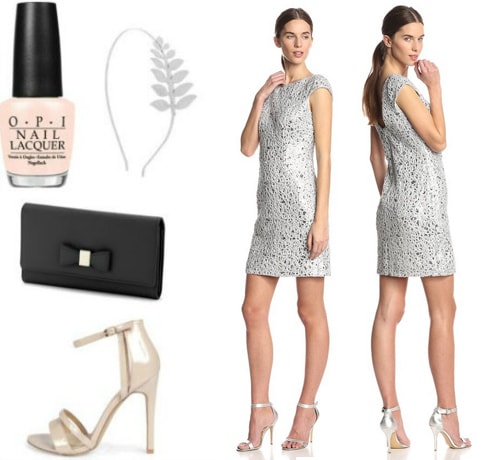 Products: Dress, Shoes, Clutch, Headband, Nail Polish
How can you not fall in love with Anna, from her initial introduction in the book? And how can you not be taken by the beauty of Ibbotson's language? There is so much to love about this book.
This formal look is inspired by Anna. The dress is simple from the front, but has a gorgeous, v-shaped back that gives it a little extra oomph. And of course, the sequins and glitter in the dress, headband, and clutch pay homage to Anna's nickname, "Little Star". Additionally, the outfit has a younger, less-sophisticated vibe because it is based on Anna's childhood in Russia.
The shoes are simple and neutral, and I added pale pink nail polish to finish off the look while retaining simplicity.
2. Piano Music
In silence, Uncle Sebastien held out his hands, bent and swollen with rheumatism and age.

"Yes, you are right," said Anna quietly. "God understands these things. Come."

And so they played some of the world's loveliest piano music – the exiled homesick girl, the humiliated, tired old man. Not properly. Better than that (214).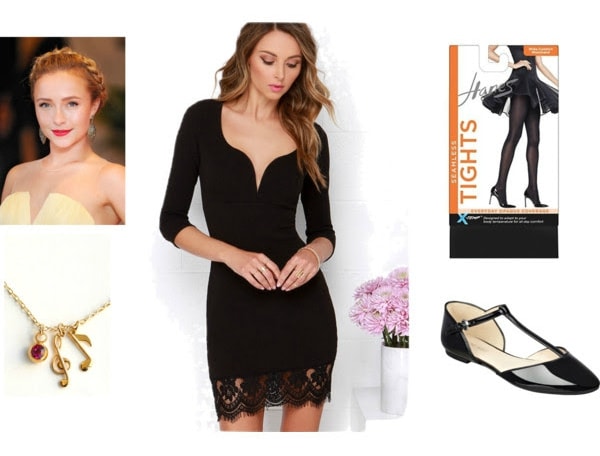 Products: Dress, Shoes, Necklace, Tights, Hair Photo: ELLE.com
This scene is beautiful. In it, Anna bonds with a man who has been shunned by most others in his household. Uncle Sebastien may have first viewed Anna as just another pretty housemaid, but she soon breaks him down into a much purer part of himself by revealing her genuine appreciation for piano music.
This outfit is simple but tasteful, and is inspired in part by the image of a classic black grand piano in a large estate. This look also recalls Anna's position as a maid within the house by avoiding any excess accessories and keeping a monochromatic color palette.
Anna's past as a classically trained dancer and musician is reflected by the music note necklace and the black flats, which are reminiscent of dance shoes. Otherwise, this look is rather bare bones despite the elegant front – and this is simply a reference to Anna's innate gracefulness, which is one of the first things that drew Rupert's attention.
The hairstyle, of course, is also representative of Anna's place in the household as one of many faceless new hires, with a tightly braided, disciplined updo.
3. Amethyst and Fading Rose
"I have no right to tell you, you belong to someone else. But I will tell you. Only I will tell you in my own language so that you will not understand. Or so that you will understand completely. Listen, then, mylienki, and listen well," said Anna – and began to speak.

It was already dusk. The ancient yews which sheltered them stood black against a sky of amethyst and fading rose; close by the fountains splashed and from the ballroom came the sound of a mournful, syncopated melody.

And Anna spoke. In the wonderful, damnable language that separated yet joined them, with its caressing rhythm, its wildness and searing tenderness. He was never to know what she said […]

"Have you understood?" she asked when she had finished.

"I have understood," said Rupert when he could trust himself to speak. (304-305)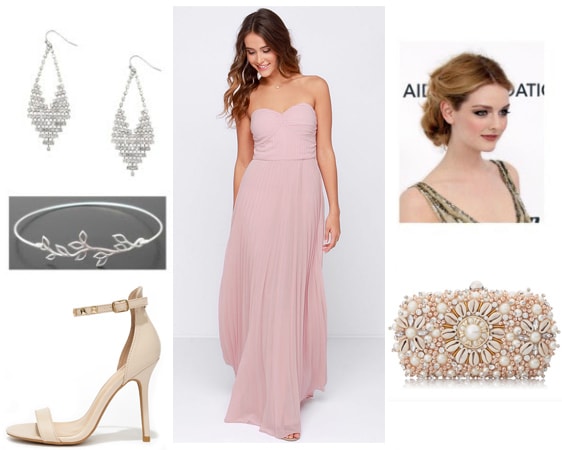 Products: Dress, Shoes, Earrings, Bracelet, Clutch, Hair Photo: ELLE.com
This scene is powerful because it demonstrates not only the depth of Anna and Rupert's feelings for each other in a forbidden relationship, but also conveys emotion that transcends language and cultural barriers.
This outfit is by far the most formal, with the flowing blush dress being the centerpiece and focus. While still relatively simple, the dress is eye-catching, recalling the way that Anna was able to stand out as a nobly-born woman while wearing her maid uniform at the ball.
I didn't want to choose a bright red dress, because although red is the color of passion and Anna is certainly ambitious and passionate in her love speech to Rupert, their romance is of a subtle, gentle variety. This soft pink is instead feminine without being ostentatious, and is soft in both appearance and texture.
The accessories are much more extravagant than in the previous two outfits because Anna's family's fortunes are restored with the return of an old servant, and her identity as a countess is revealed to everyone, allowing her to fully express the extent of her natural elegance. The jewelry, however, is still delicate and does not overpower the outfit.
Finally, the feminine updo adds cohesion to the look for a head-to-toe finish.
In the next Book-Inspired Fashion post…
Next time, I'm covering a book that is targeted not towards the general audience, but the general male audience. It's the first book in a 20th century series about everyone's favorite, sexy British spy.
Hint: Bond
Your Thoughts?
Do you enjoy books that tend towards the traditional side, or books that call for radical change and unexpected tales? Let us know in the comments below!