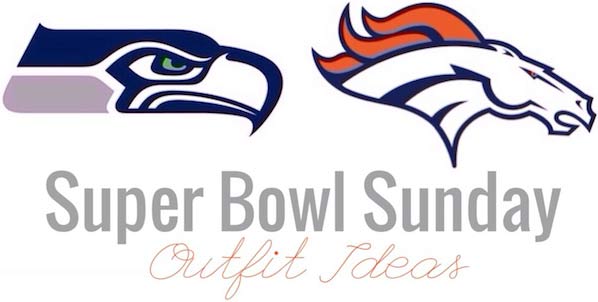 Football games and Super Bowl parties are not known for being the most stylish of events. However, I'm a big believer in the fact that you don't have to sacrifice style and wear an unflattering men's jersey just to watch sports.
In anticipation of the biggest football game of the year, we wanted to show you some ways to look cute and stay comfy while cheering your favorite team on to victory. Read on for Super Bowl outfit ideas for Seahawks and Broncos fans:
For the Seahawks Fan: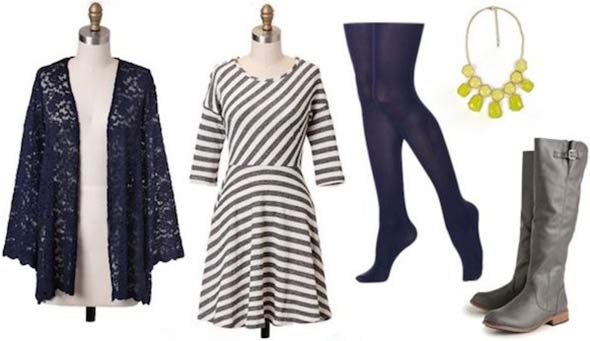 Product Information: Lace Cardigan, Dress, Tights, Necklace, Boots
The best way to show a little team spirit without resorting to logo-ed tees is by embracing your team's colors. For the Seahawks, this means lots of navy and gray with a little dose of lime green. This gray and white striped dress would look so pretty under a navy lace cardigan. With navy tights, gray boots, and a lime green statement necklace (this one is only $15!), you'll look perfectly polished for any Super Bowl party.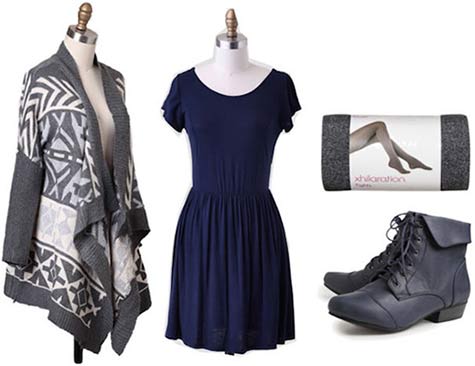 Product Information: Cardigan, Dress, Boots, Tights
For a totally comfortable look, layer a fun gray aztec print cardigan over a soft jersey knit dress. You'll be just as comfy as everybody else in their leggings and team sweatshirts but look ten times better! Outfits with a lot of navy can be hard to find the right shoes for so these navy ankle boots are the perfect solution!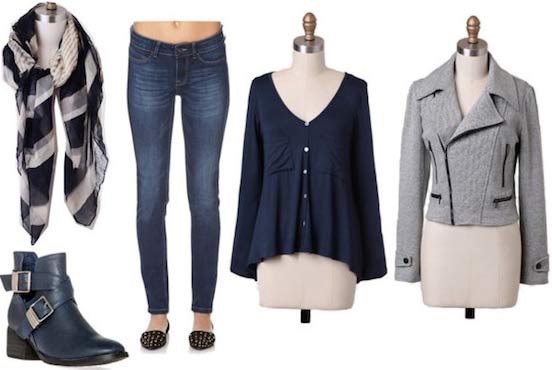 Product Information: Scarf, Boots, Jeans, Top, Jacket
This is the perfect stylish but casual outfit for any Super Bowl activity. Skinny jeans and a loose-fitting top will keep you comfortable for the entire game and I especially love the little bit of classy edge a motorcycle jacket (made out of sweatshirt material) and some strappy ankle boots can give the whole look. Finish it off with a navy, white, and gray striped scarf.
For the Broncos Fan: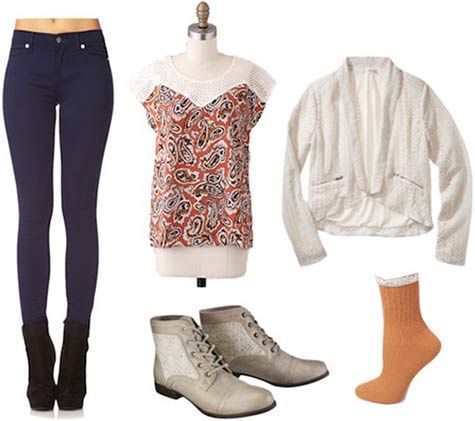 Product Information: Jeans, Top, Boots, Blazer, Socks
This sweet and stylish outfit is perfect for game day with a paisley print top in orange and blue, a soft lace blazer, and navy blue skinny jeans. You'll look festive from head to toe with these lace-trimmed orange socks peeking out from the tops of your crochet and leather ankle boots.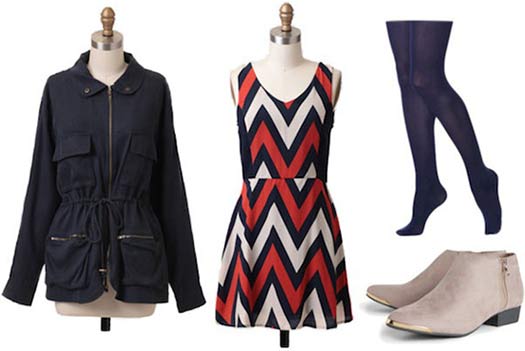 Product Information: Jacket, Dress, Tights, Boots
This chevron print dress in team colors is sure to impress even the most diehard Broncos fan. Layer a navy blue utility jacket over it to tone down the girly vibe, add navy tights for warmth, and finish the outfit off with a sleek pair of taupe ankle boots.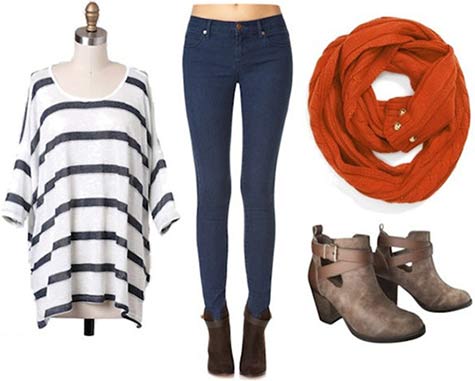 Product Information: Shirt, Jeans, Scarf, Boots
Take a more casual route for watching the game with friends or family by pairing an oversized navy and white striped tee with the perfect Broncos orange scarf. The trendy cut of the top alongside the cable knit and gold buttons of the scarf make this look totally chic while the skinny jeans and ankle boots keep it relaxed.
What do you think?
Which team are you rooting for this year? And, more importantly, what are you planning to wear on Super Bowl Sunday? Let me know by leaving a comment below.