Even though I have two projects, a paper and an exam in front of me before I can officially start summer break, my brain is already in summer mode! I've been wearing sandals and dresses non-stop and haven't seen long-sleeves in weeks. In addition, I haven't been able to get "summer songs" out of my head- you know, those songs that have you imagining beaches and warmth and tank tops. Here are five outfits inspired by five songs that'll make you want to jump in the pool and ditch those last-minute study groups.
1. Holiday-Vampire Weekend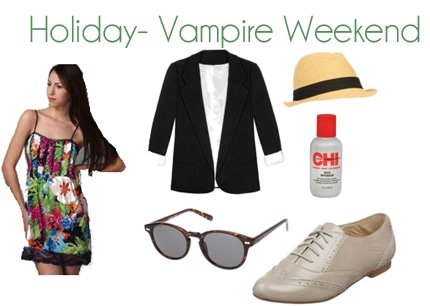 Dress- Lulus, Blazer, Fred Flare, Fedora- Aeropostale, CHI Silk Infusion- Amazon, Oxfords- Amazon, Sunglasses- Urban Outfitters
It's no secret that we absolutely love Vampire Weekend at CF! Their whimsical sound always puts a smile on my face, and like these boys, there's nothing I love more than "going away on a summer's day," like the song says!
This song reminds me of exploring coastal towns, and what better to explore in than a summer dress and a fedora? If the weather's cool enough, add a blazer and a worn-in pair of oxfords. To tame those pesky fly-aways and give your hair amazing shine, run a little CHI Silk Infusion through your strands after showering. This tune will have you wishing for summer freedom- even when writing an 8-page term paper!
2. Coconut Juice- Tyga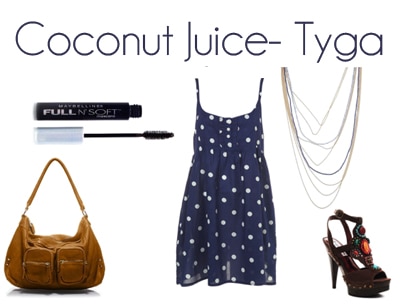 Mascara- Drugstore.com, Dress- Topshop, Necklace- Urban Outfitters, Shoes- Heels.com, Bag- J. Crew
Tyga is now part of Young Money, on Lil Wayne's label, but a few years ago, he was just Travis McCoy (of Gym Class Heroes fame)'s cousin. I challenge you to NOT get up and dance to this song– it's just so catchy! Plus, just the title of the song makes me want to grab the closest frozen drink.
This song is a perfect party-starter, which prompted me to create an outfit for a summer bash. Summer bashes should be all about being easy and unfussy, which is why this Topshop dress is perfect, as it's both stylish and comfortable. Add a pair of high heels, like these jewel-encrusted Steve Madden shoes, and you have a great outfit that's perfect for partying the night away. Summer makeup should be easy, too- a quick coat of Maybelline's Full 'N Soft mascara and you'll look gorgeous and ready to dance all night long!
3. Summertime- Kenny Chesney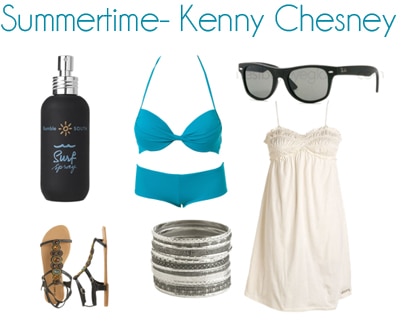 Surf Spray- Bumble & Bumble, Bikini- Topshop , Sunglasses- Best Buy Eyeglasses, Sandals- Wet Seal, Bangles- Wet Seal, Dress- Delias
Some of you guys say we don't feature enough Country music here on CF. I'll admit that although I'm not the biggest fan of the genre, It's almost impossible not to love this song. Chesney's crooning is infectious and you'll soon be belting out this one with the windows of the car down.
When I think of fun during the summer, I immediately think of an easy, fuss-free outfit. So grab your favorite bikini and pair it with a simple cover up- I love this white billabong one! All you have to do next is put on your favorite sandals and take out your sunglasses to have an outfit perfect for "that swimming hole." For summer hair, I love gorgeous waves, and Bumble & Bumble's Surf Spray will leave even the straightest hair perfectly tousled.
4. Summer of '69- Bryan Adams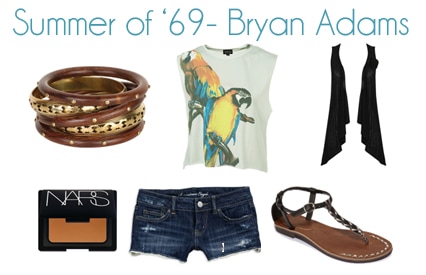 Bangles- Alloy, Shirt- Topshop, Cardigan- Forever 21, Sandals- Fred Flare, Shorts- American Eagle, Bronzer- NARS
Although I have absolutely no musical talent, I always want to pick up a guitar when I hear this song. To me, it represents freedom and spontaneity- two things crucial during the summer!
For this outfit, I started with denim shorts- a warm-weather staple! Adams' outfit in the video also inspired me- instead of a hot leather vest, try a lightweight jersey cardigan. Pair it with whatever rock 'n' roll tee shirt you have, like this one from Topshop. Finish the look off with sandals, bangles and a quick swipe of NARS's Laguna bronzer, which will make you look perfectly brown and not-at-all orange. Unfortunately, guitar and musical ability not included!
5. Armada Latina- Cypress Hill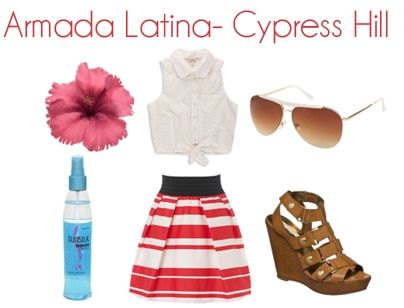 Flower-Monsoon, Top- Forever 21, Sunglasses-Wet Seal, Shoes- Target, Skirt-Jane Norman, Sea Spray-Alice,
If any of you guys watch mtvU non-stop like I do, chances are, you've seen the music video to this song. With it's slow, latin beats and soft background singing, it takes me to a Caribbean paradise. Plus, the video is colorful and happy- two other summer characteristics!
This music video features women salsa dancing- and what better to dance in than a full skirt? A top like the one featured from Forever 21 will keep you cool and stylish. While the flower may be a bit too reminiscent of Josefina-American Girl, it definitely signifies summer ease like nothing else. Take your favorite pair of aviators and rock your highest wedges to finish the look. To control and define wavy hair, look no further than Sunsilk Waves of Envy, a cheap and easy way to get beautiful summer hair!
What do you guys think?
What are your favorite summer songs? Which outfit is your fave? Tell me what you think of the outfits and everything else in the comments!