This post may contain affiliate links, which means we may receive a commission if you purchase through our links. Please
read our full disclosure here
.
As excited I am to be starting school so soon, back-to-school season is leaving me feeling nostalgic for my high school days. This nostalgia is spurred on, no doubt, by marathons of every high school movie ever made, from the cheesy, like She's the Man and Freaky Friday, to the girly, like Mean Girls and Clueless.
Below, for your perusing pleasure, are 5 typical high school stereotypes from movies, and a stylish outfit inspired by each one. If you're feeling a little bit wistful like me, or if you're just a teen movie junkie, read on!
The Valedictorian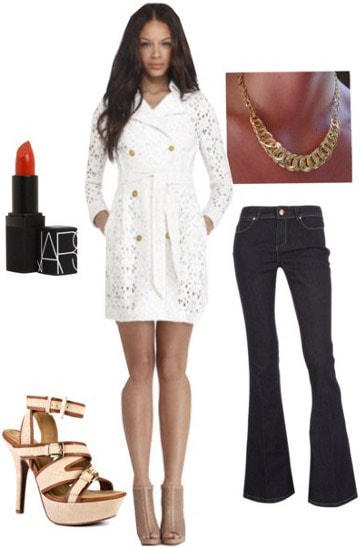 Coat, Jeans, Necklace, Heels, Lipstick
You know the girl – hyper-organized, totally type-A, and an absolute destroyer of the grading curve? Channel her all-consuming competence with a polished look that's chic, flattering, and will never go out of style.
This trench is the best of both worlds: the color and cut give your look timeless appeal, while the lace detailing keeps it fresh. Simple dark jeans and killer heels enhance your shape, making you look casually elegant. With a chunky gold necklace and classic red lips, this outfit is sophisticated and polished. Walk the streets with confidence, knowing you're not just most likely to succeed- you're sure to!
The Cheerleader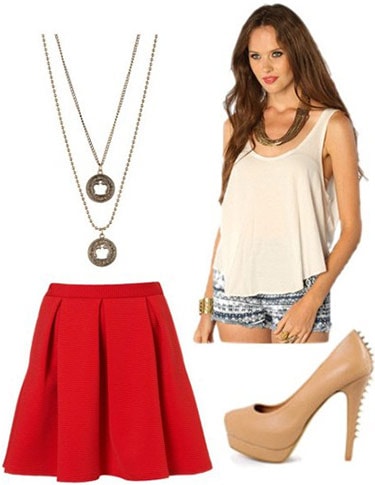 This look was tricky to put together, as most cheerleaders or stereotypical popular girls in movies tend to dress overly sexually, or are just perpetually wearing a cheerleading uniform. (Do they sleep in them?) Instead, try this twist on the Queen Bee uniform, which is still sexy, but not as overtly so.
Channel your inner Bring It On-er (spirit fingers!) with an on-trend red pleated skirt, paired with a flowy white top that's both figure flattering and feminine. Accessorize with a layered crown necklace that displays your royal status for all to see – after all, high school is an orderly little kingdom, running smoothly under your professionally-manicured thumb. Finally, nude patent heels elongate your legs and look classic from the front – the stud detailing on the heels is the only hint at your inner edge. Allow us to suggest the royal finishing touch: Vera Wang Princess perfume. People say it isn't easy being queen – but for you? It is.
The Artsy Rebel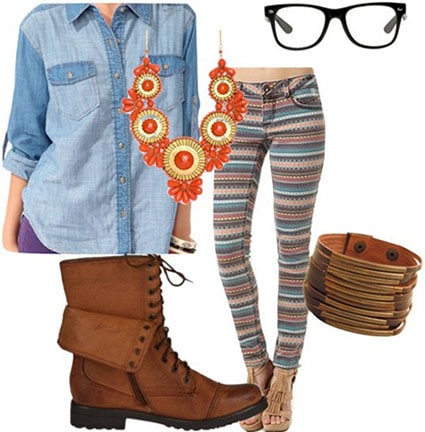 Shirt, Jeans, Boots, Necklace, Cuff, Glasses
Ahh the artistic rebel trope, one of my favorite high school conventions. Full of teen angst and hatred for "The Man," you're different from all these other sheep-like, brain-dead conformists at your school – you're an artistic and free spirited individual and in no way pretentious or cliche!
For an eclectic look, I've paired a comfy two-tone chambray shirt over colorful print jeans. The leather cuff bracelet, quintessential "creative type" boots, and the faded shirt provide an earthy feel, grounding the look and keeping the jeans from being overpowering. The statement necklace adds quirky charm to the outfit, which you definitely just threw on with no thought whatsoever… Finally, don't forget your "nerdy" glasses, so that some popular girl can give you the life-transforming makeover of -gasp!- putting in contacts. Groundbreaking, really.
The Jock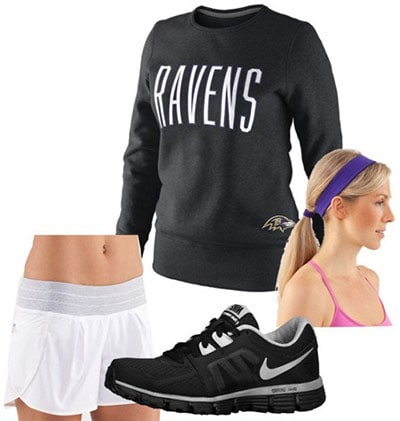 Shirt, Shorts, Headband, Sneakers
Though I was tempted to go the letterman jacket route with this outfit, I thought you all might appreciate this crazy comfortable workout outfit.
I took a sweatshirt from my favorite team (Raven Nation!) and paired it with some athletic shorts, sneakers and a headband. This look may not be intensely fashion-forward, but it still looks cute for the gym or an early morning jog. Simply switch out the sweatshirt for one from your favorite team or, for extra credit (har de har har), an old high school sweater.
The Kindly Teacher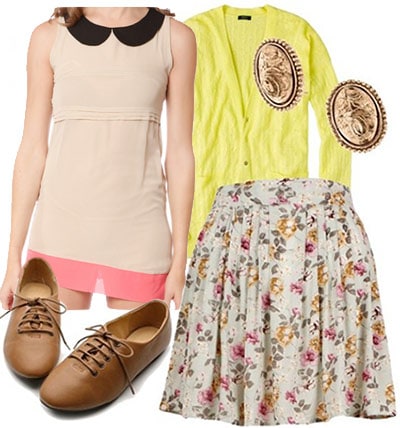 Blouse, Cardigan, Skirt, Oxfords, Earrings
You know every teen movie has the one dithering, but well-meaning teacher mentor? They're most likely in their mid-30s, with dyed hair, and probably some sort of novelty cat sweater? That's the kind of sweet and slightly kooky look we're going for. You may be wondering how to channel this archetype without looking like a total trainwreck, but don't worry, we'll make you into a total Betty.
This look is prim and proper, with softer colors and a floral print skirt that is echoed in pretty oval earrings. The blouse is on-trend, incorporating the popular peter pan collar look while complementing the skirt and cardign. Leather oxfords round out the look, and keep it looking trendy rather than frumpy. Feel free to dispense sage advice or earnestly offer support in this outfit.
What do you think?
Tell me a little bit about your high school experience – lets be nostalgic together! Did you/do you know anyone who fits these Hollywood stereotypes? Any more high school movies/TV shows you love? Did I miss any key cliches? (Can you say key cliches 10 times fast?) As always, leave your comments, questions and suggestions down below – I'd love to hear your thoughts!