This post may contain affiliate links, which means we may receive a commission if you purchase through our links. Please
read our full disclosure here
.
Celebrity style is awesome- usually, these beauties have all the money and resources in the world their disposal to create stunning red carpet looks. However, what they wear is often based off the styles chosen by even more powerful women- magazine editors. Specifically, Vogue editors.
These women have jobs that, to quote The Devil Wears Prada, a million girls would kill for. They choose the trends each season, and their seal of approval (or disapproval) can make or break a designer's career. These women know fashion, and they have the personal style to prove it.
Here are five outfits inspired by the consistent sartorial themes of five Vogue editors.
1. Lauren Santo Domingo – Contributing Editor, US Vogue
Lauren Santo Domingo (née Davis), is the blue-blooded fashion editor at US Vogue. This one-time socialite was practically American royalty – until she married Andrés Santo Domingo, a Colombian oil heir. As Derek Blaseberg's partner-in-crime, this girl knows how to have fun; just check her Twitter (@The LSD) to see for yourself.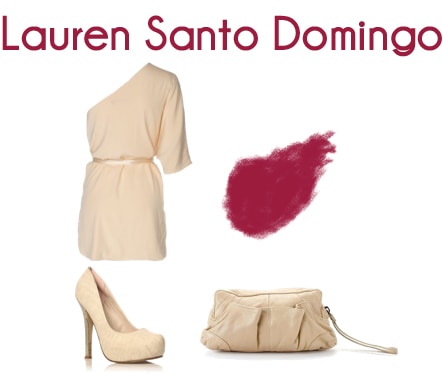 Dress- Alice+Olivia Lipstick- Armani, via Barneys Heels- Kurt Geiger Clutch- Lori's Shoes
Ms. Santo Domingo loves to show off her enviable figure- which is why she usually wears short, nude-hued dresses that accentuate her waist. This one from Alice+Olivia does just that- and is much cheaper than the creations she has access to! Santo Domingo knows that nothing elongates the leg like nude heels, and she's often seen wearing them. Finally, unlike many Vogue editors, Lauren wears makeup. She tends to favor a smoky eye paired with a red lip, like the ones pictured- killer cheekbones not included.
2. Gloria Baume – Fashion Director, Teen Vogue
My life might have turned out differently if I hadn't had a subscription to Teen Vogue to turn to growing up. Though my teen years are soon coming to a close, I still subscribe to the magazine. The magazine's awesome sartorial content can be attributed to Gloria Baume, Fashion Director- and one of my personal favorite editors.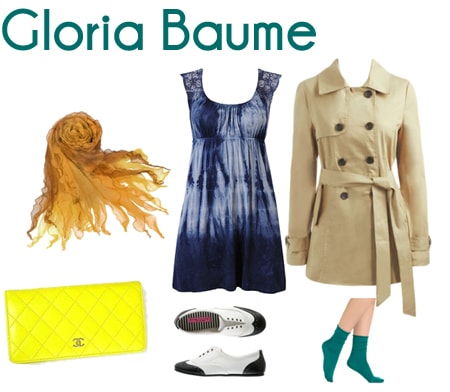 Scarf- Forzieri Dress- Forever 21 Trench- Arden B Clutch- Chanel, via BagBorrowOrSteal Shoes- Alice+Olivia for Payless Socks- ModCloth
Baume is different than many other editors in that you can often spot her wearing typical "fashion don'ts," like flat shoes with socks and multiple bright colors in one outfit. This woman is not afraid to break the rules, with great success. Her style epitomizes Teen Vogue, and her splashes of color make her a welcome addition to the often-monochromatic street-style circuit.
This outfit definitely has lots of color- but it can be toned down with a classic nude trench. Pairing colorful socks with shoes always seemed puzzling to me, until I saw Baume pull it off with such ease. So try the look yourself with brogues and a pair of green socks. Finally, finish off the look with a bright clutch like this Chanel one. (A girl can dream, right?)
3. Carine Roitfeld- Editor-In-Chief, Vogue Paris
Fearless, bold and sexy- those three words epitomize Vogue Paris editor-in-chief, Carine Roitfeld. Although she's over 50, she pulls off daring ensembles better than most 24-year-olds. After leaving Gucci in the '90s, she joined the Vogue Paris team and helped make it what it is now- edgier and grittier than any past edition of the mag.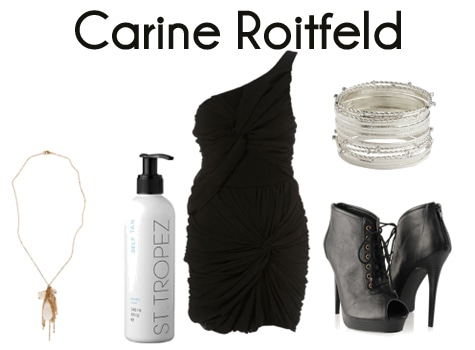 Necklace- Urban Outfitters Self-Tanner- Sephora Dress- TopShop Bangles- Arden B Shoes- Forever 21
We love Ms. Roitfeld's style because she's not afraid to push the envelope. She usually tends towards black, body-conscious dresses, paired with lace-up heels.
To channel her look, grab a dark, tight dress- if you don't feel comfortable showing as much leg as Roitfeld does, wear tights underneath! Pair this with shoes that lace-up. Although most of us cannot afford the Alaia heels Carine rocks, many cheap stores, such as Forever 21, offer solid alternatives. If you aren't blessed with Roitfeld's perpetually sun-kissed skin, fake it using St. Tropez Bronzing Lotion. All you need to pull this look off is killer confidence, a la Roitfeld, of course!
4. Meredith Melling Burke – Senior Market Editor, US Vogue
While many Vogue editors are not known to be the kindest, Ms. Melling Burke has been championed as the nicest of the Condé Nasties. I can completely understand why- her smile in pictures always seems so genuine and infectious! Plus, she epitomizes All-American beauty with her butter-blonde hair and sunny blue eyes.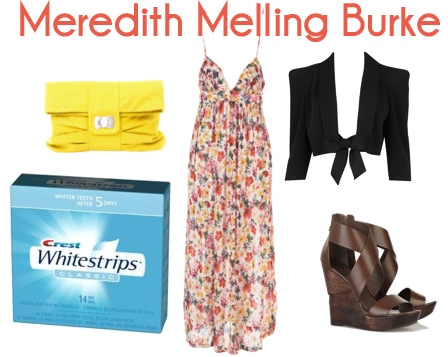 Clutch- ASOS, Dress- TopShop– Blazer- Forever 21– Shoes- net-a-porter.com, Whitening Strips- Amazon
Meredith tends to wear variations of the same outfits to events- she often opts for a patterned maxi dress that she pairs with a black jacket.
This dress from Topshop is the perfect way to channel Ms. Melling Burke – just add a simple blazer on top to streamline the look. The beauty of maxi dresses is that no one can see your shoes- so use this to your advantage and grab a pair of sky-high wedges to add a few inches to your height. Crest Whitestrips will take your gorgeous smile to near-perfect, just like Melling Burke's!
5. Emmanuelle Alt – Fashion Director, Vogue Paris
Emmanuelle Alt has arguably one of the chicest jobs in fashion- she gets to attend all the best runway shows and style high-fashion shoots in exotic locales. Not bad, right? Alt personifies Parisian style- although that could be because her husband, Franck Durand, is the Artistic Director at Isabel Marant, the perfect cool-French-girl label! They also have a little girl, Françoise- can you imagine how stylish she'll be in 15 years?!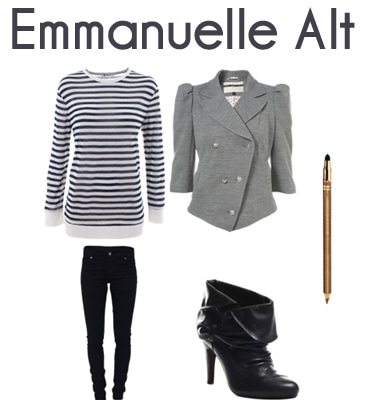 Top- ParisTexas.dk Blazer- TopShop Eyeliner- Amazon Shoes- heels.com Jeans- coggles
Alt's style is pretty constant- she sticks to monochromatic jeans, ankle boots and a structured blazer. Unfortunately, most of us cannot afford the thousand-dollar Balmain blazer that Alt has, so Topshop has graciously made a more affordable alternative. You can also copy her perfect Breton striped top, as retailers nationwide are making their own variations right now! Add skinny jeans and a pair of great ankle boots and you've successfully incorporated Alt into your outfit!
What do you guys think?
For more behind-the-scenes fashion at Vogue, see our post on American Vogue Editor Style, featuring Anna Wintour, Andre Leon Talley, and more.
Now we want to know your thoughts! Who is your favorite Vogue editor? What do you think of their style? Tell me everything in the comments!
Photos curtsy of Style.com, The Fashion Spot & I want to be a Roitfeld