This post may contain affiliate links, which means we may receive a commission if you purchase through our links. Please
read our full disclosure here
.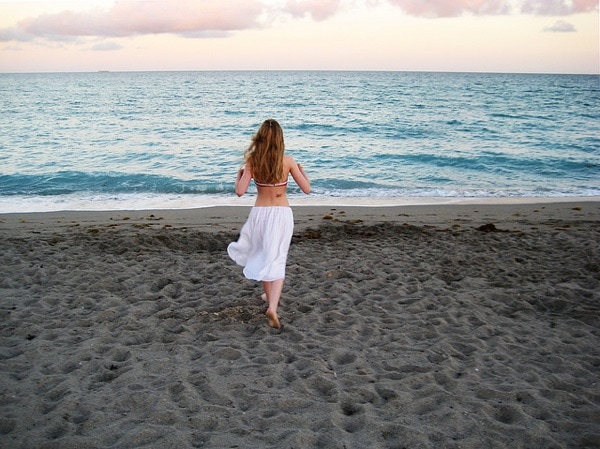 Summer is quickly approaching, and for me that means one thing — it's bathing suit season!
After you've found a killer bathing suit, it's easy to forget to create a fashionable beach cover-up outfit. With the outfits below, I hope to inspire all CF readers (myself included) to get creative next time we head to the beach or pool.
Here are 5 of my favorite ways to cover up at the beach!
Outfit #1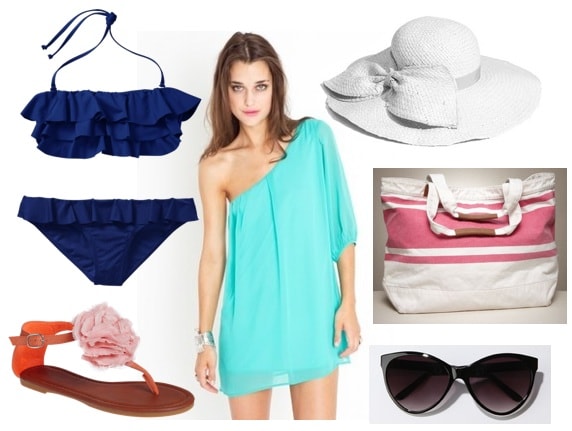 Product Information: Swimsuit, Dress, Hat, Bag, Sunglasses, Sandals
For this outfit, I wanted to do something feminine and flirty. This one-sleeved dress in this gorgeous blue color fits that role perfectly. A navy-blue, ruffled bathing suit matches nicely in both color and style. As you might have noticed, we love floppy sun hats for summer because they are both cute and functional. This one, with its oversized bow, is especially adorable and unique. A pink striped tote carries everything you need for a day lounging in the sun, while cat-eye sunglasses protect your eyes from the bright rays. Slip into some floral sandals to complete this feminine look.
Outfit #2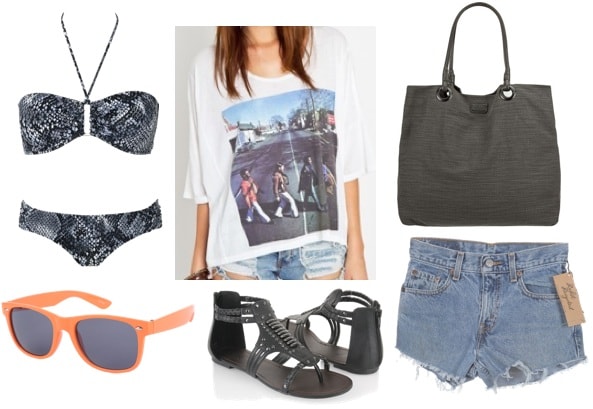 Product Information: Swimsuit, Top, Bag, Shorts, Sandals, Sunglasses
For those of you who prefer a pair of denim cutoffs to a dress, I thought I'd make an outfit with a bit of a rocker flair. This simple tee, with an image reminiscent of the iconic Beatles picture, sets the tone for the rest of outfit. Snakeskin was popular on the runways, so it makes sense to try out a snakeskin swimsuit. Simple studded gladiator sandals and an understated tote let the fun orange sunglasses act as a statement piece.
Outfit #3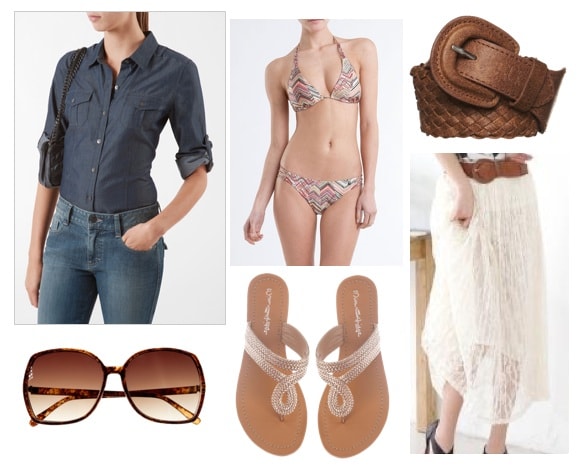 Product Information: Top, Swimsuit, Belt, Skirt, Sandals, Sunglasses
This outfit was actually inspired by an look I saw on Anthropologie's website, but it costs significantly less! A dark-chambray button up shirt can be worn buttoned up as high or as low as you would like depending on how much of your tribal print bathing suit you want to show off. Wear the shirt tucked into a lace maxi skirt, and emphasize your waist with a classic brown braided belt. Simple gold sandals and tortoiseshell sunglasses add the finishing touches to this look.
Outfit #4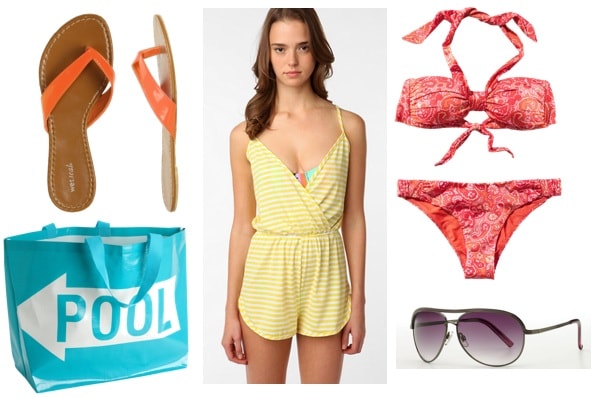 Product Information: Sandals, Romper, Swimsuit, Sunglasses, Bag
When I think of summer, I think of sunshine and play. This outfit captures this essence of summer perfectly. A striped yellow romper is easy to slip on and off when running around at the beach. This playful printed suit once again evokes the same bright and warms colors I associate best with summer. A cute beach bag pointing to the pool continues the playful vibe of this outfit. Finally, simple flip flops get a pop of interest with this bright orange color.
Outfit #5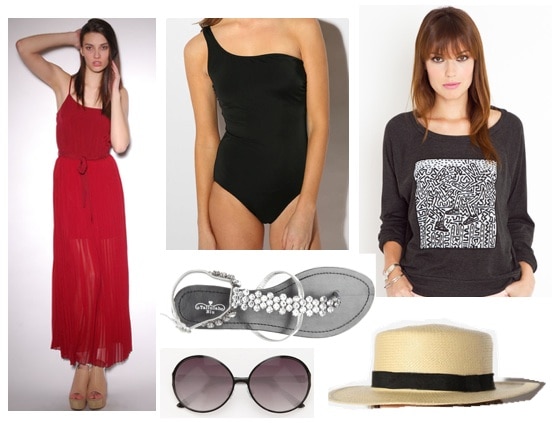 Product Information: Dress, Swimsuit, Sweatshirt, Hat, Sunglasses, Sandals
This final look was inspired by one of my favorite fashion bloggers, Andy Torres of Style Scrapbook. She recently wore a t-shirt over a maxi-dress, which was something I never thought I would like. But after I saw it, I fell in love with the idea of toning down a dress with a simple t-shirt or sweatshirt. I think this concept of a sweatshirt over a dress works perfectly for the beach because you can wear the dress by itself for the daytime when it's hotter. When it cools down, just throw on a sweatshirt like the one above. A boater hat and round-lens sunglasses protects your face and eyes from harsh UV rays, and simple silver sandals finish off the look.
What do you think?
What do you like to wear as a beach cover-up? Do you normally put effort into your beach cover-up outfits or do you just throw on something simple? Which outfit is your favorite? Are you inspired to try any of these ideas the next time you head to the beach or pool? Please let me know what you think by leaving a comment below!