This post may contain affiliate links, which means we may receive a commission if you purchase through our links. Please
read our full disclosure here
.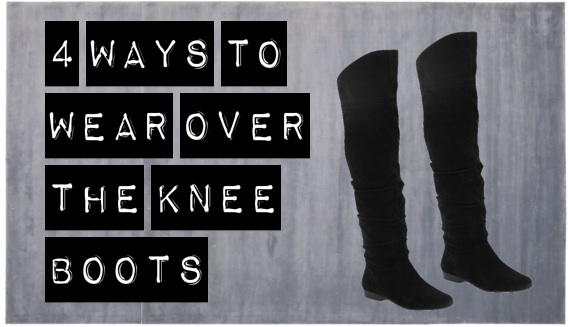 If you've been reading CF regularly, you know we love over-the-knee boots. But even after reading this article and this article myself, I was still hesitant to try a pair. As a girl who is 5 feet tall, owns way too many shoes, and is broke, I decided that I would restrain myself from buying a pair. But recently, I had to buy some for a costume. And let me tell you, I am so glad I did! They're my new obsession.
For this post, I will show you 4 different ways that I have styled my black suede over-the-knee boots in my daily life and how you can, too!
Going to Class
As a student, going to class constitutes the majority of the week. And if you enjoy sleep as much as I do, it can be tempting to throw on the first t-shirt, jeans, and tennis shoes in sight when you're in a hurry. But I want to show you that other outfits are just as easy put together quickly. Here is an example of how I would wear these boots to class.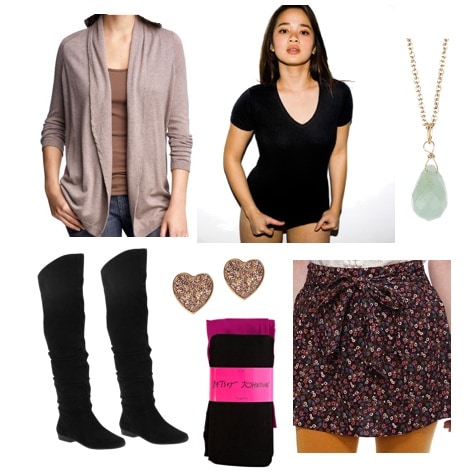 Product Information: Cardigan, Top, Necklace, Skirt, Earrings, Tights, Boots*
This outfit was actually inspired by someone I saw while I was walking to class the other day. I love the look of a printed skirt paired with a classic t-shirt and a slouchy cardigan. If it's chilly where you are, I've included some black tights for warmth. Finally, this light blue-green necklace picks up on the blue flowers in the skirt, and simple gold heart studs finish off the look.
Exploring the City
After five days of classes, nothing is better than leaving the confines of the lecture hall to explore the city. Of course, where you decide to explore and what you decide to do will influence the outfit you choose. The outfit I featured below, however, will hopefully be useful for many different types of adventures.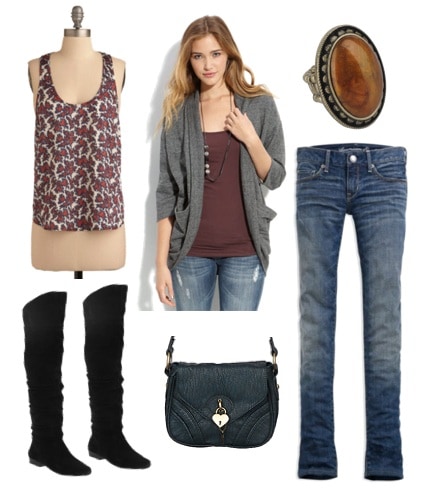 Product Information: Top, Cardigan, Ring, Pants, Bag, Boots*
This outfit is simple, yet it still commands attention. A printed tank top is interesting underneath this simple gray cardigan. Tuck in some medium-wash jeans into your boots, add on a ring for visual interest, and grab this cross-body bag to easily carry around your most important items for your day of exploration.
Going Out
Coming from someone whose school borders Beverly Hills (emphasis on HILLS), around here, walking around in heels is not the most practical choice for a night out. These boots provide a much-needed dose of comfort while at the same time completing your typical going out look.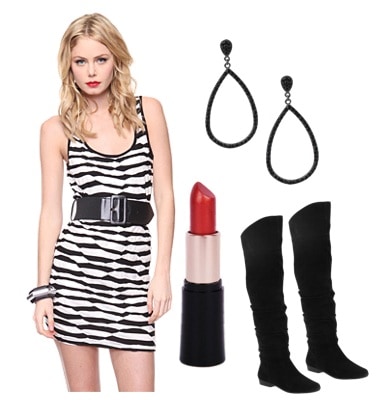 Product Information: Dress, Earrings, Lipstick, Boots*
A cute dress like the one above works perfectly with a pair of over-the-knee boots. I wanted to keep this look simple since the dress has so much character. Put on some simple black earrings and finally swipe on some red lipstick to really make your lips pop.
Lounging in Your Dorm
After class, it's easy to change into your favorite pair of sweats. But in college, whether you're meeting up with a study group, going to the dining hall, or grabbing a quick late night snack, people are everywhere. Among all these people, looking your best at all times will give you a boost of confidence.
Now, I don't want you to think that I'm telling you that, "Sweats are bad and should never be worn in public," because, come on, we've all done it at least once. But sometimes it's fun to maintain your style when lounging around. This is an outfit that can help you do that.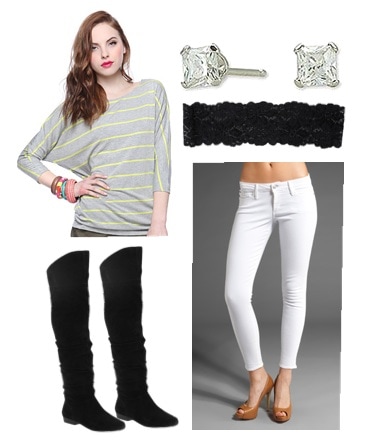 Product Information:Top, Earrings, Headband, Jeggings, Boots*
This outfit would be a great way to incorporate these boots into a comfortable look worn while lounging around. I love dolman-sleeve tops because they are an easy and comfortable way to add interest to your outfit, and this striped one from Forever 21 does just that. Simple white jeggings complement the top and tuck easily into the boots. When relaxing, I like to keep my accessories at a bare minimum. Usually, I enjoy wearing headbands to keep my hair out of my face and when I'm not wearing a statement earring, I always have on my diamond studs.
* All boots featured in this article are from Piperlime
What do you think?
Do you own a pair of over the knee boots? If not, will you give them a try now? If you do own some, what is your favorite way to style them? Where do you like to wear them? Please leave a comment and let us know what you think!