As I just started university this September, I have recently gone through the huge change of moving into a dorm. I was kind of nervous when I moved in, but it turns out I got lucky – I love my floormates! They are honestly becoming my second family.
So, as a little tribute to them, as well as your own dorm friends, I present to you, four outfits inspired by the people you meet living in the dorms.
The Partier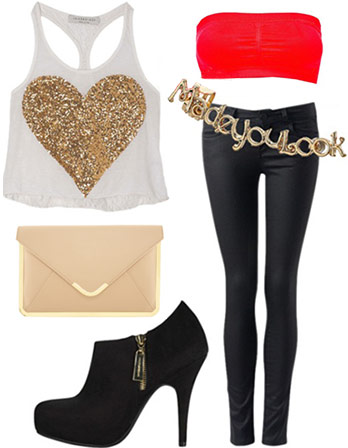 Tank, Bandeau, Jeans, Boots, Cuff, Clutch
She like, totally knows the door guy at Beta Whatever Whatever and can get you in tonight for free. Seriously. She's down to go out any night of the week, and consistently knows all the best places to let loose around campus. You think you saw her textbooks in her dorm once: they were a super convenient doorstop when she had that Tiki-themed party…
If you're going out on campus, it may be a good idea to leave the skirts and dresses at home – they can be fussy and impractical (especially as the weather gets colder). Instead, to channel the party girl's fun-ready look, bust out a fun sparkly top complemented by a bright red bandeau. Slide on some trendy waxed jeans and a add a great pair of ankle boots for legs that look miles long. Capped off with a cheeky ear cuff, this look is made for fun!
The Studious One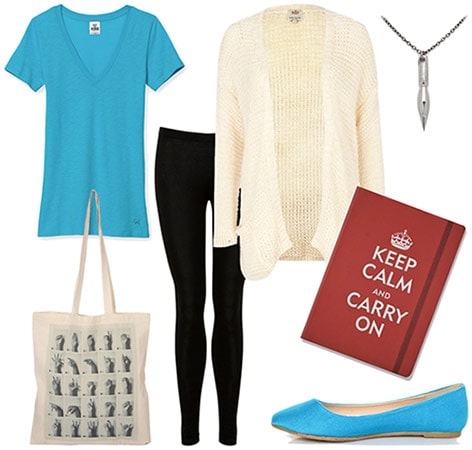 Cardigan, Tee, Leggings, Necklace, Flats, Notebook, Tote Bag
It's first week, and she already has a panicked look in her eye, clutching her textbooks to her chest like a life vest. That time you shuffled towards the bathroom at 3 AM, you saw her hunched over her books, bathed in the dim light of a Jeopardy rerun playing on the common room TV. You're not exactly sure what classes she's taking, or what she's studying, but she's assured you that whatever it is, "it's going to be on the midterm!!"
While you might not exactly envy her stressed-out approach to classes, this girl can inspire you to find a study-ready outfit that's cute, but comfy. First, pair some leggings (a college essential, seriously) with a loose tee – blue is the color of productivity. Top it all off with a long, cozy cardigan (for warmth and coverage) and a quirky writing utensil-inspired necklace. Don't forget a notebook (with a stress-busting mantra) and a roomy tote bag for holding all your books on a trip to the lib.
The Mature One
Blazer, Shirt, Pants, Earrings, Purse, Shoes
You don't know if she pulled a Freaky Friday and is really a 30-year-old in a college girl's body, but her competency can be a little scary. You remember the first time you had to slink past her dorm when she was putting away her vitamins, bran flakes, and coffee, so that she couldn't see your bag full of Cheetos and chocolate milk.
You might not be organized enough to alphabetize your snack foods, but you can still look polished and put-together in this outfit. Layer a white blazer over a crisp button-down for a clean, sharp look. When you add black jeans and crested smoking slippers, you'll look professional, but still youthful. Geometric earrings and a red cross-body bag round out the look and add fashion-y touches that keep your look au courant.
The New BFF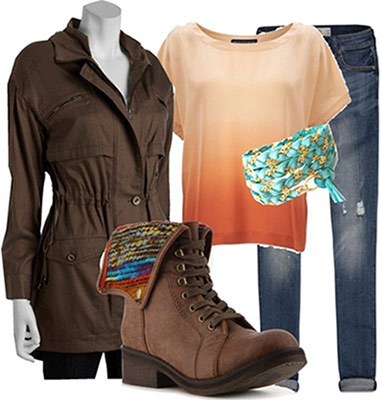 Anorak, Tee, Jeans, Boots, Bracelet
Now THIS is what you expected when you thought of res life; late night Ben & Jerry's runs, Netflix-fests, and rambling about boys in your dorm till the wee hours of the morning. Though you still miss your best friends from home, it's nice to know your new friend is always ready to lend an ear.
This look is a fresh take on the familiar – much like your new collegiate lifestyle! Boyfriend jeans and a tee might sound super basic, but the look is jazzed up by the cool ombre look of the shirt. Paired with an on-trend anorak, thread friendship bracelet (aw), and fun cuffed boots, you have an outfit that's perfect for crunching through autumn leaves on your way to class.
What do you think?
Have you met any of these typical dorm characters yet? What was your dorm experience like? Should I do another article on the other dorm mates you run across? Any advice for a college freshman on adjusting to dorm life? As always, let me know in the comments below!