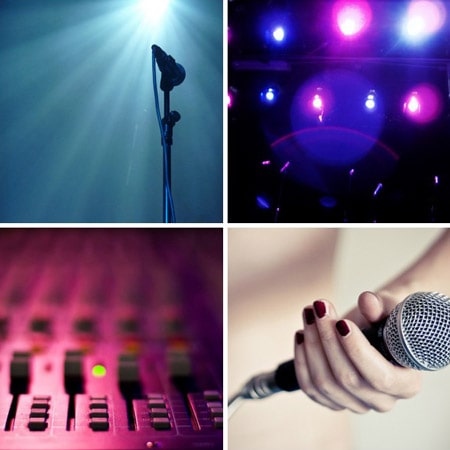 When it comes to sources of inspiration, music and fashion often go hand in hand. Style is often an integral part of any musician's on-stage persona, and (as we all know from the grunge trend of the '90s) music and musicians' personal styles often inspire fashion trends.
Though there are countless musicians who are also notable for their sartorial appearance, below I've highlighted four women with awesome senses of style, plus serious musical talent.
Alison Mosshart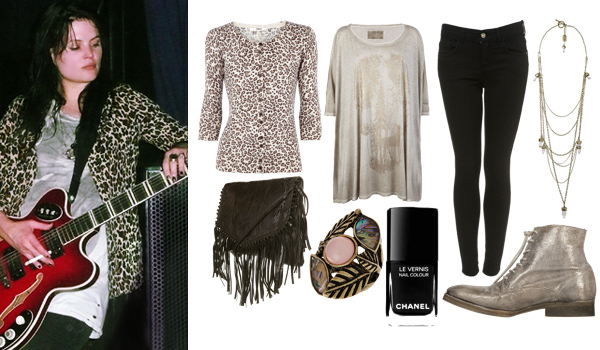 Photo Credit | Cardigan – Bag – Shirt – Ring – Nail Polish – Jeans – Boots – Necklace
You may know her from:The Kills, The Dead Weather.
Alison Mosshart is the epitome of cool. Her style is very tomboy-ish (she's always pictured in jeans), and it usually looks like she just threw on a ton of different things at once without really giving it much thought. Somehow, though, it always works for her.
To get Alison's effortlessly cool style, don't be afraid of layering and mixing patterns, and search around vintage and thrift stores for cool costume jewelry and shirts. On stage, Alison often wears a button-up leopard shirt and gold Dior Homme boots, so emulate that look with this leopard print cardigan cardigan from Oasis and these sparkly All Saints boots.
Lykke Li
Photo Credit | Necklace – Shirt – Ring – Ring – Shoes – Skirt – Bag – Tights – Necklace
You may know her from:Lykke Li
Lykke Li is a Swedish singer-songwriter with two full-length album releases under her belt. While much of her music is sweet and soft, her fashion sense is anything but.
She wears lots of black pieces – the slouchier and more layered the better – so getting her edgy look is fairly simple. Look through vintage stores for unique rings and necklaces, and mix feminine and masculine touches (like this tighter-cut skirt from Topshop layered under a slouchy menswear-inspired top).
Tennessee Thomas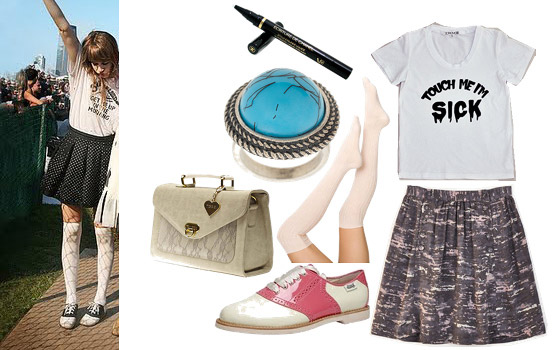 Photo Credit | Bag – Ring – Eyeliner – Socks – Shoes – Shirt – Skirt
You may know her from:The Like
Tennessee is the drummer for LA alt-rock band The Like. (Her father, Pete Thomas, is Elvis Costello's longtime drummer.) Her look is very sixties-inspired and adorable (she wears lots of knee-socks and saddle shoes).
To get her look, seek out vintage dresses from the '60s – or anything vintage inspired, if you don't have the patience for vintage shopping – and mini dresses with peter pan collars. Next, find yourself a pair of saddle shoes (like these super cute Bass x Rachel Antonoff ones, which Tennessee herself actually modeled!), and perfect the winged eyeliner look for a retro-chic aesthetic.
Patti Smith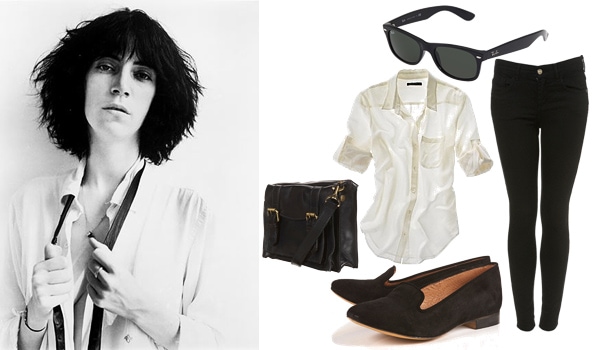 Photo Credit | Bag – Shirt – Shoes – Jeans – Sunglasses
You may know her from:Patti Smith
Patti Smith is one of those truly iconic figures in music (and fashion) – if you don't know of her, you're seriously missing out! (Go get her songs on iTunes NOW!) Patti's style is very androgynous and simple – think oversized men's white shirts and blazers, rolled-and-ripped-up jeans, and everything very worn in. She was a huge influence on the beginnings of punk style, and continues to be a huge source of inspiration today (see: hipsters and Ann Demeulemeester).
To get Patti's style, keep it simple – rock a basic white button-down with skinny black pants, basic suede loafers, and a menswear-inspired satchel bag. Just add Ray Ban Wayfarers (or faux wayfarers) and mess up your hair for a rockstar-chic look that Patti would love.
What do you think?
Which musicians – if any – are your main sources of inspiration? Would you want to emulate any of the four women featured here? Who do you think are the most fashionably iconic musicians? Let us know!