This post may contain affiliate links, which means we may receive a commission if you purchase through our links. Please
read our full disclosure here
.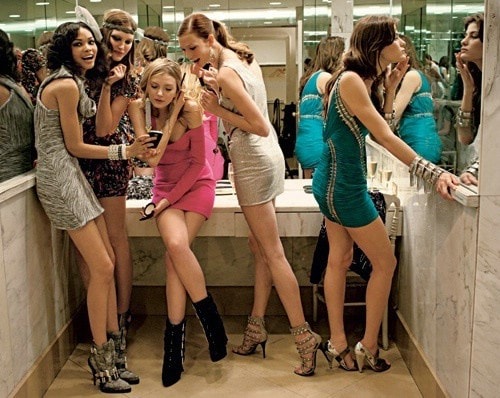 Looking for a new dress for that awesome holiday party you're going to later in the month, but aren't sure you want to invest in something you're going to wear again and again? It's okay – there are still plenty of options for you that won't decimate your wallet!
Below, I've compiled 30+ adorable holiday party dresses that are all $100 or less. The best part? They're all so awesome that you'll probably want to wear them again and again!
Little Red Dresses: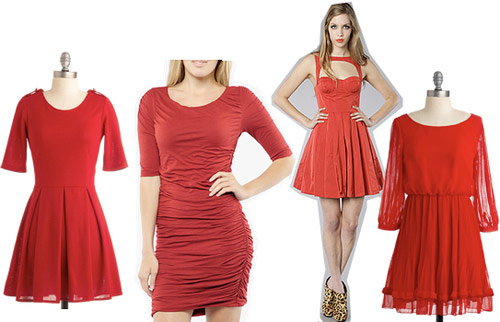 This is the perfect holiday alternative to the classic LBD – a little red dress! It takes a certain amount of confidence to wear such a bold and striking color, so be sure you're up for the challenge and wear with confidence.
When wearing such a bright dress, you'll probably want to keep your makeup and accessories a little more muted – the red will naturally draw attention, and you don't want to look overwhelming by having too much going on elsewhere in your look. However, leopard and red do go great together, so if you're feeling daring, try paring your dress with a leopard clutch or a pair of leopard booties.
Sequin Dresses: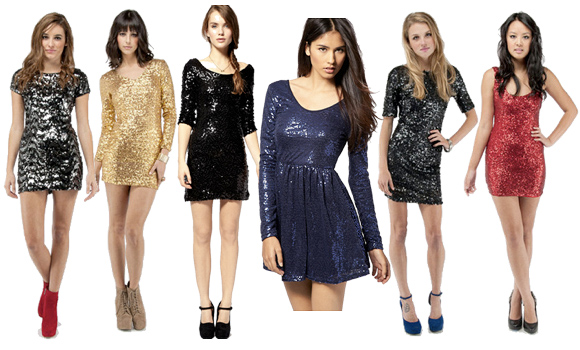 Is there any other occasion more perfectly suited for a sequin mini dress than a huge holiday party or a New Year's Eve bash?!
Like the red dress, sequin dresses require confidence and demand attention, so this is not the dress to wear if you're more in the mood for a quiet evening. Also, be sure to go easy on the accessories – in one of these dresses, you won't need flashy jewelry or statement-making shoes! Finally, be conscious of price – in general, nice-looking sequin dresses are going to cost a little more than your standard jersey frock; you pay for quality here.
Little Black Dresses: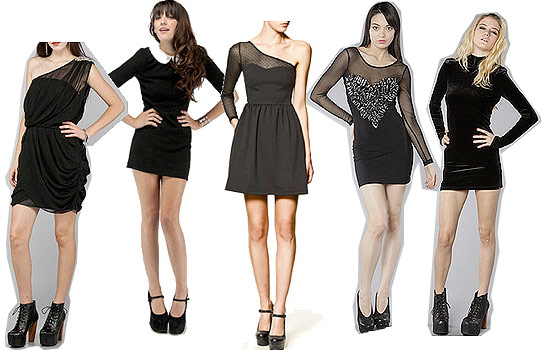 Want to make an impression? You can't go wrong with an LBD, no matter the occasion!
However you choose to accessorize the LBD, you really can't go wrong – bold shoes, bright jewelry, detailed clutches and interesting belts are all great choices. Also, you probably already have tons of stuff in your closet to complement any LBD you choose, so there's no need to spend a ton of money to really pull your outfit together.
Long Dresses: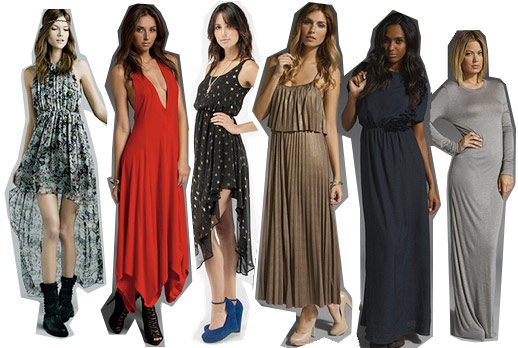 Maxi dresses aren't just for tall girls: if you get one that fits well, you can look fab in a maxi no matter your height! Due to variations in length, these can be tricky to buy online, so it's probably a good idea to try yours on in person before you buy (or at least order from an online store with a great return policy!).
A simple maxi dress is great for a casual occasion, or you can dress it up by adding a pop of color with your accessories, or some dramatic jewelry. If you're not feeling a full maxi, try a dress with an asymmetrical hemline.
Detailed Dresses: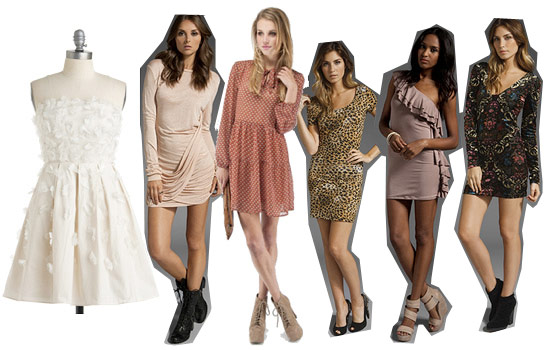 Whether it's a unique print or a trendy silhouette, a dress that pays attention to detail makes a great party statement. Also, a unique dress means you're probably not going to run into someone at the same party with a carbon copy of your look!
A unique gives you the chance to play around with looks and styles that you wouldn't normally consider. Just be sure you're comfortable and confident in whatever it is you choose – remember, if you feel good, you're going to look good!
Lace Dresses: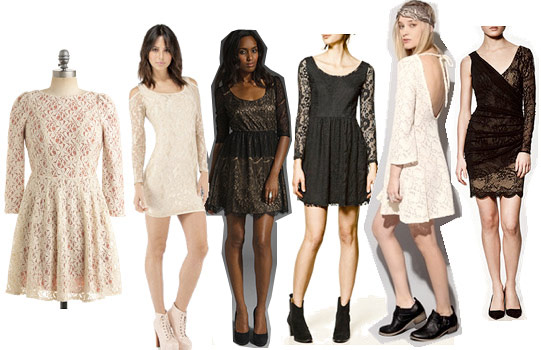 A lace dress is a great option if you're looking for something super girly. Go for a bodycon style if you want something with a party vibe, or choose a more conservative silhouette for a dress that's appropriate for all occasions. Try adding a leather jacket or some ankle booties to toughen it up and add an interesting contrast, or keep it more feminine with some bright pumps or flats.
What do you think?
Which style of holiday dress is your fave? Which dress would you be most likely to wear? What are you going to be wearing to your holiday soirees? Leave a comment and let's chat!