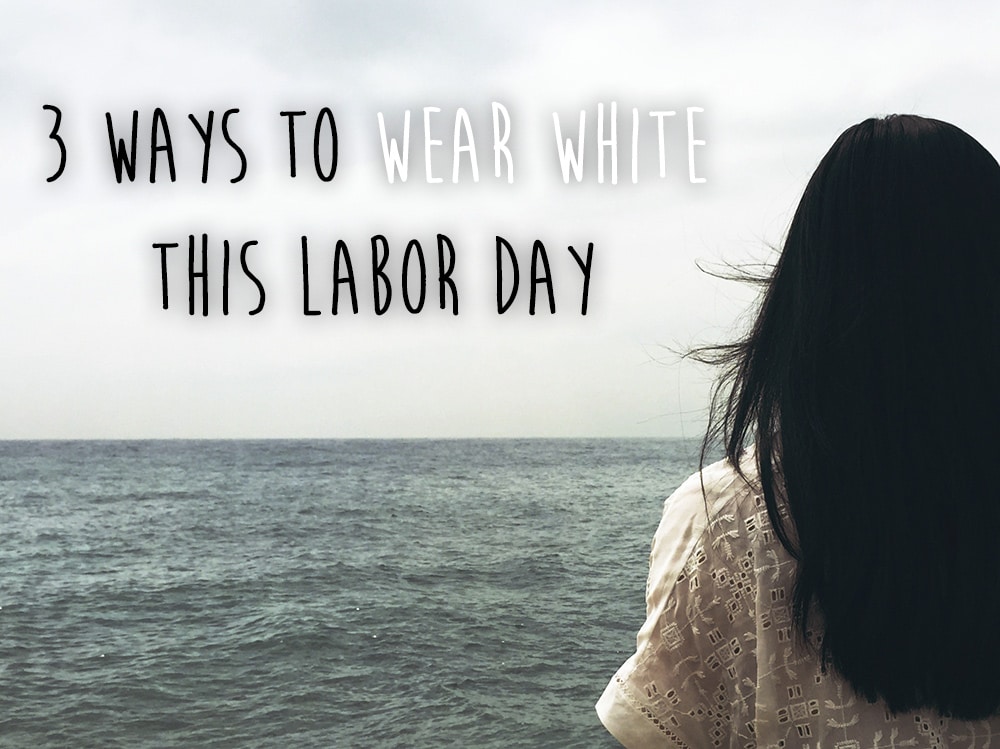 I don't know about you, but I have a harder time thinking up Labor Day outfits than I do for any other holiday. Christmas and New Year's are all about festive sparkle, but what does one wear for Labor Day?
To get around this dilemma, I wanted to turn one of the most commonly-broken fashion adages, white after Labor Day, completely on its head. In the spirit of ignoring one of the biggest outdated fashion rules in the book, here's how I'm rocking white this Labor Day – and every day after!
1. The Friday Night Party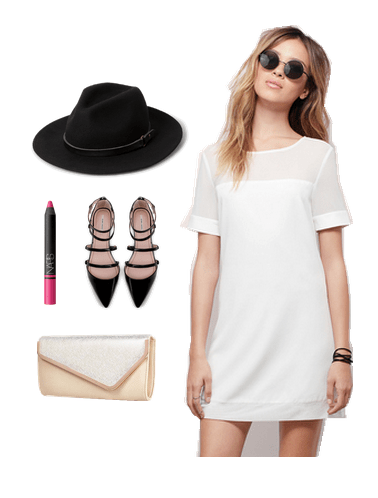 Products: Dress, Sandals, Clutch, Lipstick, Hat
The start of a new school year means mixers and parties. A shift dress is a great throw-on-and-go option for nights out, and I love the edgy mesh detail on this one. I'm also totally obsessing over strappy flats right now, so I went with this pair from Zara. That said, a dress this basic will go well with any pair of heels you might have in your closet.
If you've read my May and June posts, you'll know I love hats of all kinds. They're great transitional pieces for fall, and they're wonderful for adding something unexpected to an otherwise ho-hum dress-and-strappy-shoes combo.
2. The Beach-house Saturday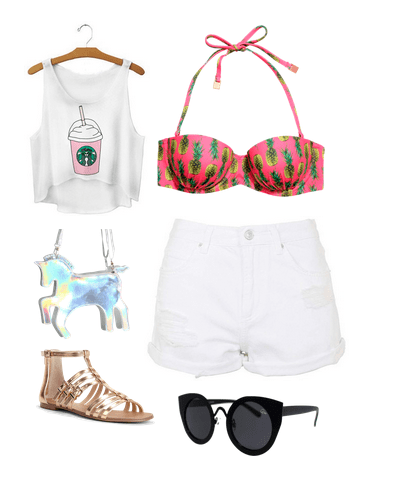 Products: Bikini Top, Shorts, Tank, Cross-body, Sandals, Sunglasses
If you're still squeezing beach days into your social calendar, you're not alone! Nothing says 'waving summer out with a bang' quite like a pineapple-print bikini. Pineapple prints give me total beach vibes, and I'll be rocking them until midriff season is well and truly over.
Pumpkin spice is to fall what Frappuccinos are to eighty-degree weather – and this crop top is an incredible ode to the summery confection. When paired with this statement unicorn crossbody, it's a super-fun way to celebrate the amazing four months you've just had.
3. The Sunday Brunch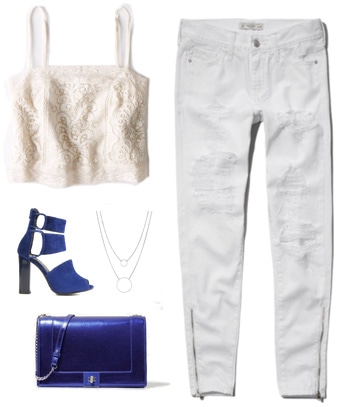 Products: Top, Jeans, Heels, Bag, Necklace
I love white lace tops, but when paired with white boyfriend jeans? Yes please. They're both white, which makes them look completely cohesive and tones down the edginess of the juxtaposition.
My favorite outfit accent color is red, but cobalt blue is a crisp shade that's a little more low-key. I love any bag that reminds me of Chanel's classic Boy bag, and this crossbody comes in an eye-catching shade and unusual finish.
What do you think?
How would you rock white this weekend? Are you ready for fall? How will you be spending Labor Day? Let me know in the comments!