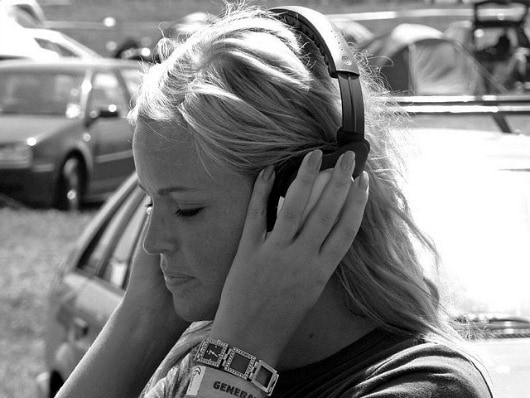 Welcome to part two of our series on outfits inspired by your perfect summer playlist – no matter your preferred music genre, we've created a look to match. Read on and find out which musical genre influences your style!
1. California Love
Your Playlist:
Kanye West, Kid Cudi, Jay-Z, Fabolous, Common – there's no better soundtrack to put a little swagger in your step as you walk the city streets.
The Look: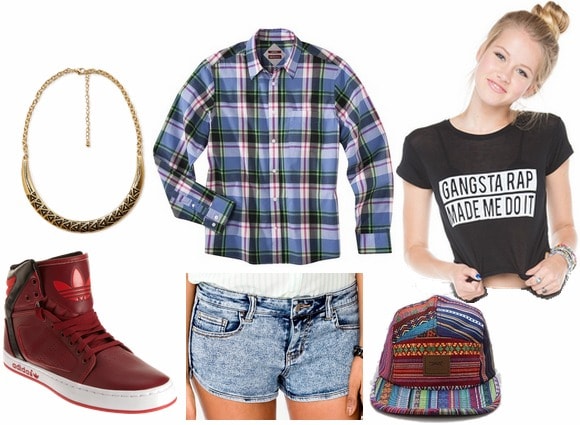 Necklace, Sneakers, Plaid, Hat, Shorts, Tee
Start with a cheeky crop top, and pair it with acid-wash dolphin shorts that have an edgy, yet retro vibe. Add some cool and comfy sneakers, then layer on a statement-making geometric bib necklace. For extra points, tie a plaid shirt '90s-style around your waist (find an authentic, worn-in one at your local thrift store!), then cap the whole look off with an eye-catching and on-trend ball cap.
This look plays with retro elements, like the cut and wash of the shorts, and adds of-the-moment pieces, like sleek sneakers and a geometric necklace for a look that's fresh, visually intriguing, and full of texture!
2. The Door Into Summer
Your Playlist:
The Monkees, The Beach Boys, Los Lobos, Bob Dylan, The Weavers –the perfect music for a stroll along a picturesque boardwalk.
The Look: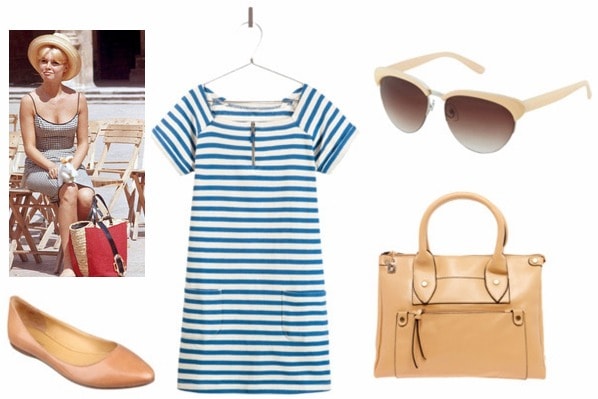 Flats, Dress, Sunglasses, Bag | Photo via ELLE
For this look, I wanted a more fashion-y take on the beach/surfer girl style, so I turned to the ultimate queen of summer dressing, Brigitte Bardot. She's the perfect style inspiration for this dreamy retro summery soft-rock playlist, because of her connection to the '60s, and her easy, carefree, yet classic and feminine style. (Plus, Ms. Bardot is no stranger to singing, herself!)
Modernize the iconic fisherman's shirt with this cool t-shirt dress that has a mod shape that speaks to the '60s, but is updated with a zipper detail and pockets. Brigitte Bardot was known for her simple clothing – one of the reasons her classic take on style is still admired today – so keep your outfit clean with little tan flats and a structured bag. Finish with trendy vintage-esque sunglasses and you have a simple, but ladylike look that's eternally chic yet perfect for summer.
3. Island in the Sun
Your Playlist:
Arctic Monkeys, The White Stripes, AWOLNATION, Interpol, Weezer – music for chewing bubblegum and kicking ass (and we hear they're all out of bubblegum).
The Look: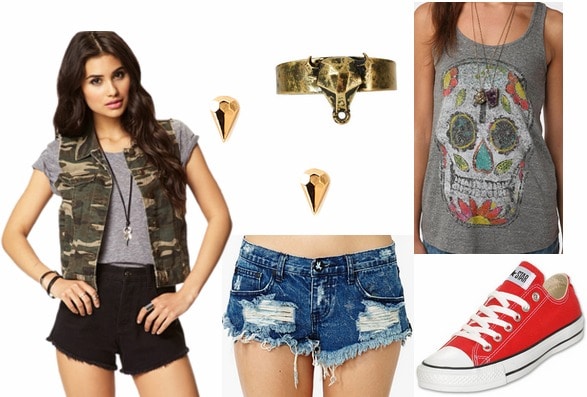 Earrings, Shorts, Vest, Necklace, Tank, Sneakers
First, layer a camo vest over a colorful skull tank – camo print is super trendy right now, and a cool vest is a great way to add layers and interest to an outfit in the sweltering summer sun. Along with some uber-distressed denim shorts and Converse, this outfit is tough, but still seasonally appropriate.
Finish with some little stud earrings and a bull ring for a look that's very alt-rock – perfect for summer concerts and festivals like the Warped Tour!
What do you think?
Do any of these genres feature in your summer playlists? Would you wear these outfits? Are there any other genres you'd like to see me do? Let me know your thoughts, questions and suggestions in the comments below!