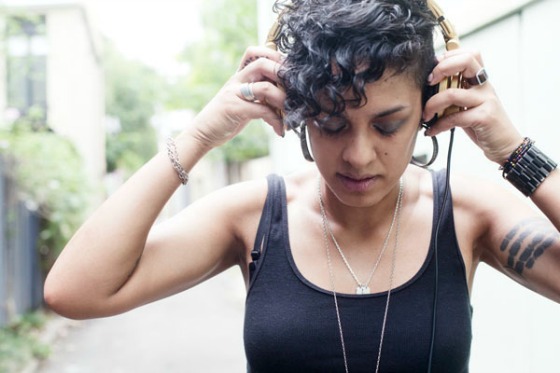 As summer rolls around, I find myself in search of that most elusive of things: the Perfect Summer Playlist. I might never find the perfect playlist, but it got me thinking of all the different genres of music that could be considered "summer music".
So, to help you gear up for summer, I've decided to do a Style Notes series on summer music genres, and the fashions they inspire – take a look and see which music influences your style!
1. Sweet Home Alabama
Your Playlist:
Lynyrd Skynyrd, Bon Jovi, Aerosmith, Def Leppard – the perfect soundtrack for long, hot days at the lake and grabbing a beer at backyard barbecues.
The Look: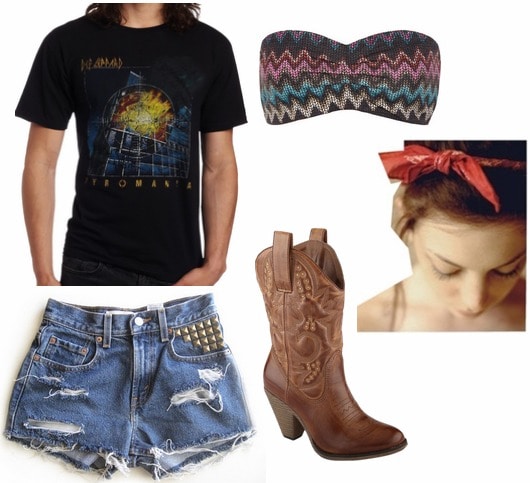 Keep it simple with your favorite classic band tee – one of my fave things for summer is turning band tees into cutoff tanks to show off a cute bandeau underneath! (If you need help DIY-ing, check out this tutorial because it's super helpful and this tutorial because it's hilarious.)
Add a little rockabilly style with a retro red paisley headband fashioned from a bandanna, then finish off with some trusty cowboy boots. This outfit is easy as can be, but still has a bit of rock-and-roll charm.
2. Flowers in Your Hair
Your Playlist:
The Lumineers, Katie Herzig, Bon Iver, Ingrid Michaelson – the ideal mix for languid days wandering flea markets and pretending you went to Coachella.
The Look: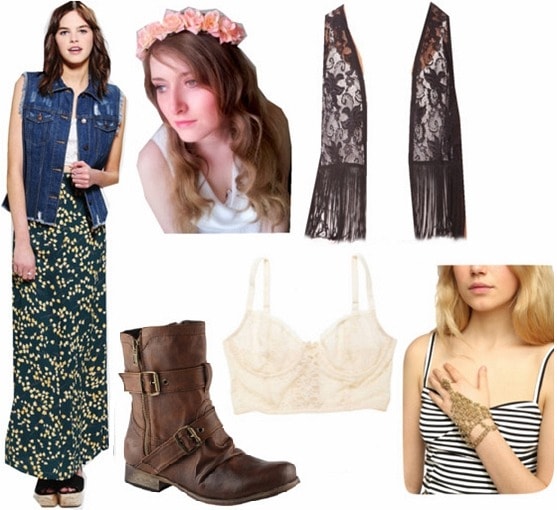 Skirt, Floral Crown, Boots, Bandeau, Vest, Bracelet
Score a whimsical, festival-inspired feel with a pretty printed maxi skirt paired with a dreamy lace crop top. Layer on a fringed vest, then add a statement-making bracelet and the requisite floral crown for that ethereal look. Lastly, ground the outfit with practical military boots.
Here's a fun fact: It's impossible not to feel lovely in this outfit. (You're wearing a flower crown. A crown of flowers.And it's acceptable to the general public. Tell me your inner 8-year old isn't squealing with delight.)
3. Music of the Sun
Your Playlist:
Rihanna, Beyoncé, Alicia Keys, Christina Aguilera, Keri Hilson – now that finals are done, this is the perfect pre-party, female-driven pop music to blast while getting ready to go out for unforgettable summer nights!
The Look: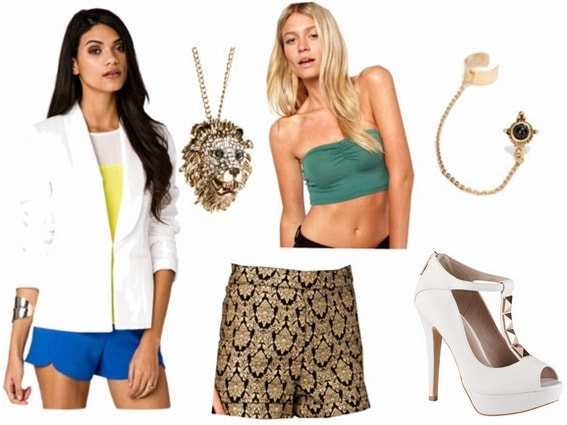 Blazer, Necklace, Shorts, Bandeau, Earring, Heels
Channel the strong, confident, femme fatale vibe by rocking an uber trendy blazer-and-bandeau combo, a trend that perfectly coincides with the warmer months. This look works because the high-waisted shorts balance out the bandeau and — when combined with the blazer — make this look sexy, not sleazy.
The opulent print of the shorts with the blazer-and-bandeau combo would work perfectly for a night out when you want a little extra high fashion cred. Team this outfit with sky high heels, a fierce necklace, and cool cuff earrings and get ready to wow friends and break hearts!
What do you think?
What's your go-to summer music? Which summer trend will you be rocking? Would you wear these outfits? What genres should I do next? Let me know your thoughts, questions, and suggestions in the comments below!