In one of my previous posts, I talked about how there are so many things I want to do, but never seem to find time for, and it seemed like that resonated with many of you lovely readers.
If you're anything like me, you're currently buried under a pile of term papers and studying, looking longingly out the window at all those non-procrastinators frolicking outside and enjoying the sunshine. (Seriously, people, can you go be joyful and unburdened elsewhere?!)

So, I'm back with another three things I would love to have time for, but never can quite get around to — hey, at least if I ever find the time, I know I'll have the perfect outfit!
1. Go out for dinner with the girls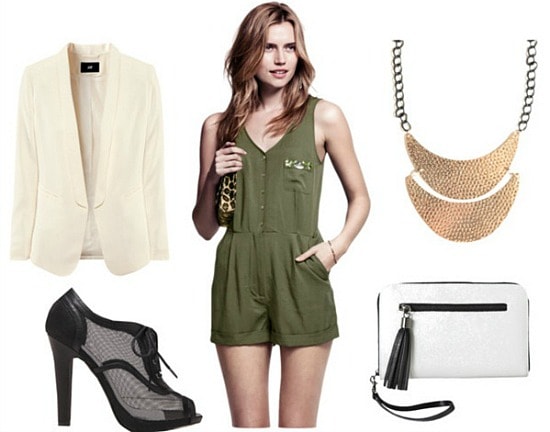 Blazer, Booties, Romper, Necklace, Bag
You know what I want to do? I want to go out with my best girlfriends to dine on something more appetizing than the caf's Szechuan beef. We will pile into a taxi, and head downtown to a place where the menus don't use any capital letters, and the avant-garde lighting fixture resembles a jellyfish doing yoga. There, beautiful young people will dine on elegant food cunningly plated on uber-sleek dish sets, and the hostess will have likely modeled for NYLON or Numero or something. I will order a Cosmo, and my friends and I will all argue over who gets to be 'the Carrie'. (Hello, I'm a fashion writer — automatic win, no?)
Sadly, tonight I filled up on the same sandwich I always get at our caf, then checked my countdown to find out how long I have to wait for home-cooked food. If I were to go to this fantasy restaurant, though, this (see above) is exactly how I'd dress.
Call me crazy, but what I love about a night out with the girls is that I can indulge my sartorial whims and have an appreciative audience. Since there's no need to worry about the 'Man Repelling' effect when you're out with your girls, I'd rock this awesome romper, which effortlessly combines military style with girly flair. I'd throw on a white blazer, and add these cool mesh booties to complement the look, grabbing a geometric gold necklace and a black and white bag to top it off. This look is edgy yet feminine, with just a hint of the minimalist black and white trend.
2. Take a walk on the beach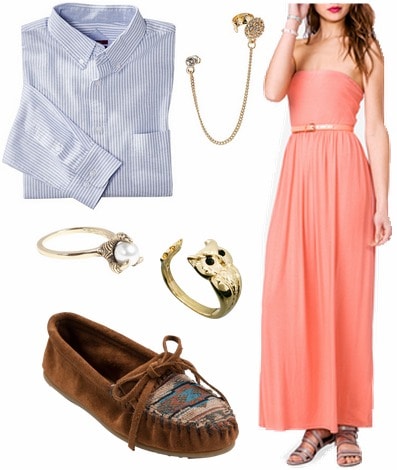 Shirt, Pearl Ring, Owl Ring, Ear Cuff, Dress, Moccasins
With the weather here on the West Coast getting beautifully warm and sunny, I always have the intention to go down and relax at the beach that is literally 10 ft. from my dorm. Instead, I'm hauling three weeks worth of laundry to the basement and scrounging coins from under my mattress to operate the washing machine.
Also, the beach right next to my dorm? Yeah, it's a nude beach. (Did not think 'birthday suit' was the kind of outfit to feature on CF.) However, if I were to get the chance to make my way down to a nice (clothing NOT optional) beach, though, I'd want to wear something flowy and soft, but still bright and springy.
This maxi dress has a gorgeous coral hue and I'd pair it with an unbuttoned men's dress shirt tied loosely over top, which is both effortlessly glam and warm enough to stave off ocean breezes. Keep the boho vibe going with some pretty rings and a fun ear cuff, then finish with some cool embellished moccasins which provide a little more warmth than sandals — it is only April after all! This look is beachy, but still weather-appropriate.
3. Browse an outdoor market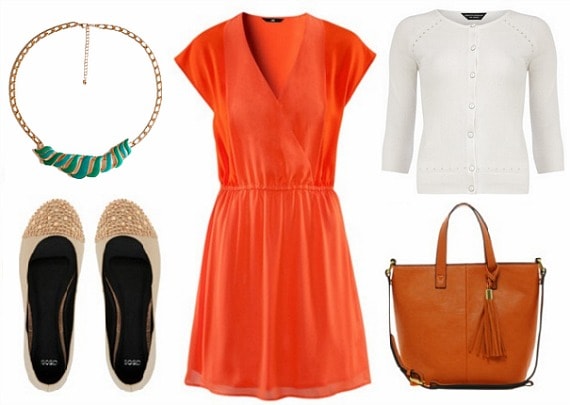 Necklace, Flats, Dress, Cardigan, Bag
As the weather gets warmer, outdoor markets are popping up around my city, selling everything from carrots to capris. I'd love to find time to browse these markets, with an organic, fair-trade, chai frappa-something in one hand and charming vendors offering up their wares at a discount with one mere glance at my dazzling smile. (Thanks, whitening strips!)
In reality, I haven't left campus in the past week, unless you count a quest to London Drugs to buy printer toner. (The man selling me the toner accidentally called me 'sir' until he looked up and realized I am, in fact, a girl. Nice.)
Someday, when I do find the time to peruse these markets, I will don a light and breezy dress in a bright shade, just like this one. The dress pairs perfectly with adorable cap-toe flats and a fantastic teal-and-gold necklace that pops beautifully against the orange hue of the dress. With a white cardigan and sophisticated tan tote, this outfit is polished perfection.
What do you think?
Do you ever wish you could do any of these things? What are your top tips for time management? What would you wear these outfits for/what would you wear for these activities? Let me know your thoughts, suggestions, questions, and which SATC character you are in the comments below!