This post may contain affiliate links, which means we may receive a commission if you purchase through our links. Please
read our full disclosure here
.
How many times has this happened to you: Your mind and time are consumed fully by your latest TV show obsession. You love the characters' style and want to wear what they're wearing RIGHT NOW. But then you realize: the show you're binge-watching on Netflix is over and the clothes are (gasp!) no longer available.
Although digging through the archives of Worn on TV will yield results on all three of the shows I'm covering here, I want to provide a guide on how to get your fave characters' looks– even when the actual pieces themselves are history. Plus, I have a feeling my suggestions will be a little easier on the wallet.
Current TV shows get all the "How to Dress Like…" attention. So here's my (spoiler free!) gift to all of you who are just discovering the joys of some of the '00s best series. Scroll down to see outfits inspired by three memorable TV fashionistas:
1. Blair Waldorf, Gossip Girl
Watching Gossip Girl is like watching fashion's greatest hits from the late '00s. I recognize all the designer dresses and vaguely remember lusting after them, but I can't put my finger on who they're by or where I saw them.
While Serena's sexy boho look is fab, we all know the real queen of couture is Blair. While her style can be a touch too prim at times, her feminine dresses and fabulous bags are to-die-for.
To get Blair's style, look for dresses and skirts in feminine shapes that are unique and fashion-forward in some way– be it cut, print, or embellishment. Add accessories in bold colors that complement (but don't necessarily match) the rest of the look.
Pull everything together with a fantastic coat in the same color family as the the primary hue of the outfit, and finish with luxe-looking jewelry and an amazing structured bag. Oh, and hats and headbands are a must.
To channel B for evening, go full princess. Choose your flounciest dress and go all out with sparkle.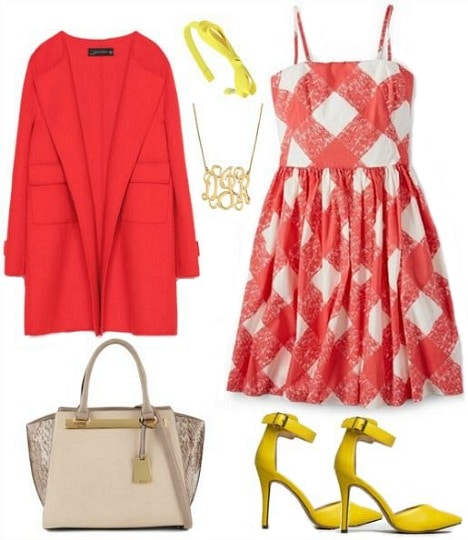 Product Info: Dress–Boden, Heels–Zooshoo, Coat–Zara, Bag–Aldo, Headband–Sophie's Closet, Necklace–Olive + Piper.
2. Robin Scherbatsky, How I Met Your Mother
Robin's style is effortlessly cool and sexy. Although I still don't understand how she and Lily could afford all those Proenza Schouler and Saint Laurent bags on the salaries of a teacher and a 2 a.m. news anchor, I appreciate their flair for fashion all the same.
Robin usually keeps her looks pretty simple, but she appreciates good tailoring and details. She loves lace, well-built blazers, and sleek jumpsuits. Fit is key when trying to dress like Ted's dream girl. Find your best skinnies and blazer, tuck the jeans into some tall boots, and finish with a sexy blouse, structured bag, and one or two eye-catching pieces of jewelry. You can also try a long-sleeved blouse with cropped pants and oxfords.
For night, Robin's looks are straight-up sexy, but still polished and tailored. Your most flattering, knockout dress often doesn't need a ton of accessories– all it needs is you in it! Robin also takes her love of menswear into the evening with a cool jumpsuit and pumps.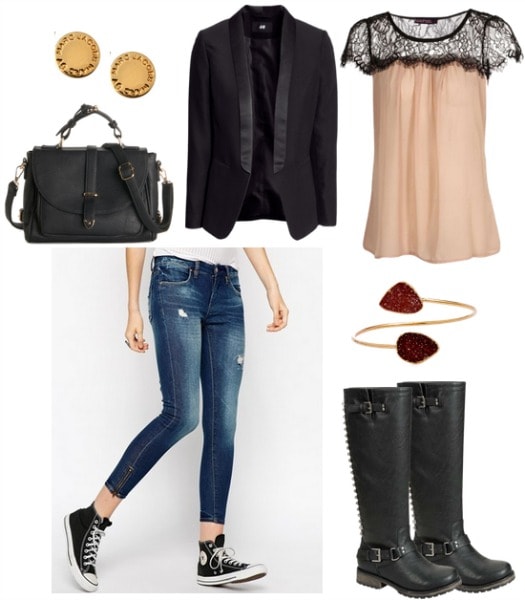 Product Info: Top–BooHoo, Jeans–ASOS, Jacket–H&M, Boots–Nordstrom Rack, Bag–Modcloth, Earrings–Cusp, Bracelet–One Kings Lane.
3. Santana Lopez, Glee
I hope those of you binge-watching Glee have reached the point in the show where the Cheerios stop wearing their uniforms 24/7. It's so fun to see Brittany, Santana, and Quinn show off their awesome personal style (but Santana has long been my favorite).
If Robin's style is sophisticated and sexy, Santana's is more unapologetic and in-your-face. However, once again it works because she pays attention to fit, doesn't over-accessorize, and knows how to maintain a balance. A skintight strapless dress is better in a midi length than a mini. Sleeves on top set off a super-short skirt in just the right way. A great-fitting tee, jeans and booties can be just as sexy, if not more so, than a bandage dress.
The other thing I love about Santana's style is her playfulness. She loves leopard print, plays with patterns, and is a fan of fun accessories. She, like me, is also a die-hard Betsey Johnson fan.
Although she'd probably rock the look below to class, I love it for a night out. The mixed prints, collar necklace, bug jewelry, and lace-up pumps are all huge trends, and there's nothing that I love more than mixing stripes with leopard and finishing with a red lip.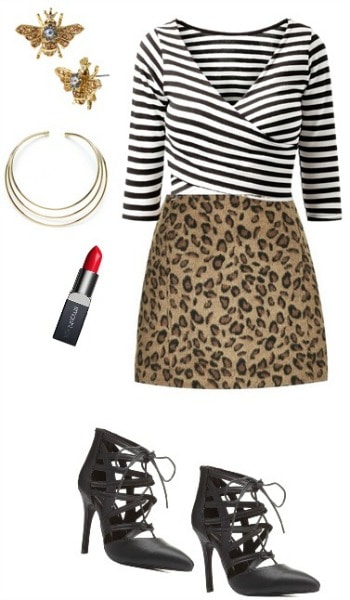 Product Info: Top–New Look, Skirt–Nordstrom, Heels–Charlotte Russe, Choker–Jeweliq, Earrings–Lord & Taylor, Lipstick–Smashbox.
What do you think?
What TV shows are you currently binge-watching? Which characters' style do you love? Would you try out Blair, Santana, or Robin's style? Let me know in the comments!