This post may contain affiliate links, which means we may receive a commission if you purchase through our links. Please
read our full disclosure here
.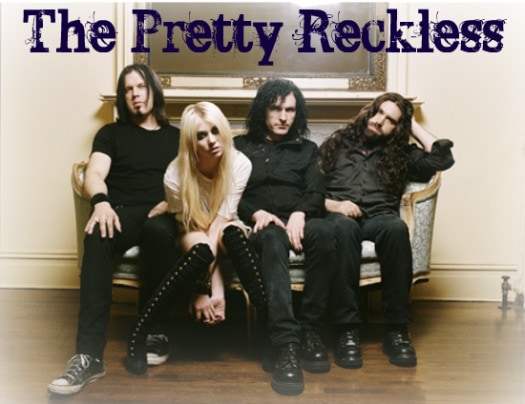 Taylor Momsen has come a long way from pearls and plaid. In the past three years she ditched the golden curls for long platinum locks and traded her Constance Billard uniform for some heavy black eyeliner and lace stockings. Looks like Little J. is all grown up and ready to rock.
Not only is Taylor Momsen the face of Madonna's new clothing line, Material Girl, but the brooding teenager is also the front woman of alt-rock band The Pretty Reckless. The Pretty Reckless released their EP on June 22nd to favorable reviews, and their full debut album, "Light Me Up," is scheduled for a August 31 release. Currently, Momsen and her band are on the road with the 2010 Vans Warped Tour.
While I may not be Little J's number one fan, I do love The Pretty Reckless' alt-rock sound and Momsen's throaty cries. I think The Pretty Reckless is going to be fall's breakout band, so here are some outfits inspired by their angsty EP.
Look 1: "Make Me Want to Die"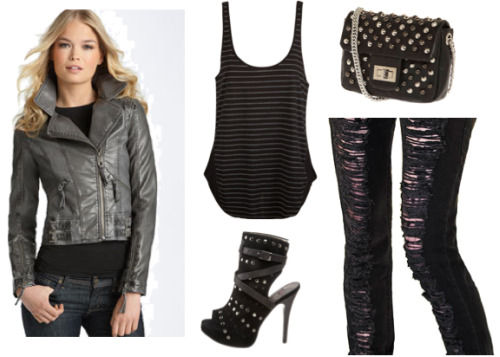 Product Information: Jacket – Miss Sixty; Tank – Hurley; Jeans – Criminal Damage; Shoes – N.Y.L.A.; Bag – Modcloth
Between its heavy guitar riffs and dark melodies, "Make Me Want to Die" is the perfect lead single to showcase the sixteen-year-old's rocker image. So for this look I mixed studs, stripes and chains for the perfect Warped Tour ensemble. While the striped tank is loose-fitting and casual, the studded chain handbag and ultra-high heels really turn this outfit from grungy to glam.
Also, the motorcycle jacket is a great way to add an edge to your look. You can wear it with everything – from feminine dresses to jeans and t-shirts. It's a must-have closet staple.
Look 2: "Going Down"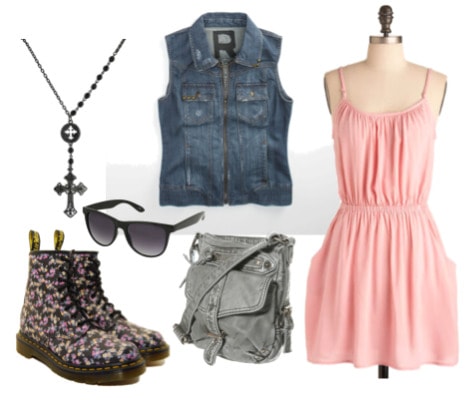 Product Information: Dress – Modcloth; Denim Vest – Roxy; Boots – Dr. Martens; Bag – TopShop; Sunglasses – Forever21; Necklace – 1928
"Going Down" is my favorite song off the EP: It's catchy, bratty and slightly dangerous. So I wanted to come up with the perfect 'good girl gone bad' look to match the vibe of the track – part feminine, part goth and part punk.
First off, I absolutely love this dress! It's so feminine and flirty, but paired with these awesome floral-patterned Doc Martens and denim vest, it has a bit of an edge, too. And who doesn't own a million pairs of these Ray Ban inspired sunglasses? I own practically every color! They are the perfect summer accessory. This outfit – like the song – narrowly balances on the line between harmless little girl and risk-taking punk.
Look 3: "My Medicine"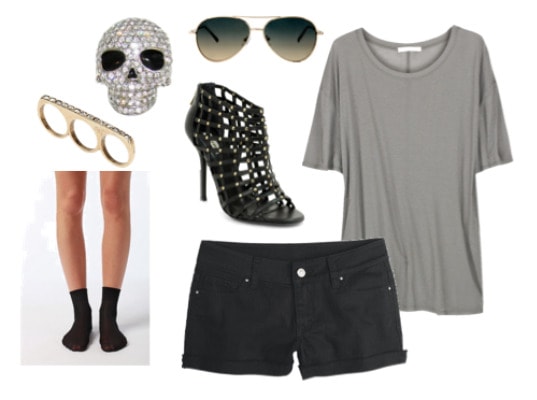 Product Information: T-Shirt – Vanessa Bruno; Shorts – Delia's; Booties – Dune Saint; Sheer Ankle Socks – Urban Outfitters; Sunglasses – ASOS; Skull Ring – Girl Props; Triple Finger Ring – Urban Outfitters
For this angsty rock anthem, the perfect outfit is a little tough. You can never go wrong with a sheer gray t-shirt and black cuffed denim shorts, but the studded cage booties really send this outfit over the edge. By pairing them with the sheer ankle socks, it creates the perfect steam-punk look to go along with the provocative track. Add some cute sheer ankle socks and a little bling, and you're ready for anything.
If you really want to imitate Taylor Momsen's rocker style, rev it up with some black eyeliner and red lipstick for a daring, rock look.
Want more?
Listen to the above tracks and more on the band's official MySpace.
To purchase their self-titled EP or for touring information, check out The Pretty Reckless' official site.
What do you think?
Have you heard The Pretty Reckless EP? What do you think? What's your favorite song? What about Taylor Momsen's lingerie-grunge style? Is it a hit or miss? Tell me what you guys think and how music inspires your fashion choices. Leave me a comment!