This post may contain affiliate links, which means we may receive a commission if you purchase through our links. Please
read our full disclosure here
.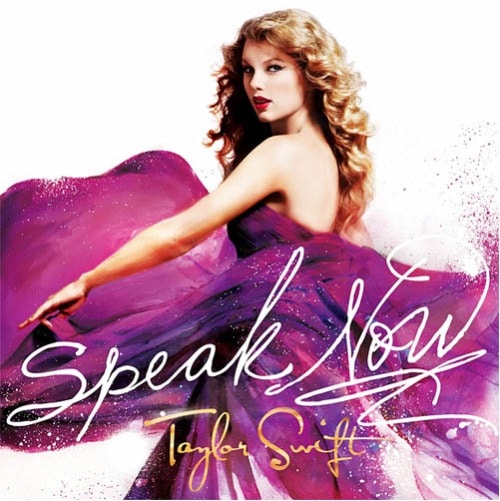 Some girls get mad, and some girls get even. And then there's Taylor Swift, who can do both with pretty little chords, a catchy hook and a smile. Say what you want about the country starlet, but it's hard to argue that anyone else has had a better year than Ms. Swift. Did I mention that her new album, "Speak Now," sold over 1 million copies in its first week?
With a uncanny ability to turn diary entries into certified pop magic, Taylor Swift has really come a long way in three years — she's transformed from a small-town girl into one of the most successful pop acts of the new decade. And her new album "Speak Now," is nothing short of a pop masterpiece.
So in honor of T. Swift and her recent success, here are three looks inspired by her third album, "Speak Now."
Look No. 1: "Enchanted"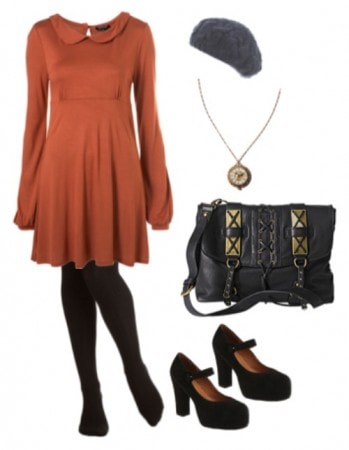 Product Information: Dress – Topshop; Tights – Modcloth; Shoes – Urban Outfitters; Handbag – Jessica Simpson; Necklace – Urban Outfitters; Knit Hat – Warehouse
I'll admit it. This song may be my favorite on the entire album — and that's saying a lot. It's simple and lovely. And who hasn't felt those butterflies when you first meet someone you really like? So I wanted to create a look that channeled Taylor's romanticism and dreamy melody.
This collared tunic definitely brings out the feminine romantic in any girl. Pair it with these suede mary-jane platforms, and you have the perfect date look for any occasion. Since the song is so simple, try not to over-accessorize – a cute necklace and western-inspired bag are more than enough. And since it's getting a little colder outside, try adding a knit hat (one of Taylor's favorite accessories) to finish off this dreamy look.
Look No. 2: "Better Than Revenge"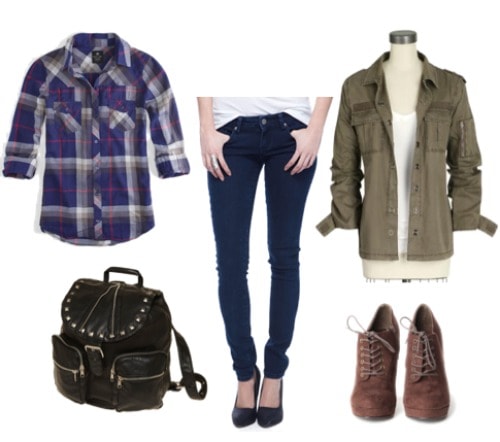 Product Information: Jeans – Forever 21; Plaid Shirt – Pacsun; Cargo Jacket – Gap; Shoes – Shop Ruche; Bag – Modcloth
Even though "Enchanted" is my favorite track on the album, I can't help but get a little giddy over "Better Than Revenge," Taylor's breathless tale of a woman scorned. I mean, who ever thought T. Swift had it in her? The song is a catchy pop-rock anthem that combines Taylor's playfully brutal lyrics and her knack for calling out her exes (ahem, Joe Jonas).
For this look, I chose something that was a little rough around the edges yet still fun and feminine. I absolutely love the combination of plaid button-down shirt and dark-wash jeans. And this green cargo jacket is a perfect winter accessory – it's both warm and functional. To complete the look, add a bit of sass with these suede booties, which look great with pants, skirts or dresses. And this Modcloth studded bag is "so much better" than your ordinary backpack.
Look No. 3: "Mean"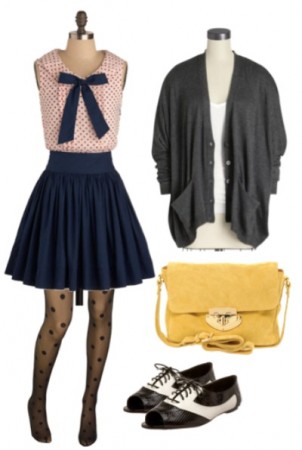 Product Information: Dress – Modcloth; Tights – Kate Spade; Cardigan – Piperlime; Bag – ASOS; Oxfords – Endless
"Mean" is probably the most catchy tune on the entire album. Even though it lacks a bit of substance, T. Swift makes up for it with her innocent charm and undeniable wit. Swift goes back to her roots with this good ole' country melody, complete with a banjo line and raw, acoustic chords.
Even though this is a song about being bullied, it's also quite optimistic and inspiring. It's strange how Taylor Swift can bottle up those exact moments of teenage angst in pure pop perfection. Therefore, I wanted to create something that was playful and whimsical yet mature at the same time. While polka-dots can be youthful, in this outfit, they act as a subtle accent, keeping the look mature. The baggy cardigan and yellow messenger bag draw the eye away from the dots for balance. If you really want to add a little quirk to your look, try these peep-toe, black-and-white oxfords – they're both charming and comfortable.
Like What You See?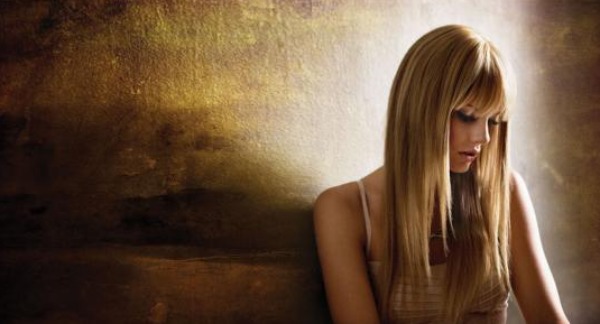 If you like the outfits featured here, check out Taylor Swift's music at her official site. Or check out her MySpace for upcoming tour dates and to read all of her amusing blog posts! You can also see what she's up to and check out all of her daily musings on Twitter.
Also, her best-selling album "Speak Now" is available for purchase on Amazon and iTunes, and you can also purchase the "Speak Now Deluxe Edition" at Target! In addition, you can visit Taylor's YouTube channel to get your daily T. Swizzle fix and check out her amazing music videos!
And for the faithful follower and dedicated fan, you'll be delighted to know that Taylor Swift is currently planning her Speak Now World Tour 2011. In her recent interview with Billboard Magazine, Taylor gave her fans a little peek into what the stage might look like. She said:
"I already have drawings in my journal of what the stage should look like. I know a few of the set list orders…I want there to be an entire wedding scene on the stage."
What Do You Guys Think?
Would you rock any of these "Speak Now"-inspired looks? What about her music – do you guys love it or hate it? And what are your favorite songs on the album? Let me know your thoughts and more. Just leave a comment below!