This post may contain affiliate links, which means we may receive a commission if you purchase through our links. Please
read our full disclosure here
.
Okay, so I rarely try to force my musical tastes on others, but…everyone needs to listen to Mumford & Sons.
Maybe that came off as a bit pushy, but seriously: You need to give these guys a listen. Think of them as the British version of the Avett Brothers equipped with serious banjo-playing skills and soul-searching lyrics. If you like bands like Kings of Leon and Noah and The Whale, then Mumford & Sons will be a perfect addition to your iTunes library — not to mention a summer soundtrack must-have.
About Mumford & Sons
I first discovered the British folk quartet this spring while studying abroad in London, and instantly fell in love. Whether it was because of Marcus Mumford's delectable vibrato or his knack for translating bitter emotions into beautiful melodic poetry, I immediately knew Mumford & Sons would be a U.S. indie hit. And if they weren't already perfect candidates for college radio, they're influenced by both William Shakespeare and John Steinbeck. Talented, smart literary nerds – what's not to like?
Mumford & Sons consists of four young Brits – Marcus Mumford, "Country" Winston Marshall, Ben Lovett, and Ted Dwane – friends from West London who set out to make unapologetically-catchy music in 2007. Since then, the group has found considerable success in the U.K. They released their debut album, "Sigh No More," in February 2010, and recently, it's been gaining steam on the U.S. charts after the success of their first U.S. tour.
Currently, their album is no. 1 on the Billboard folk albums chart and in the top ten on iTunes' album download chart, and their single, "Little Lion Man," is all over the alternative radio scene.
Without further ado, here are three folksy looks inspired by one of my favorite albums of 2010, Mumford & Sons' "Sigh No More":

Look No. 1: "The Cave"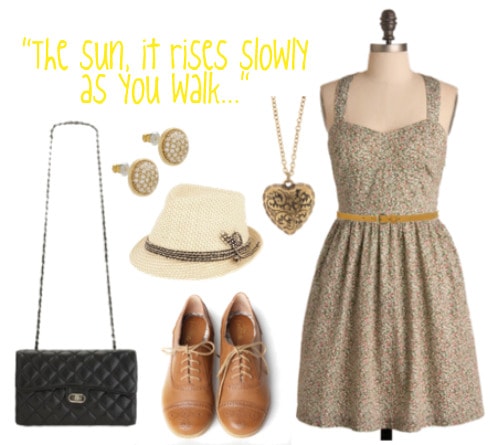 Product Information: Dress – Modcloth; Shoes – Ruche; Fedora – Urban Outfitters; Handbag – Wet Seal; Necklace – Modcloth; Earrings – Kate Spade; Belt – TopShop
"The Cave" is one of my favorite tracks on the album. It starts as a sweet, hopeful tune, then bursts into a sudden hoedown rife with raw passion, guided by Marcus Mumford's soulful twang. The song inspired me to create a look combining the simplicity of folk with the sincerity of Marcus Mumford's lyrics.
To start this look off, I chose a printed frock with a sweetheart neckline and added a braided skinny belt for a subtle touch of personality. For footwear, I chose oxford flats, which are among the hottest trends for fall, as well as a versatile wardrobe staple: They look equally great with dresses (as seen above), skinny jeans, or simple shorts.
For accessories, I added some sunrise-hued gold jewelry with a vintage-inspired aesthetic and a simple straw fedora. For those of you who think you can't pull off a fedora, I'm here to tell you that you're wrong: The key to wearing a fab fedora is to keep the rest of your look relaxed and simple, as this outfit demonstrates. Lastly, I found this Chanel-esque quilted messenger bag from Wet Seal to class up this folksy look.
Look No. 2: "Winter Winds"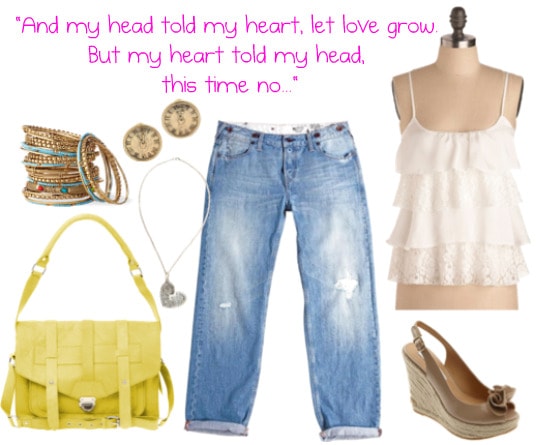 Product Information: Top – Modcloth; Boyfriend Jeans – Jack Wills; Wedges – Steve Madden; Bag – ASOS; Necklace – Tilly's; Earrings – TopShop; Bangles – Cara Accessories
While "Sigh No More" includes many hopeful tracks, "Winter Winds" is one of the more melancholy tunes on the album. But in contrast to the typical 'woe-is-me' breakup song, in "Sigh No More," Mumford wants his winter fling to move on and start anew in the spring. To channel that idea, I chose a look inspired by spring and moving forward with your life.
To create a soft, relaxed look, I paired a tiered lace top with a pair of light-wash boyfriend jeans. (If slouchy jeans aren't your thing, a more fitted light-wash jean would work here as well.) The Steve Madden wedges I chose complement the femininity of the top and their flower accents allude to spring.
For accessories, I chose items to complement this outfit's upbeat look: The yellow handbag, broken heart necklace and gold bangles all add pops of color and shimmer. Finally, these TopShop earrings are not only a cute accessory, but they symbolize the ticking clock moving all of our lives forward.
Look No. 3: "Little Lion Man"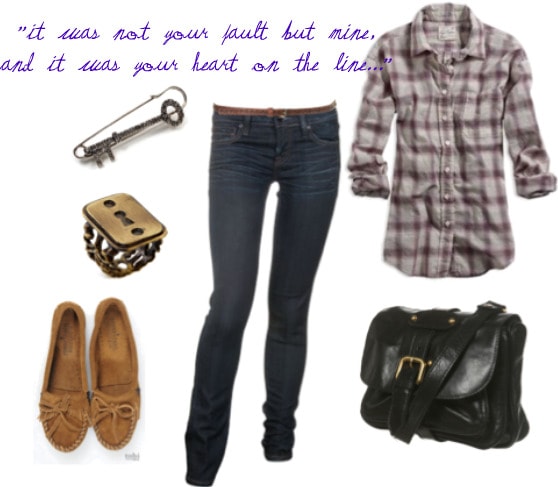 Product Information: Shirt – American Eagle; Jeans – Metropark; Handbag – TopShop; Moccasins – Minnetonka; Belt – TopShop; Ring – Fred Flare; Brooch Pin – Avalaya
"Little Lion Man," the album's current U.S. single, is racing up the charts as we speak – I hear it on my local alternative station constantly. The song provides an honest look into a torn relationship with a hard-hitting hook. Marcus Mumford described the song as:
"A very personal story, so I won't elaborate upon too much. Suffice to say, it was a situation in my life I wasn't very happy with or proud of…It felt like the right song to be the single because it represented the harder, darker side of what we do, and at the same time, the more folksy and punchy side."
To create an outfit representative of that folksy, punchy side Mumford describes, I paired some dark-wash skinny jeans with a plaid boyfriend-fit button-down. The black leather satchel adds a bit of an edge, while the suede moccasins bring in a touch of folk. As for the accessories, the Fred Flare antique keyhole ring perfectly complements the vintage key pin brooch, completing a look that's folk-chic with a bad-girl twist.
Like what you see?
If you like what you see and you want to give Mumford & Sons a listen, check them out at their official MySpace or their official website. You can even follow their humorous happenings on their blog — including 'Ben's Food on the Road,' 'Ted's Photography' and 'Marcus' Book Club.' Funny and smart? I told you they were something special.
What do you think?
Do you listen to Mumford & Sons? What do you think about their folk-rock sound? Would you rock these folksy looks? What other folk artists do you listen to? Let me know your thoughts and music suggestions by leaving me a comment!