This post may contain affiliate links, which means we may receive a commission if you purchase through our links. Please
read our full disclosure here
.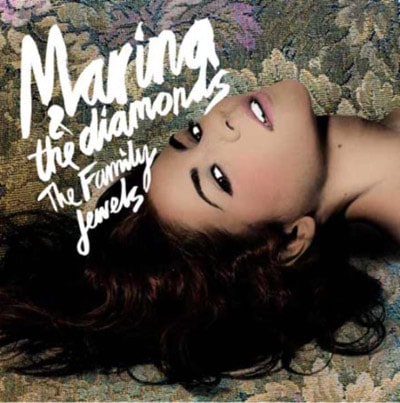 When Marina Lambrini Diamandis (aka Marina & The Diamonds) was asked to describe her style in three words, she responded with "vintage, cheerleader and cartoon." I don't know about you all, but she had me at vintage. If you like artists like Vampire Weekend, Kate Nash, Florence & The Machine and Alphabeat, then I strongly encourage you to check out Marina & The Diamonds.
But don't be fooled by the name; Marina & The Diamonds is a solo act. She explains this on her MySpace page where she declares, "I'm Marina. You are the diamonds." And if you know her music, then you know that behind all the glitter and makeup, Marina is a soul-searching songwriter, questioning modern society with her lyrics.
Known for her collection of vintage cheer jackets, witty lyrics and indie-pop beats, Marina & The Diamonds is already a chart-topping success in the U.K. However, the tiny Welsh songstress is ready to conquer the U.S. indie charts as well. Her album, "The Family Jewels" is certified gold in the U.K. and sits at no. 2 on Billboard's U.S. Heatseekers chart. Currently, Marina is traveling across the U.S. on her first headlining tour in the States.
Marina describes her album as:
"A body of work largely inspired by the seduction of commercialism, modern social values, family and female sexuality"
So whether you love her, have never heard of her, or just like vintage cheerleader jackets, here are three looks inspired by the electro indie-pop tracks of Marina & The Diamonds' "The Family Jewels."
Look No. 1: "Oh No!"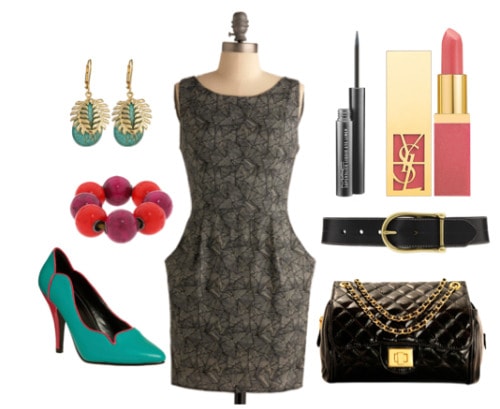 Product Information: Dress – Modcloth; Heels – Modcloth; Bag – TopShop; Belt – Ariat; Bracelet – Marc by Marc Jacobs; Earrings – Max and Chloe; Pink Lipstick – YSL; Eyeliner – MAC
Whether it's because I'm currently entering my senior year of college or because I have a strange fascination with comic books, "Oh No!" is definitely my favorite track on Marina & The Diamonds' debut album. It's a heavy social commentary on modern capitalism and our need for material things wrapped in a big, colorful electro-pop bow. The video not only showcases Marina's playful vintage aesthetic, but it also reflects her thoughtful lyrics.
For this look, I wanted to create a vintage-inspired,work-appropriate outfit that could easily go from the office to a night out. Since the song reflects our obsession with working for material gain, I thought a work outfit would be perfect.
Work attire isn't limited to suits and button-downs, and this vintage-inspired dress is perfectly casual and feminine, yet still work appropriate.The colorful accessories reflect the playfulness of the music, while the belt and chain purse add a bit of structure to the overall look. To go from day to night, add a smokey eye and some pink lipstick for a Marina-inspired look! If you have a darker complexion, try going for a darker shade of pink, and if you're daring, try some red!
Look No. 2: "I Am Not a Robot"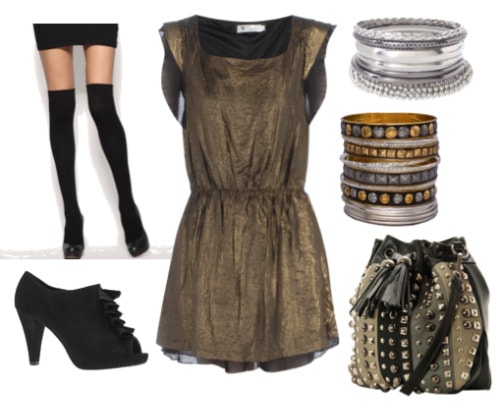 Product Information: Dress – Dorothy Perkins; Booties – Lane Bryant; Bag – TopShop; Silver Bangles – ASOS; Gold Bangles – Ambra; Over-the-Knee Socks – ASOS
"I Am Not a Robot" delves into human vulnerability and the way in which society tries to mask that vulnerability for fear of getting hurt. What better way to express such raw, vulnerable emotion than with a glitzy, feminine frock?
Marina & The Diamonds loves her glitter, so I thought metallic and studded accents were a nice way to highlight one's guarded outer shell, and reference the robotic elements of modern society. Yet the dress, ruffles booties and over-the-knee ribbed socks add a feminine quality to the look, representing one's inner emotion.
If over-the-knee socks aren't your style, a nice pair of opaque tights will work perfectly with this look. Also, don't be afraid to mix metals. I love wearing both gold and silver together. Finally, with such heavy accessories, go light on the makeup: Keep it pretty neutral for a stylish day look then add a little dark eyeliner and mascara for a night out on the town.
Look No. 3: "Obsessions"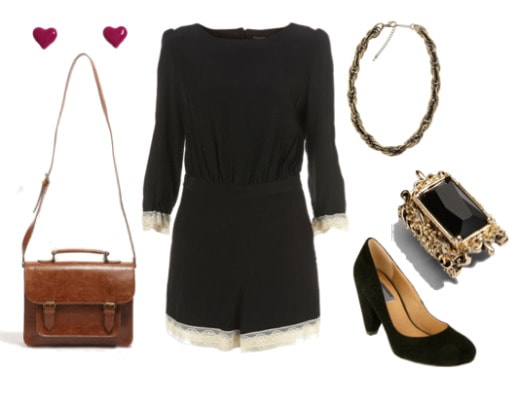 Product Information: Playsuit – TopShop; Heels – Urban Outfitters; Bag – Urban Outfitters; Ring – Fred Flare; Necklace – TopShop; Earrings – Marc by Marc Jacobs
When I first saw this lace playsuit, I knew that it would go perfectly with Marina & The Diamonds' lamenting piano ballad, "Obsessions." The track finds the singer breaking down in the supermarket while debating "what packet of crackers to pick." Hiding her loneliness behind a string of one-night love affairs, Marina explores the inner neurosis of her mind with a jittery piano tune that builds with anxiety as the song progresses before ending how it began – haunting and methodical.
I chose a black color scheme to reflect the song's troubled lyrics. The playsuit is beautiful and elegant, but also fragile and delicate I paired it with a pair of black suede kitten heels, which are a more delicate alternative to high heels – and a lot less pain for your feet! The accessories are all vintage-inspired, from the old-school UO satchel to the Fred Flare treasure box ring. Finally, I absolutely love the how the Topshop chain necklace adds a bit of an edge to the feminine look.
Like What You See?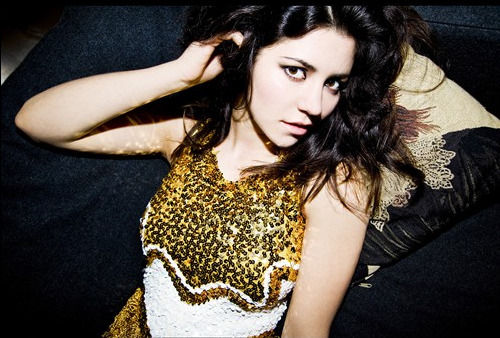 If you like the looks here, check out Marina & The Diamonds' music at her official site. Or check out her MySpace for upcoming U.S. tour dates.
You can also visit her YouTube channel to get your daily Marina & The Diamonds fix and check out her amazing music videos!
What do you guys think?
Would you rock any of these Marina-inspired looks? What about her music – do you guys love it or hate it? Let me know your thoughts and more. Just leave a comment below!