This post may contain affiliate links, which means we may receive a commission if you purchase through our links. Please
read our full disclosure here
.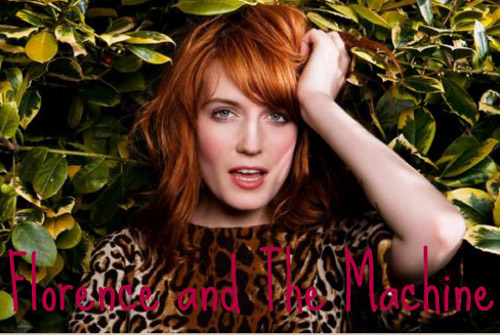 Some of you may know of Florence + The Machine from her big U.S. debut at the MTV Video Music Awards this year, but if you aren't familiar with her, I highly suggest you give her a listen. With her powerful vocals and stunning musical arrangements, Florence + The Machine (aka Florence Welch) is an essential part of any fall 2010 playlist.
Choosing harps, pianos and hand claps over heavy guitar riffs and obtrusive horns, Florence + The Machine's sound alludes to the charming macabre of Tim Burton. But the lively 22-year-old describes her own music best:
"I want my music to sound like throwing yourself out of a tree, or off a tall building, or as if you're being sucked down into the ocean and you can't breathe. It's something overwhelming and all-encompassing that fills you up, and you're either going to explode with it, or you're just going to disappear."
Whether you want to channel a little Florence in your own wardrobe, or just want a better idea of what she's all about, check out the outfits I've created around three tracks from her ambitious debut album, "Lungs."
Look No. 1: "The Dog Days Are Over"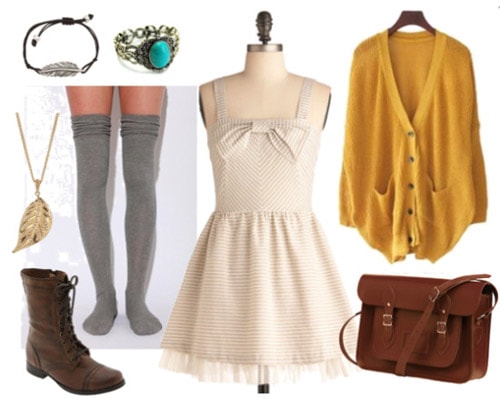 Product Information: Dress – Modcloth; Cardigan – TIME/X9; Satchel – Modcloth; Socks – Urban Outfitters; Boots – Steve Madden; Necklace – Jessica Simpson; Ring – Dorothea's Vintage; Bracelet – Fossil
One of my favorite songs this summer was "The Dog Days Are Over" – I couldn't get out of my head for weeks. It was as if I couldn't keep my hands from clapping along with as much enthusiasm as Florence gives in the vocal cut. But one of the beautiful aspects of this track is that it always puts a smile on my face – regardless of the season. So I wanted to translate that warm, fuzzy feeling into a perfect fall outfit.
By taking a summery white frock and adding some fall staples – a baggy mustard cardigan, knitted over-the-knee socks, and brown lace-up boots – you've got a fall look that's perfect for the changing weather. If you're wary of pairing over-the-knee socks with lace-up boots, don't be: The look totally works! It adds a touch of masculinity to an otherwise-feminine outfit. If you're not convinced, pair the over-the-knee socks with oxfords instead! It's still a super cute look for fall.
For the accessories, I'm absolutely in love with this Cambridge-style satchel from Modcloth: It makes a great school bag and adds a touch of vintage style to any look. Finally, these feather accents are the perfect way to channel a light, joyful tune that's all about hope and enjoying life.
Look No. 2: "Cosmic Love"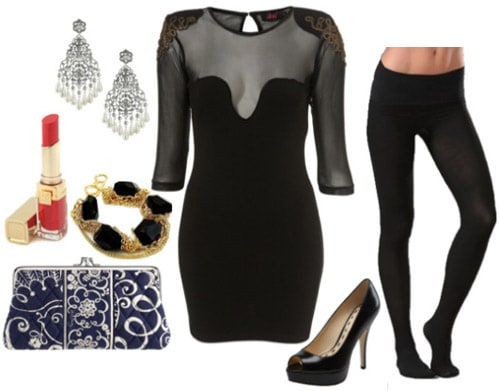 Product Information: Dress – TopShop; Tights – Shopbop; Heels – Enzo Angiolini; Clutch – Vera Bradley; Bracelet – Jaseena; Earrings – TopShop; Lipstick – Estee Lauder
For such an ambitiously epic, albeit dark song, I wanted to create a sexy, sleek look to personify Florence's haunting vocals. I chose to keep the ensemble dark to reflect the mood of the atmospheric ballad – but I added some shiny accessories because who could imagine Florence + The Machine without a little sparkle?
To start, every girl needs a LBD (little black dress) — or in my case, five or six of them! This LBD from Topshop is both sexy and sophisticated when paired with tights. The mesh top gives the illusion of showing more skin than you actually are, and judging by the runway fashions we've seen this fall, the sheer trend is going to be huge for seasons to come.
For accessories, add a sparkly clutch and statement-making jewelry. Finally, apply a deep red lip to really make a statement, or if you're not one of the lucky few who can pull off a bright lip, then go heavy on the eyes for a perfect night-out look.
Look No. 3: "Kiss With A Fist"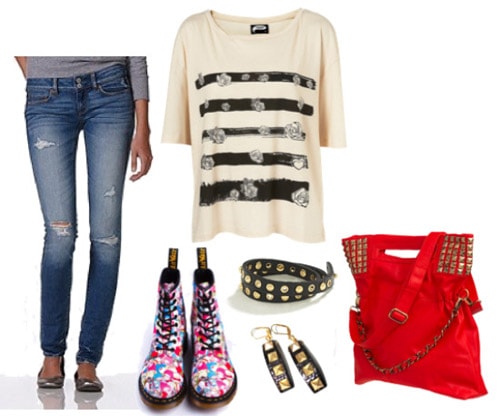 Product Information: Shirt – TopShop; Jeans – American Eagle Outfitters; Bag – Modcloth; Boots – Dr. Martens; Bracelet – Madewell; Earrings – enV
If you're a fan of The White Stripes, then you'll probably enjoy the punk-rock edge of "Kiss With A Fist." For this look, I wanted to translate the song's playful sound and violent lyrics into an ensemble that combines both the sweet and the sour.
These skinny jeans are a girl's best friend, but when you combine them with a baggy, yet slightly girly t-shirt and these adorable Hello Kitty Dr. Martens, the look is both feminine and edgy — like the track! If you're not so in to the current Dr. Martens trend, you can always substitute a comfortable pair of ballet flats.
Florence is also known for her love of bright colors, so I wanted to incorporate some bold hues into this look, opting for a bright red Modcloth bag. I finished this outfit off with a few choice accessories – I love how the studded accents on the bracelet, earrings and bag make the look a bit more cohesive.
Like What You See?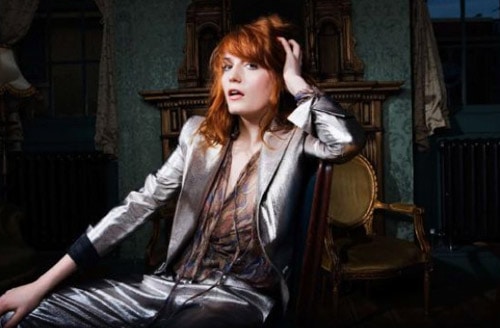 If you like the outfits featured here, check out Florence + The Machine's music at her official site. Or check out her MySpace for upcoming U.S. tour dates. Her album "Lungs" is available for purchase on Amazon and iTunes, and I highly recommend it. You can also visit her YouTube channel to get your daily Florence fix and check out her amazing music videos!
And for the faithful follower and dedicated fan, you'll be delighted to know that Florence is currently in the studio working on her follow-up album, which promises to be "an ecletic mix of different genres" and will feature "less blood and guts." I personally can't wait!
What Do You Think?
Would you rock any of these Florence-inspired looks? What about her music – do you guys love it or hate it? Let me know your thoughts and more. Just leave a comment below!