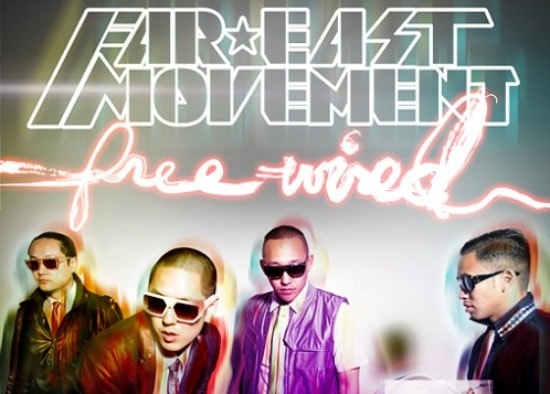 College life is stressful. This time of year, our lives are dedicated to catching up on readings, writing essays, stress eating and late nights. But if I've learned anything over my 3.5 years of college, it's that every late night cram session needs a good dance party – I mean, dance intermission.
And nothing makes me want to dance more than Far East Movement's debut album, "Free Wired." It's the perfect mix of dance, hip-hop, rap and pop – which is actually where the group got the name for their album! So if you haven't heard of these guys yet, then I highly suggest that you check them out — especially is you love a good dance track.
This talented group of L.A.-based Asian American rappers write insanely catchy hooks and excel in synths and pounding 808 beats. Each a rapper in his own right – Kev Nish, Prohgress, J-Splif, and DJ Virman were signed to Cherrytree Records (Lady Gaga, La Roux) in February 2010 – but not before turning some heads in their native downtown L.A. The group joined Lady Gaga on the Japan leg of her Monster Ball, and scored album collaborations with artists like Snoop Dogg, Lil Jon, Ryan Tedder and Keri Hilson.
Currently, their hit "Like A G6" sits at no. 2 on the Billboard Hot 100 and is the no. 1 digital song in the country. To celebrate the boys' new album, I wanted to create three distinct looks inspired by Far East Movement that would be perfect for any night out.
Look No. 1: "Like A G6"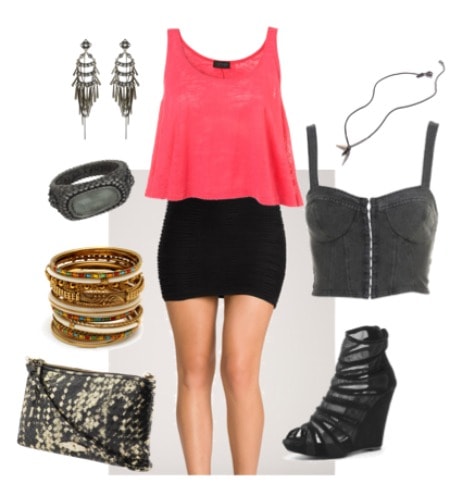 Product Information: Shirt – Topshop; Skirt – GUESS; Denim Bralet – Topshop; Wedges – Dorothy Perkins; Clutch – Elliot Lucca; Bangles – Andreena; Ring – All Saints; Earrings – All Saints; Necklace – Madewell
Okay, I have a confession to make. I am a total fan of letting your bra peek through. But not just any bra — I love bralets like this black denim one from Topshop. If you're not comfortable showing a lot of skin, then a bralet is a great investment! Wear it under this cropped pink tank and add a sexy bandage skirt for a look that's perfect for a night at the club — and "Like A G6" is great song to play as you and your girls get ready for a night out!
Of course, clubs are for dancing, so trade sexy wedges for your sky-scraping pumps – they're every bit as sexy as stilettos, but a lot more comfortable! Next, add accessories to show off your personality. I absolutely adore this clutch from Elliot Lucca — it's the perfect size and it has a strap, which is important for a night at the club.
Look No. 2: "Girls On The Dance Floor"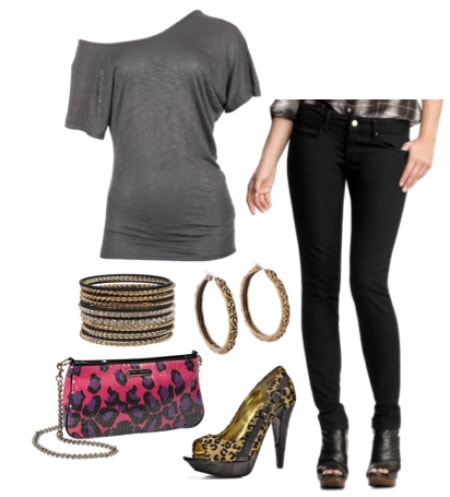 Product Information: Jeans – Gap; Top – Metropark; Heels – Naughty Monkey; Clutch – Betsy Johnson; Earrings – Carolee; Bangles – Forever 21
"Girls On The Dance Floor" is another sure-fire chart-topping dance hit. The 808s are pounding and the spoken/rapped lyrics are infectiously catchy. I think this track might be a little too slow for a club — but it's perfect for a night at your favorite underground lounge.
When dressing for any occasion, it's always important to remember that you don't have to show a lot of skin to feel sexy. Tight black jeans paired with a loose, off-the-shoulder gray shirt is a look that's just as sexy as any skirt-heels combo. It all depends on your own comfort level — and most importantly, your confidence!
Finally, it's no secret — guys notice the girls on the dance floor who exude the most confidence and feel comfortable in their own skin. And these Naughty Monkey leopard print heels are a definite confidence-booster. Plus, the matching Betsy Jonson clutch is an accessory must-have.
Look No. 3: "Rocketeer"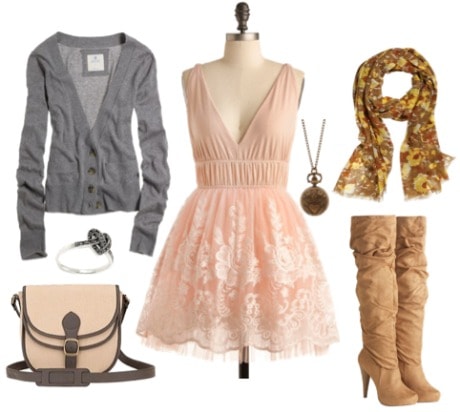 Product Information: Dress – Modcloth; Cardigan – AE; Boots – Arden B.; Scarf – Bindya; Bag – Urban Outfitters; Necklace – Modcloth; Ring – Merroll's
Now you may look at this outfit and not see the hip-hop inspiration, but then again, "Rocketeer" is not your typical hip hop song. It's a modern love story of a guy that would do anything for the girl he loves — including building a jetpack! Its simple sweetness makes it my favorite track on the album. And did I mention that it was co-written by Bruno Mars?
In honor of the song, I wanted to create the perfect outfit for a date night. This pink lace dress from Modcloth is simply sweet, and the cardigan is a perfect accessory for fall. If it's especially chilly, throw on a patterned scarf like this one from Bindya. Finally, these suede Arden B. boots really dress up the overall look. So whether you're doing dinner and a movie or a night out dancing, you're ready for anything!
Like What You See?
I can assure you that we'll be hearing a lot from these guys in the upcoming months. With two hit tracks on the Billboard charts and a hectic touring schedule, Far East Movement are sure to be one of the acts to watch in 2011.
If you like the outfits featured here, check out Far East Movement's music on their official site. Also, their album "Free Wired" is available for purchase on Amazon and iTunes, and I highly recommend it. You can also visit their YouTube channel to get your daily FM fix and check out their crazy music videos!
What Do You Guys Think?
Would you rock any of these Far East Movement-inspired looks? What about their music – do you guys love it or hate it? And what songs do you guys love to listen to when you get ready to go out with your friends? Let me know your thoughts and more. Just leave a comment below!