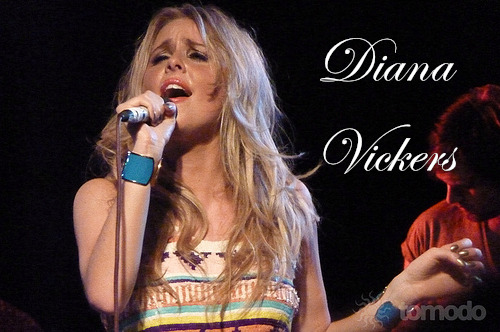 While some get inspiration through what they see – flipping through magazines and clicking through web pages – others are inspired by what they hear. In many ways, the music you listen to can influence the way you dress, and today, I'm going to show you how your fashion choices can be inspired by certain songs – specifically Diana Vickers' album, "Songs from the Tainted Cherry Tree."
Meet Diana Vickers
If you haven't yet heard of Diana Vickers, odds are you probably will in the next few months as the British beauty makes her way across the pond to promote her debut album, Songs from the Tainted Cherry Tree.
18-year-old Diana became famous after reaching the semi-finals of Simon Cowell's talent competition, The X Factor, back in 2008. Even though she lost the competition, Vickers was signed by RCA Records in 2009 and released her debut album in May 2010, which went on to reach no. 1 on the UK charts.
What made Vickers stand out from the rest of The X Factor contestants was her unusual voice: Think of her as Regina Spektor and Jewel's lovechild who happened to be born with a slightly deviated septum. With her airy vocals, bohemian sense of fashion and unruly hair, it's hard not to be captivated by the feisty Brit.
Whether you love her, hate her, or just don't know who she is, here are some different looks inspired by the songs from Diana Vickers' debut album.
Look No. 1: Inspired by the Debut Single, "Once"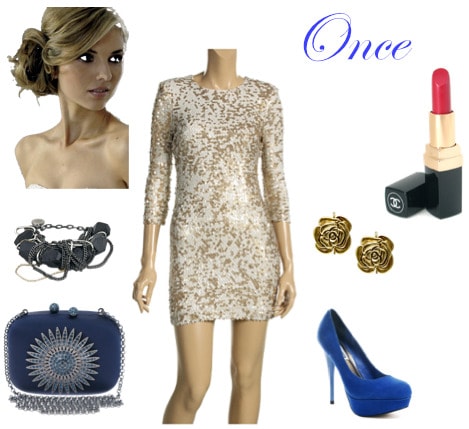 Product Information: Dress: French Connection; Shoes: Steve Madden; Clutch: ASOS; Earrings: Instilo; Bracelet: Liz Bracelet; Lipstick: Chanel
Vickers' debut single, "Once" is pure pop perfection, and the video matches its sugary sweet sound: There's glitz, glamour, high heels, tousled blonde hair and some vampy red lipstick to top off the pop star look. The track focuses on life post-breakup, so it's no wonder that Vickers' struts her stuff throughout the entire video. In order to re-create some of the dance-pop magic, I decided to go with an look that would turn heads and impress – and make that ex a little jealous.
I started with the dress. This French Connection find is the perfect balance between sexy and stylish, and the metallic gold will really help you stand out from the crowd. Also, if you're going to go with a boat-neck dress like this one, try to accentuate your neck by puling your hair up into a Vickers-inspired messy bun.
Next, I decided to go with blue suede Steve Madden pumps to give you a little height and add a pop of color to the look. For jewelry, I chose golden rose bud studs; I absolutely love how they accent the dress. I think mixing gold and silver accessories is always a do and never a don't, which is why I chose to incorporate some silver accents into the look. Finally, if you're feeling a little flirty, add some red lipstick to really make this look pop.
You can check out Diana's video for "Once" HERE for more inspiration!
Look No. 2: Inspired by the Second Single, "The Boy Who Murdered Love"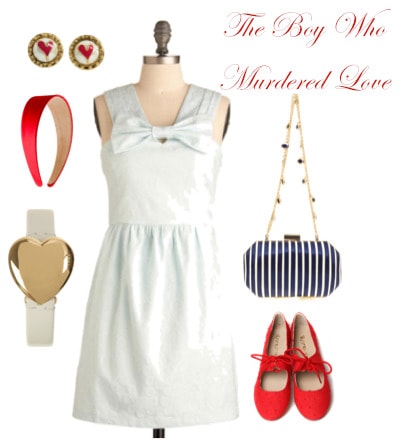 Product Information: Dress: ModCloth; Shoes: Ruche; Clutch: Reiss; Watch: Marc Jacobs; Earrings: Betsy Johnson
Even in the midst of a break-up, Diana Vickers still remains as charming as ever with her second single, "The Boy Who Murdered Love." Vengeful Alanis Morrissette she is not, but Vickers' electro-pop breakup song is filled with some "You Oughta Know"-esque jabs here and there.
For this look, I really wanted to embrace the delicacy and vulnerability of the song while still maintaining the level of sweetness that Diana's voice delivers. To do that, I chose this perfect white summer dress and paired it with bright red accessories including a Marc Jacobs watch and Betsy Johnson earrings.
Since the song has such an infectious beat, I wanted to add a little more color to the look. I did this with the addition of the navy striped bag. Never listen to anyone that says your bag has to match your shoes! I love to play around with color – just like Diana Vickers!
For more inspiration, check out her music video for "The Boy Who Murdered Love" HERE!
Look No. 3: Inspired by the B-Side Track "Sunlight"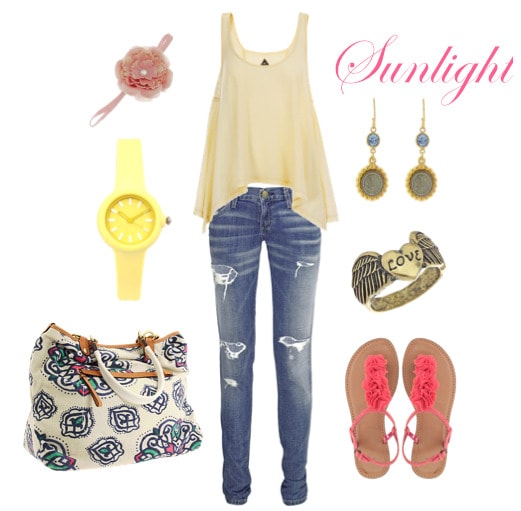 Product Information: Shirt: Seneca Rising; Jeans: Current/Elliot; Sandals: GAP; Purse: Juicy Couture; Watch: Andy Warhol; Ring: TopShop; Earrings: Virgins, Saints & Angels; Headband: TopShop
Although you won't find this song on the record, it's well worth the download! Unlike some of the heavy dance tracks on the album, "Sunlight" reconnects with Vickers' folky, bohemian roots. And what better way to represent sweet simplicity in an outfit than with a pair of ripped jeans and a baggy tank? And these Virgins, Saints & Angels earrings are the perfect accessories for this organic look.
"Sunlight" is primarily a song about living life to its fullest, and this Topshop "Wings With Love" ring is a constant reminder of your love of life. If you really want to carpe diem this summer, you can also add a vibrant pop of color with a pastel watch, some bright sandals and a bold printed tote.
Like what you see?
If you need more Diana Vickers, give her a listen! Here are some links to her music:
If you have iTunes, you can sample Diana's songs HERE before buying the album.
Or if you want a full-length preview, you could visit Diana's MySpace.
What do you think?
Which musical artists/genres inspire you? Do any other art forms influence the way you dress? What do you think about Diana Vickers? I would love to know what you guys think about her music and the outfits I chose. So just leave a comment and let me know your thoughts!