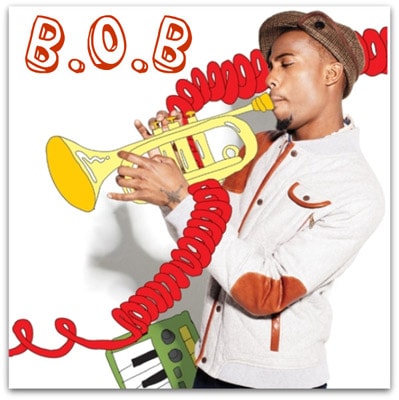 Okay, I have a confession to make:"Airplanes (Part 2)" by B.o.B feat. Hayley Williams and Eminem may or may not be my most-played song of summer 2010. But can you really blame me? I'm a sap for inspirational rap songs infused with pop melodies. ("Empire State of Mind," anyone?)
But seriously, one of my favorite artists of 2010 was B.o.B, and if you haven't picked up the whole album, "B.o.B Presents: The Adventures of Bobby Ray," then I highly advise that you do. Currently, the album sits at no. 32 on the Billboard 200, and the hit single "Airplanes" is the forth most downloaded ringtone of the week. Oh yeah, and did I mention that he's up for 5 VMAs?
So, we all know that Bobby Ray has some serious skills, but how well does the album translate to fashion? Find out by reading on.
About B.o.B
First, let's get to know the A-Town boy a bit better. Born Bobby Ray Simmons, the rapper hails from Atlanta, Georgia, a city known for its musical talent. Inspired by the likes of DMX and Eminem, he burst onto the hip-hop scene at only 13 years-old, and he even got his stage name – B.o.B – from the Outkast song of the same name.
But don't label him as just another rapper from the ATL; B.o.B likes to blur the lines between different genres – his album features a multitude of artists, ranging from Rivers Cuomo of Weezer to Lupe Fiasco and Bruno Mars. He's even mastered the guitar, piano, trumpet and French horn!
Perhaps even more impressive, earlier this year B.o.B became the 13th male solo artist ever to have an album debut at no. 1 on the Billboard charts. In its first week, B.o.B's debut album sold 84,000 copies! Pretty good considering that not many people knew his name a year ago. Following the massive success of the album, B.o.B is currently getting ready for his SHOOTiN for Stars Tour, and is schedule to join (you guessed it!) Paramore this November on their UK tour.
Now that you know all about this hip hop sensation, here are three looks inspired by the one of the hottest albums of the summer, B.o.B's "B.o.B Presents: The Adventures of Bobby Ray."

Look No. 1: "Airplanes" feat. Hayley Williams of Paramore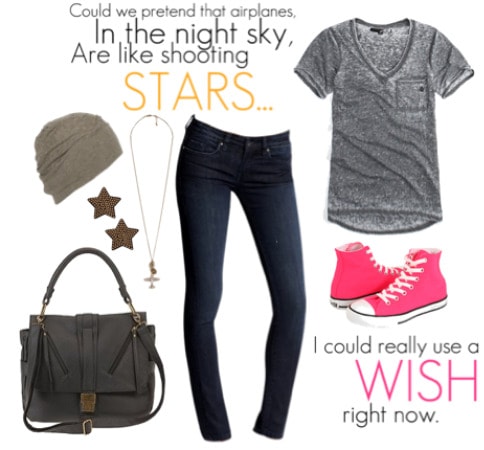 Product Information: Jeans – PiperLime; Shirt – Pacsun; Bag – Urban Outfitters; Shoes – Converse; Beanie – AllSaints Spitalfields; Earrings- Modcloth; Necklace – Forever 21
For this look, I aimed to create a casual outfit that was a bit beyond basic. I started with some dark denim and a faded, loose-fitting v-neck, and used a darker color scheme to reflect Hayley Williams' haunting pop chorus. The look itself is simple, yet makes a powerful statement – just like the hit summer track.
To add a bit of complexity to the outfit, I wanted to layer on the accessories. Where better to stash your hopes and fears (or, okay, your notebooks) than in this fabulous UO messenger? Next, I absolutely love this beanie hat: Not only does it help you disguise a bad hair day, but it also adds an artsy edge to any look. And how cute are the ModCloth star earrings? Both the earrings and the airplane necklace add a bit of shine to the outfit (and not-so-subtly reference the song lyrics).
Finally, to lighten up the look, I added a dash of color with the hot pink Converse sneakers. My favorite thing about Converse shoes is that they come in every single color imaginable, so if you're not feeling the pink, then there are a hundred other shades you could choose. And remember – when it comes to Converse, the rule is the dirtier the better.

Look No. 2: "Magic" feat. Rivers Cuomo (of Weezer)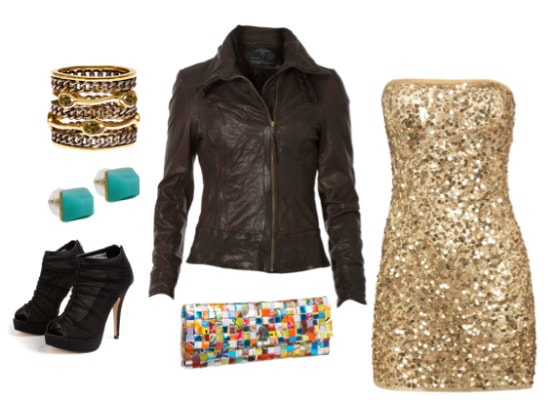 Product Information: Dress – Arden B.; Jacket – AllSaints Spitalfields; Heels – Chinese Laundry; Clutch – Nahui Ollin; Earrings – Kate Spade; Ring – Melinda Maria
It must be a nice feeling when everything you touch turns to gold – and that's the theme for this look. Yes, it's a bit over-the-top, but then again, that's the message of the song. This look, like the song that inspired it, is fun, flirty and exuberant. It's all about having fun and living a fantasy.
Let's start with the dress. This gold sequined number is definitely a head-turner, and paired with these black high-heeled booties, it makes a great look for a night out. If the thigh-skimming hemline isn't your style, throw on a pair of black opaque tights underneath. And before you head out, remember to grab a lightweight jacket; this brown motorcycle jacket is a must-have accessory for fall.
To add a burst of color- and to make a statement – I added these classic Kate Spade turquoise studs and the amazing Nahui Ollin clutch. A clutch is your best friend on a night out – it adds dressiness to any look and it's not big and bulky like a typical bag. To finish off this glam look, throw on a few rings. I can't tell you how many times I've had people ask me about my rings; they are always great conversation starters!
Look No. 3: "The Kids" feat. Janelle Monae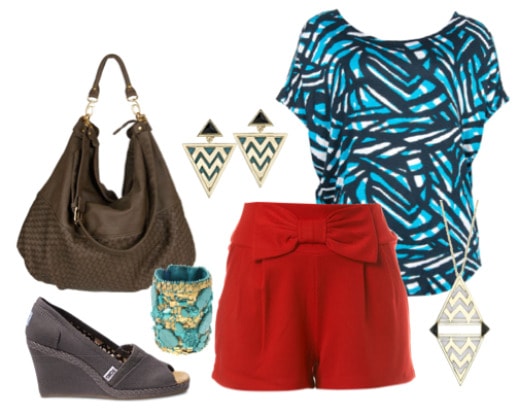 Product Information: Shirt – MetroPark; Shorts – Miss Selfridge; Wedges – TOMS; Bag – Steve Madden; Necklace – House of Harlow 1960; Earrings – House of Harlow 1960; Bracelet – ASOS
"The Kids" is my favorite track on the entire album. Maybe it's because I'm a huge fan of Vampire Weekend and Janelle Monae, but I think I just appreciate when an artist takes a popular song and puts a completely different spin on it. That's what B.o.B did to Vampire Weekend's "The Kids Don't Stand a Chance." Using a sample from the collegiate foursome, B.o.B and Janelle Monae turn the track into a non-judgmental social commentary.
For this look, I was inspired by Janelle Monae, who is never afraid to mix bold prints and wear multiple bright colors. So if you're willing to step out of your comfort zone, try combining a bright tribal-print top with a pair of crimson pleated shorts.
To play off the tribal design on the top, I decided to add some tribal print jewelry. I am obsessed with Nicole Richie's accessory line, House of Harlow 1960 – Nicole's designs are so fun and boho-chic. The HOH necklace and earrings complement each other without being too matchy-matchy. And who can resist a chunky turquoise bracelet? It certainly makes a statement – just like the song!
Finally, what better shoes to use for a socially-aware look than a pair of TOMS wedges? In the off chance you guys haven't heard of TOMS shoes (where have you been?), I highly suggest you click on the link and start reading. Basically, for every pair of TOMS purchased, they donate a pair to a child in need. It's inspiring to know that you can change the world – and the lives of millions of children – with something as simple as a pair of shoes.
Like what you see?
If you want more B.o.B, make sure to visit his official site, where you can browse videos and photos and even play some games. You can also visit his official MySpace to listen to more tracks and check out tour dates!
Finally, I highly recommend purchasing the album. You can snap up a digital copy through iTunes or a physical copy on Amazon.
What do you think?
Do you guys listen to B.o.B? What is your favorite song on the album? I think it's one of those albums you can play all the way through and never get bored. What do you guys think? How about the fashion? Would you rock any of these looks? Which is your fave? Leave me a comment below! I love hearing everyone's thoughts and opinions!