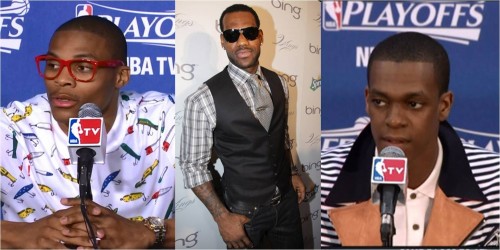 Russell Westbrook, Lebron James, and Rajon Rondo have got swag on and off the court.
As college girls, it's safe to say that most of us are pretty spirited about rooting for our favorite teams. There's nothing quite like getting dolled up in team colors for a football tailgate with your girlfriends, snacking on hot dogs at a baseball game, or checking out the commercials during a Super Bowl watch party.
You might not be with your college besties right now, but the NBA Playoffs are no less exciting than any of the championships that take place during the school year. As an Oklahoma girl, recently getting an NBA team has probably been one of the most exciting things that's happened to my community. Watching these games is a fun way to catch up with friends from high school, and something interesting to do while spending time at home with family.
Whether your favorite team is still in the playoffs (GO THUNDER!) or you're just excited to watch some great games, I know you CF readers like to look great while doing so. But since there can be up to seven games per round, coming up with fresh outfits can sometimes be a bit challenging.
Here are a few fun NBA playoff outfit ideas that show off your team spirit without looking sloppy. Read on!
Jazz Up A Jersey
Jersey, Shorts, Headband, Dunks, Bracelet
Since I was a little kid, I've always had a strange obsession with sports jerseys. I wasn't even really into sports when I was younger, I just thought jerseys were so cool! Now that I have an appreciation for the game (and a home team to cheer for), it made finally getting a Russell Westbrook jersey that much sweeter.
Here's a couple tips if you're looking to buy a jersey: try finding one at Dick's, Academy, or another sports superstore in your area. They will be a LOT less expensive there than on the official team website or at the stadium. Also, if you're petite, try wearing a kids size!
Struggling to find an awesome outfit to wear your pumped-up kicks with? A sporting event is perfect! Finish the look with simple denim shorts, a bracelet in your team's color, and a hippie hairband that's reminiscent of a sweatband, but looks a whole lot chic-er!
Dress Up a T-Shirt
Who says that you have to look sporty while watching sports? Don't be afraid to pair your fan gear (I call it my Thunderwear!) with girly staples, like glamorous earrings, skirts, or even heels!
Vintage-inspired t-shirts can be found for any sports team — they're just a Google search away! You can find styles that are a little more stylish than the boxy-cut shirts they give away for free at the games. A fitted team t-shirt will look great with a pair of skinny jeans and wedges, tucked into a maxi skirt, or worn with a pair of chic high-waisted shorts.
For the outfit above, I paired a t-shirt with a matching skirt. Finish the look with a pair of gladiator sandals and statement earrings.
Team Colorblocking
Pants, Shirt, Shoes, Earrings, Nail Polish
Want to show off some team spirit, but don't have the cash to spend on pricey graphic tees? Thanks to the colorblocking trend and this season's hot colored denim, looking stylish and spirited is easier than ever!
Don't worry too much about colors clashing — if you're at a sports bar or some sort of watch party, it will be obvious that you're a fashionable fan, not a walking faux-pas. An easy way to keep from looking crazy is to keep it relatively simple. A solid colored top and pants are a safe bet, but if you add a hat, scarf, and belt, you may look a little overloaded.
Finish the look with team spirit nail polish and team jewelry if you have any!
Thoughts?
Are you a basketball fan? Who have you been cheering for this season? Do you enjoy watching games, or are you more into the excitement surrounding the playoffs? Who is your favorite sports team? What sort of outfits do you like to wear to sporting events that look both spirited and stylish? Are you as obsessed with Kevin Durant as I am? Leave a comment and tell us what you think!