This post may contain affiliate links, which means we may receive a commission if you purchase through our links. Please
read our full disclosure here
.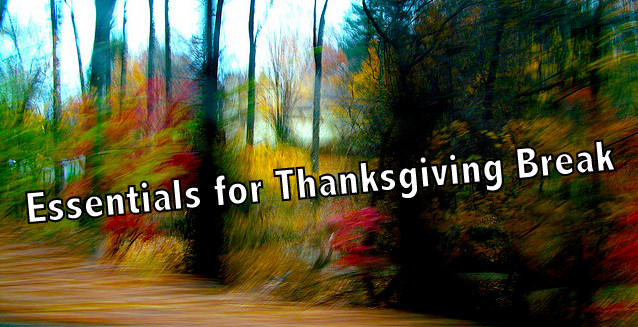 College students across the country are anxiously awaiting Wednesday so that we can all head home for a nice long weekend and a home-cooked meal. But while I'm really looking forward to getting a break from schoolwork and catching up on Gossip Girl – I know that I can't sit in my sweatpants all weekend. Everyone has their own Thanksgiving tradition, whether it's attending the high-school football game, grabbing coffee with a friend who you haven't seen since summer, or a family dinner, and that means multiple occasions to dress (and pack) for!
That said, your parents probably won't enjoy sitting in traffic with a car packed to the roof with your entire wardrobe. (I promise, you won't need seven pairs of jeans.) So luckily for Mom and Dad, or that guy next to you on the bus, I've put together a simple packing list with some outfit essentials. Each piece is super versatile and can be mixed and matched to create a stylish outfit for every hometown occasion. So take that fifth pair of shoes out of your suitcase and keep it to the essentials below – you can do it!
Your Favorite Denim
We all have that one favorite pair of jeans – the perfectly worn-in, comfy, flattering pair that's always your go-to for both that early morning class and your Saturday night out. How many times have you brought multiple pairs home for a weekend, only to end up wearing that one pair over and over? I know I do it all of the time.
So wear your favorite jeans with riding boots and a cute jacket for a Starbucks trip, and pair them with flats and a cardigan for dinner with your grandparents. A dark wash jean, void of any rips or extra bling, is definitely the most versatile – and flattering – choice!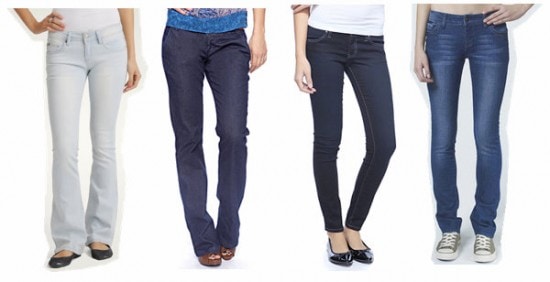 Product Information: Forever 21, Forever 21, Forever 21, Delia's
Pretty Flats
Flats are one of the easiest ways to dress up an otherwise basic outfit, and thanks to retailers like Forever 21 and Target, they're also budget-friendly! Packing minimally for a weekend home means that you'll have to rely on basic tops to make each look, but a pair of pretty shoes with instantly perk up that plain white tee.
Not a fan of gems and sequins on your shoes? Go for a pair in a sophisticated fabric like tweed or suede in a rich color. I'm a firm believer that there is the perfect pair of flats for every girl out there.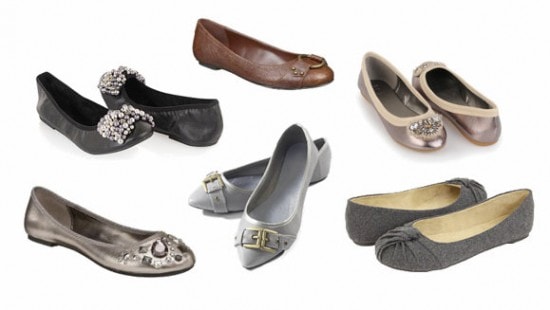 Product Information: (Clockwise from top) Target, Forever 21, Zappos, Spiegel, Target, Forever 21
A Warm Sweater
I know it's tempting to pack your favorite college sweatshirt to curl up on the couch in, but you'll have many more outfit options if you pack a thick sweater instead (and I promise, you'll be just as comfortable). A cardigan can be worn with almost anything – from jeans and a t-shirt to a cocktail dress. And in contrast to that bulky hoodie, a sweater won't take up as much room in your bag!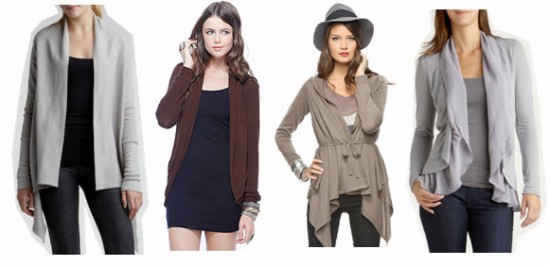 Product Information: Charlotte Russe, Forever 21, Forever 21, Charlotte Russe
A Statement Coat
A must-have for everyone! Even I fall into the Northface rut now and again, but a classic statement coat is definitely a must for Thanksgiving break. Having a stylish coat will give the illusion that your outfit is polished and pulled-together – even if you have your gym clothes on underneath.
A coat like this is great for running errands during the day. When you're home for a holiday weekend, you're bound to run into a few people that you haven't seen since graduation and you want them to see you looking your best! Laying on the couch in leggings and a tank top? Throw on a gorgeous red coat and a pair of boots and you're all set to head out. In addition, a dressier coat is the finishing touch on any polished outfit.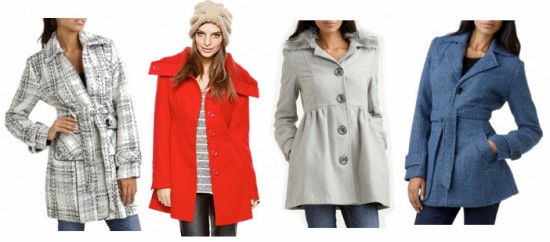 Product Information: Charlotte Russe, Forever 21, Charlotte Russe, Charlotte Russe
Your Packing Essentials?
What are your packing essentials? Are you a notoriously last-minute over-packer like I am? Are there a few key pieces that you always bring with you? We want to hear from you! I have a couple days until I have to catch the train home and I'd love to hear your tips! Be sure to leave a comment.