This post may contain affiliate links, which means we may receive a commission if you purchase through our links. Please
read our full disclosure here
.
As a werking lady, I dread November through March. Yes, yes, holidays, birthdays, parties, fun, yay! But, here in Michigan, the winter months mean freezing and icy conditions on the road, which means a longer commute, which means more time I'm exposed to the cold. And like most sane people, I hate the cold. Why do I live in the midwest, again?
Dressing for the cold and for work is enough of a challenge, but throw in a fashion girl's need to look polished, put-together, and fashion-forward, and it can feel like you have a straight-up conundrum. It's easy to grab your chunkiest sweater and layer leggings under your thicket jeans, but that doesn't quite cut it for that 9 am presentation, let alone a lunchtime insta with your work bff.
Fear not – with a few strategic pieces and a bad-ass coat, you can worry less about your look and little more on your hellish commute. #3monthsuntilspring
Business Casual Workplace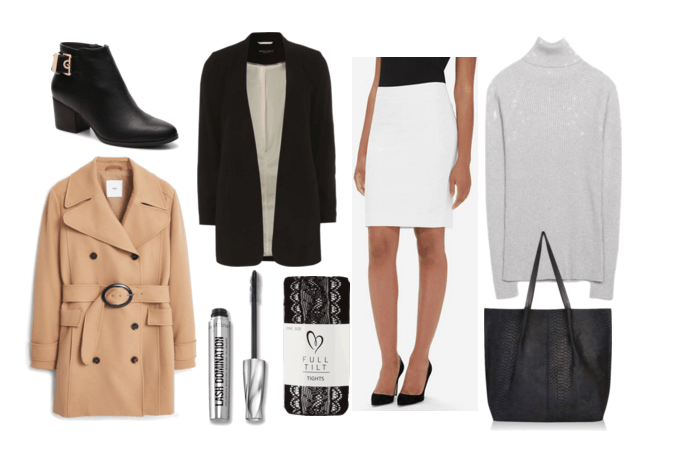 Products: Booties, Blazer, Pencil Skirt, Turtleneck, Jacket, Mascara, Tights, Bag
If you are a werking lady who lives and dies by her high heels in your business-casual workplace, I've got bad news for you: stiletto heels + icy sidewalks = you're gonna have a bad time. If flats just aren't your thing, opt for a stacked-heel bootie (extra points for booties with tread) that will still look cute with tights or pants.
For extra warmth, try swapping out your classic oxford for a trendy turtleneck sweater – this seventies throwback keeps you snug and warm but still looks cute under a black boyfriend blazer. When paired with a winter-white pencil skirt and a camel trench coat, you have a look that wouldn't look out of place in the boardroom or the bar after work.
Semi-Casual Workplace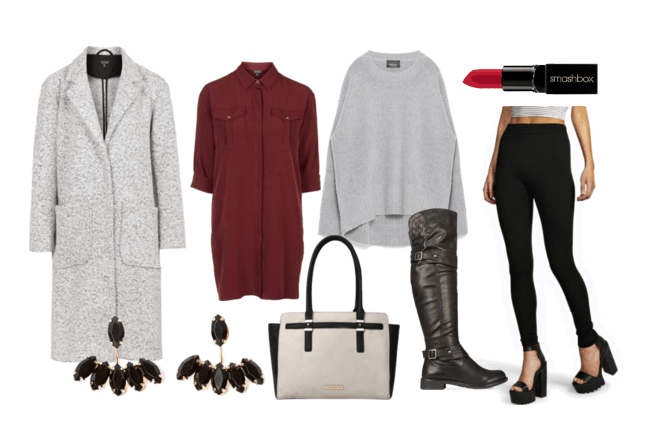 Products: Coat, Shirtdress, Sweater, Lipstick, Earrings, Bag, Boots, Leggings
Lots of comfy layers are the secret to staying warm on your commute, especially if you are taking public transit to your job. Play with proportion in your layers by pairing an extra-long shirtdress with an oversize sweater and fleece-lined leggings for a cozy and chic look. Low-heeled leather boots will keep your footing steady, while a leather finish will protect your feet from slushy crosswalks without damaging your boots. (RIP, my blue suede flats. You will be missed.)
Finish this cozy work look with a long heathered coat, chic ear jackets, a tuxedo bag, and a swipe of red lipstick for a classic-glam touch.
Casual Workplace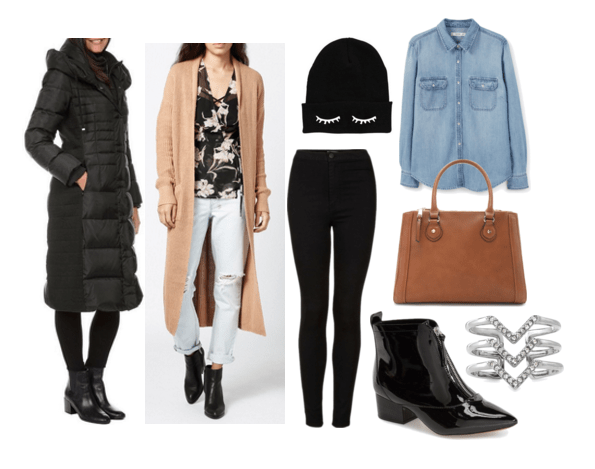 Products: Coat, Cardigan, Beanie, Shirt, Jeans, Bag, Booties, Ring
Lucky you, casual workplace goer – your bundling power is bolstered by your ability to wear all your tried-and-true weekend faves to your place of employment without an HR write-up. For a chic but professional casual look that screams cozy winter wear, pair your fave pair of black jeans with a chambray shirt and a duster-length camel colored cardigan.
Your commute-buster is a long black puffer coat paired with a cute beanie and pointy-toed patent leather booties, which still look chic while keeping your toes warm and out of the slush. Grab your bag and a bit of blingy jewelry and you're ready to run out the door!
What do you think?
What are your favorite looks to wear to work in the winter? How do you survive your winter commute? Let me know in the comments below!