This post may contain affiliate links, which means we may receive a commission if you purchase through our links. Please
read our full disclosure here
.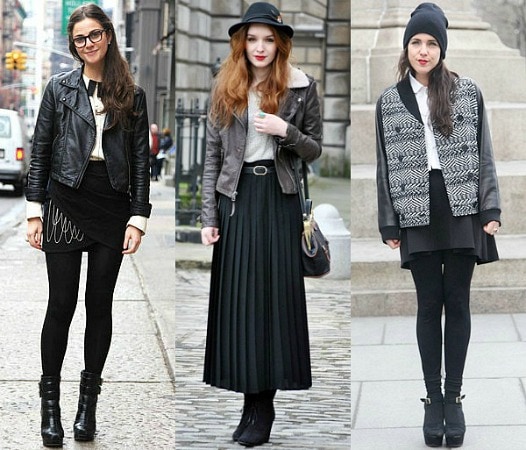 Photos: ELLE
While winter is one of my favorite seasons (Snow! Holidays! Winter break! Michael Buble's Christmas CD!), I lay a longing hand on my spring skirts every morning before putting on my down overcoat. I miss wearing skirts!
This dilemma is the inspiration for my post this week. Here are two ideas for staying warm while wearing a skirt this season. Now, I wouldn't recommend wearing these looks in a snowstorm unless you're truly dedicated (and more power to you), but the idea is that you can layer on your winter coat and gloves, then trek out to a dinner date or class totally insulated.
Twirling Around Town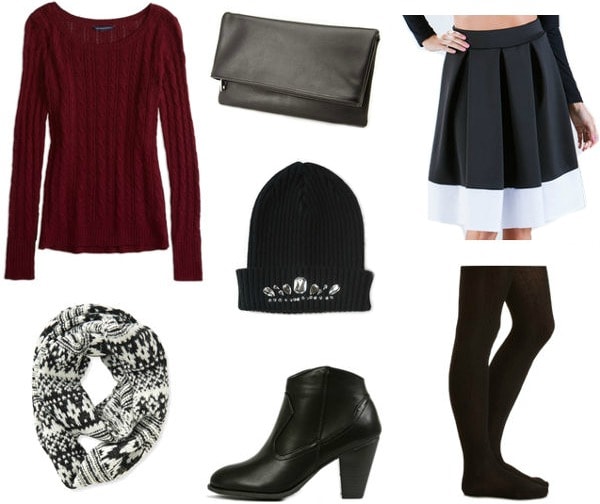 Product Info: Sweater, Skirt, Tights, Scarf, Boots, Hat, Clutch
It is cruel to deny yourself a skirt on special occasions just because it's below freezing. Here's my proposed remedy: knit tights, monochromatic cold-weather accessories, and a chunky heel. The skirt is loose enough so that thick tights won't be fussy or make you feel claustrophobic, and I love how it looks with a cable knit sweater and knit extras.
A faux leather clutch and booties keep this outfit just fancy enough, but if you wanted this outfit to work for class, you could switch out the shoes for winter boots and the clutch for a crossbody satchel. A mid-length pea coat or quilted faux leather jacket are great outerwear options for this look.
Sashaying to Class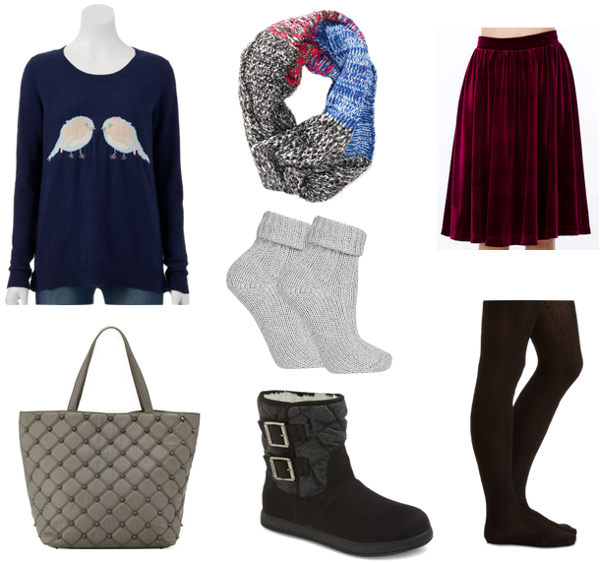 Product Info: Sweater, Bag, Scarf, Socks, Boots, Skirt, Tights
For class, I recommend layering up with chunky socks, warm boots, and an adorable graphic sweater (this one is from Lauren Conrad's Kohl's line!). Velvet is usually a more formal material, but I love how it looks as a swingy midi skirt. The scarf and sweater give the ensemble a more playful vibe that is totally appropriate for class or a café study session.
If you wanted to transition this look for a more stately affair, switch out these boots for the ones in the first outfit, then add sparkly statement jewelry. A puffer jacket or long pea coat in any color would look fantastic over this getup.
What do you think?
Is anyone an old hand at wearing skirts in cold weather? What are your recommendations? Do you like these outfits? Let me know below, and happy shopping!